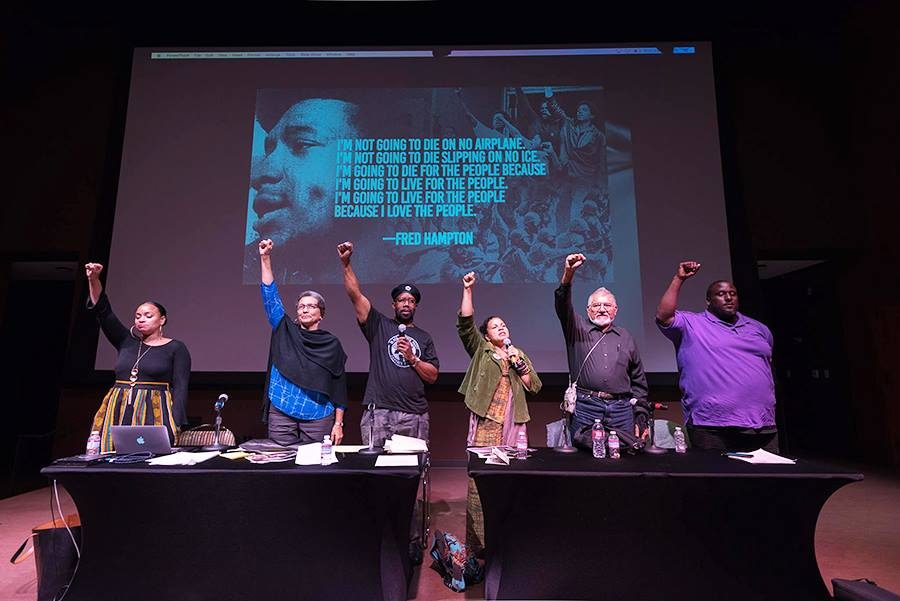 Joe Kendall, Staff Photographer
Black Panther Party members, historians and activists gathered in the San Diego State Conrad Prebys Aztec Student Union Theatre on Oct. 17 to speak to attendees about their experiences and inspire them to take action. 
October marks the 50th anniversary since the founding of the Black Panther Party.
Panel members reflected on the history of activism for equality in the U.S., and the night ended with the crowd's fists in the air shouting "we have nothing to lose but our chains."
The panel included Henry Wallace, a San Diego Black Panther, Roberta Alexander, a former Oakland Black Panther, Mychel Odol, a Black History professor, Arturo Casares, an associate of the Brown Berets and Melina Abdullah, a Pan-African Studies professor at CSU Los Angeles and a Black Lives Matter organizer.
The event was organized by the Department of Africana Studies,  One SDSU Community and SDSU Love Library. It was moderated by Africana Studies assistant professor Antwanisha Alameen-Shavers.
"I think students were able to learn we are living in a different time period, but we are experiencing the same conditions," Alameen-Shavers said. "Students have to realize the power they have within themselves."
The Black Panther Party was founded in 1966 by Huey Newton and Bobby Seale in Oakland, California.
By the late 1960s, it had over 2,000 members throughout the U.S. The party aimed at protecting the lives of community members from police brutality.
Wallace said he was an original Black Panther member in San Diego. He said he decided to join the party because his family was victimized and he wanted to make a difference in his community.
"My thing was that if I'm gonna die, I'm gonna die on my feet and not on my knees," Wallace said. "And that's why I stayed with it and I'm still with it."
Alexander said her grandfather was a slave and her father worked for the Civil Rights Congress in Oakland where he dealt with police brutality and unfair eviction of families from their homes.
She said she grew up watching the Civil Rights Movement and going to demonstrations by herself in Los Angeles to support the Civil Rights Movement in the South.
"It made me believe we can make a change in the world," Alexander said.
Alexander was a part of the Free Speech Movement when she attended University of California, Berkeley, then decided to join the Black Panther movement.
Abdullah was born in Oakland in the 1970s and said she is of the Panther cub generation. She said everyone in Oakland at the time had parents who were in and around the movement.
"It's something that was really deeply embedded in who I am and who everyone in my generation in that place is," Abdullah said.
She said July 13, 2013, the day George Zimmerman was found not guilty after fatally shooting 17-year old Trayvon Martin on Feb. 26, 2012, hit her really hard.
"It really was a watershed moment for me," Abdullah said. "Do I want to allow myself to become more deeply entrenched in a system that's going to give me a few crumbs or do I want to dismantle a system that keeps the whole of us oppressed?"
Part of the discussion at SDSU included the tactics the Black Panthers used to diminish police brutality.
Wallace said one of the first tactics they used was patrolling their own neighborhoods.
"Part of the aspect of patrolling the community was to be present and to be a witness when anything was going down between the police and community members," Alexander said.
Alameen-Shavers asked the panelists how police brutality can begin to be discussed as a systemic issue.
Abdullah said it is important to understand the history of policing in the country.
"We have to understand that police come out of slave patrol, so the results we get are not accidental," she said. "Police respond to crime. They don't stop crime."
Abdullah said resources should be put into things that make communities safe such as livable wage jobs, permanent housing, good education and after school programs.
Later in the discussion, Alameen-Shavers asked if one of the panelists could explain the difference between being anti-white versus being anti-white supremacy because this can often be confused.
"I don't know if people are confused. They know the difference," Abdullah said. "I think there's a lot of people who are trying to use that as an excuse to put down a movement that centers black people. We have a right to stand up for ourselves and we have a duty to stand up for ourselves."
Abdullah said when people say all lives matter in response to black lives matter, it is a refusal to acknowledge we live in a system where certain people are oppressed.
"That's the rhetoric," Abdullah said. "That's them speaking on behalf of white supremacist patriarchal heteronormative capitalism."
Alameen-Shavers ended the discussion with a quotation from Fred Hampton, chairman of the Illinois Black Panther Chapter who was killed by the Chicago Police Department.
"I'm not going to die on no airplane, I'm not going to die sleeping on no ice," He said.. "I'm going to die for the people because I'm going to live for the people. I'm going to live for the people because I love the people.,"
Alameen-Shavers asked how activism can begin to be seen as an act of love.
"The reason you're willing to struggle and put your life on the line is because you want a better tomorrow for everybody," Odol said. "That love and willingness to struggle together is central to all central movements."
Trunnel Price, a former San Diego Black Panther who was in the audience, said back then, people didn't ignore one another.
"We kind of lost our way a little bit, and we need to remember we can not walk past one another because we are one another," Price said.
Abdullah said she appreciated ending the discussion on this note.
"We can't suppress our emotions and spirit. We have to deeply love," Abdullah said. "We got to pull all together, and that's how we get free. Nobody's free until everybody's free.
Abdullah finished off the night by telling audience members to stand up and hold their fists up in the air.
She told them to repeat after her.
"It is our duty to fight for our freedom. It is our duty to win. We must love and protect one another. We have nothing to lose but our chains."
These words were said by Assata Shakur, a former Black Panther.
"For me, I felt that was a powerful moment because it represented unity. We're all in this together," Alameen-Shavers said.
"It was also an affirmation not only of the power we have within, but this power we have together as well. It was also an affirmation of us meeting the need to fight and the confirmation that we will win."