Center for Intercultural Relations cancels police office hours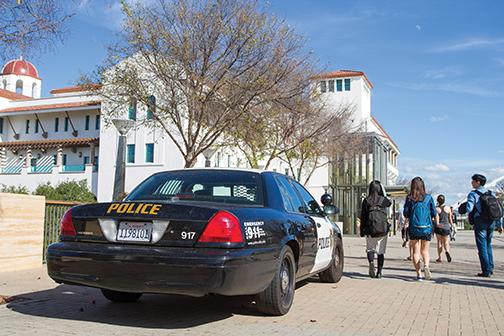 by Will Fritz, Senior Staff Writer
October 25, 2016
The San Diego State Police Department will not be holding its previously planned office hours in the Center for Intercultural Relations due to students' concerns regarding police presence on campus.
San Diego State administration and students had a meeting on Oct. 13 where they talked to students about their concerns with the office hours. After this meeting faculty and the CIR decided to cancel the office hours.
One month earlier, on Sept. 13, the center posted on Facebook it planned to host monthly office hours for SDSUPD's Community Resource Officer, Cpl. Mark Peterson.
The post featured an image of Cpl. Peterson and Center for Intercultural Relations Director Edwin Darrell inside the center.
The announcement quickly drew backlash, both online and at an open forum on Sept. 15 between SDSU Interim Chief of Police Josh Mays and students.
The office hours never occurred, but Darrell previously would not commit to cancelling them completely.
Various students as well as SDSU President Elliot Hirshman, Vice President for Student Affairs Eric Rivera, Dean of Students Randy Timm and others were present at the meeting on Oct. 13
Patricia Ruiz, a social work graduate student, said she advocated to have the office hours cancelled. She said this was one point she and other students were not willing to negotiate on.
"We really just don't want any officer to have office hours within the Center for Intercultural Relations," Ruiz said. "And I stressed that it didn't mean we didn't want any police in the union at all, and no interaction. It just means not in the Center for Intercultural Relations."
She said the center's meaning makes it important to not have police officers in that location.
"From the beginning, the Center for Intercultural Relations resulted because of student activists and student desire to have a space on campus where they could meet and they could create programs for their own interests, their own passions," she said. "It's important to keep that space free and clear because there are a number of students who visit that center, who have experiences, interactions with law enforcement, and they aren't positive experiences."
Ruiz said she felt administrators took these concerns seriously, and believed the cancellation of the office hours was sincere.
"I have faith that at least on this issue, that they did hear us, and they do care about this particular issue and about this particular concern that the students have," she said.
Terry Sivers, an education doctoral student who was also present at the meeting, said he felt the idea of holding office hours for a police officer in the center was misguided.
"I think the purpose was to build a bridge between communities, but you don't build a bridge by sending the police into the community fully armed, in uniform, into a space where oppressed people gather," he said. "You start with that community."
Cpl. Peterson was in uniform in the center's original Facebook post where the center announced the office hours. Chief Mays later made the decision to come to his open forum unarmed and not in uniform following similar criticism.
Ruiz said she was confident in the good intentions of Chief Mays who discussed community policing at his open forum, but was uncertain about the implementation of these intentions by other officers. Not knowing if other officers have the same ideals as Mays makes Ruiz uncomfortable with the idea of police officers in the center she said.
She said it is a question of intent versus impact.
"The intention is great," Ruiz said. "I believe in the positive that can come out of community policing, but it's a matter of implementing them, executing them and executing them properly, making sure that all of the officers are on the same page."
SDSU Chief Communications Officer Greg Block said the Vice President for Student Affairs asked Center for Intercultural relations staff not to schedule additional office hours.
He said the Center for Intercultural Relations will continue to try to facilitate dialogue between students and police.
"Those dialogues may not take the form of office hours," Block said.