Tasty Tuesday: Ironside Fish and Oyster serves wide range of fresh seafood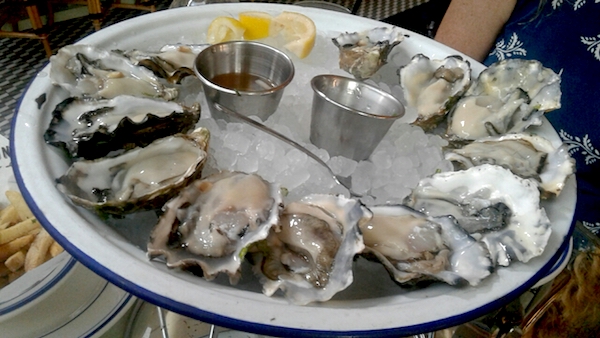 In a sea of restaurants, it's easy to say that Little Italy's Ironside Fish and Oyster is among the best seafood in San Diego.
From their raw bar, serving mussels and oysters, to their classic seafood entrees like lobster rolls and clam chowder, there's something for every seafood lover to enjoy.
"It's the premier location for oysters and fresh seafood," waiter Shawn Jordan said. "If you're a seafood lover this is the place to go."
Its nautical decor stands out among the many Italian restaurants of Little Italy and walking inside feels like you are boarding a ship about to set sail. Mermaid figureheads, scuba diver helmets and even an octopus wine bowl decorate the restaurant as a part of the seaside theme.
The atmosphere is second only to the food. Their menu is based off the market and changes seasonally. The lobster roll, served with french fries and the clam chowder, complete with bacon bits and cheddar biscuits, are two of their more popular items.
If you're more of an adventurous eater, Ironside Fish and Oyster's menu does offer some options that are less standard than clam chowder. The octopus a la plancha, served with chorizo, comes out looking just like a tentacle.
Jordan said that octopus typically has an intimidating texture, but at Ironside Fish and Oyster it's just tender and delicious.
Another popular item that's offered seasonally is the live uni. Uni is a sea urchin and Ironside Fish and Oyster serves it up still inside its shell, spines and all. Not only are its spines still intact, but the uni is alive. While the live uni is not currently on their menu, it's definitely worth a trip back if you're not faint of heart, or stomach.
Most entrees are priced at $10 and up. Because of the quality of the seafood some of the menu items are more expensive. If you're looking to save money there are happy hour deals Monday through Friday from 3 p.m. to 6 p.m.
The best happy hour deal is the $1 oysters on a half shell. Perched on a metal stand, the oysters sit on a bed of ice and are served with vinegar, lemon, horseradish and various hot sauces. Along with Tabasco, Ironside Fish and Oyster has their own house made hot sauces in different pepper flavors like habanero.
"The happy hour oysters are worth coming for especially for the one dollar price," customer Jennifer Bae said. "They're some of the best I've had. It can be dangerous because they're only one dollar and it can add up quickly."
For your friends that got dragged along that aren't so fond of seafood, the menu does have some other options conveniently listed under "not fish." Options include the pork belly cassoulet and Louisiana hot chicken.
There's also a selection of vegetable based items including marinated artichoke hearts and roasted summer squash and salads including a green reef and pear salad served with mustard vinaigrette and a farmer's market wedge salad served with blue cheese.
Whatever you decide on, be sure to pair it with a side of their hand cut fries or the Ironside bread, served with whipped butter. The bread's texture is more like a pound cake than bread, and the whipped butter melts right into it.
For those over 21, Ironside Fish and Oyster also has a bar and a large cocktail menu with twists on classic cocktails, like mai tais and daiquiris. If you somehow happen to have room at the end of your meal there's a dessert menu with options like creme brûlée and house made ice cream.
From appetizer to entree, drinks to desserts, Ironside Fish and Oyster is a must for any seafood lover in San Diego.