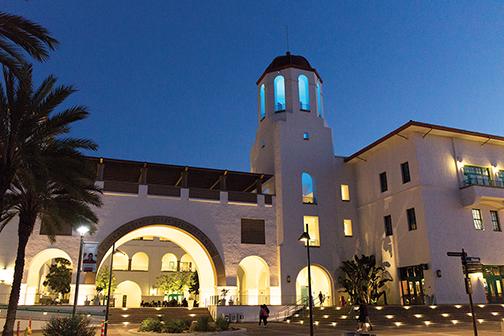 Megan Wood, Senior Staff Photographer
Three women from different conflict-affected areas discussed their journeys in making important contributions to improve the everyday lives of their people Nov. 2 at San Diego State.
The Joan B. Kroc School of Peace Studies at University of San Diego created the Women PeaceMakers program to provide a space for women to share their stories of resilience while helping their communities in conflict all over the world.  
The four panelists at the event were chosen from more than 100 people from 36 countries to form a 10-week seminary where they share their stories and experiences on panels all over San Diego.
This year's panelists are:
Fatma Mehdi Hassam, Western Sahara
She was a refugee in Algeria for nearly 40 years, and president of the National Union of Saharawi Women (NUSW).
Hamsatu Allamin, Nigeria
She is the regional manager of the North East section of the Nigeria Stability and Reconciliation Programme (NSRP) and a national executive member of the Federation of Muslim Women's Associations in Nigeria.
Jane Anyango, Kenya
She is the founding director of the Polycom Development Project, based in Africa's largest informal settlement, Kibera and of Kibera Women for Peace and Fairness, which has since expanded to other settlements in Nairobi.
Khurshid Bano, Pakistan
She is the founder and CEO of Da Hawwa Lur (Daughter of Eve), a women-­led NGO that campaigns against gender based violence and discrimination of women in Khyber Pakhtunkhwa Province. This is a deeply conservative and conflict ­affected region of Pakistan. Due to health issues, Bano was not able to attend the panel.
At the event, Hassam, Allamin and Anyango talked about programs and actions they are taking in their respective countries to promote conflict resolution and involvement of their communities in creating a safer environment in their homes.
Allamin said she was helping her community in Nigeria during their 2013 election by walking voters home at night.
Hassam said she taught girls and women in Western Sahara military training without weapons so they could defend themselves.
She said it is important to have panels because it gives people first hand information about the situation.
"This is really what we need, because sometimes the international media, only popularizes violence and the bad things," Hassam said. "I think we need to create our own media and talk about this positive thing and try to improve people's participation to be part of this process."
Katie Zanoni, program officer at the University of San Diego, said there is another initiative called  "define extremism" that was created from the Women PeaceMakers Alumni Network. It focuses on developing techniques to deal with extremism and violence in different countries.
"Next year is the 15th anniversary of the program, so hopefully we'll be able to invite alumni of the program back," Zanoni said.
Claire Schmitt, international security and conflict resolution senior, said she was inspired by the event.
"It makes me want to learn more about my major because these are women who are using other tools other than fighting and war to resolve conflict, which in a perfect society is what we should all be doing," Schmitt said.