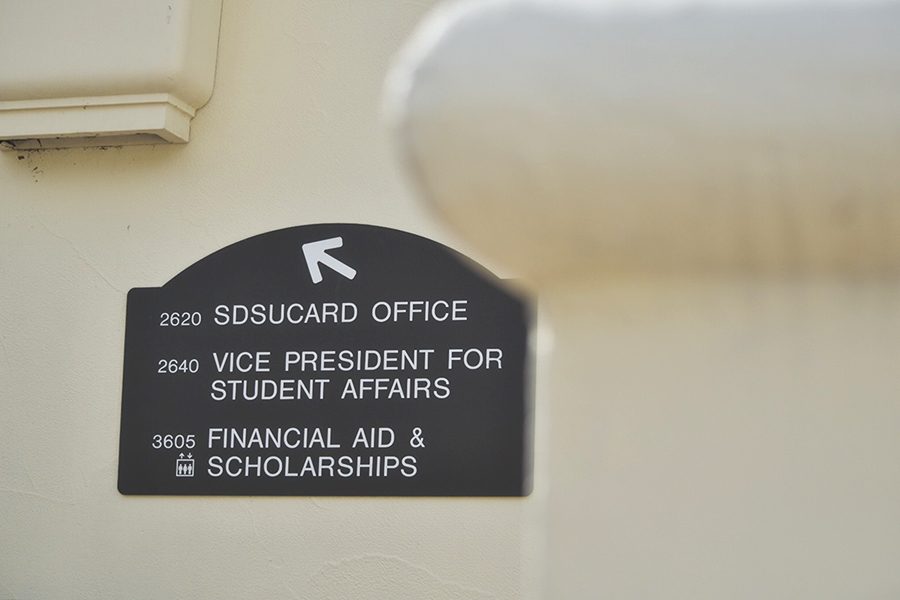 File Photo
San Diego State's affordability has been a topic of discussion since the university was included in Kiplinger's Personal Finance's list of high-quality and affordable colleges and universities.
SDSU was ranked No. 59 among public colleges on Kiplinger's list. The ranking was reached by reviewing academic quality, as well as cost and financial-aid measures, according to the Kiplinger list.
California Polytechnic State University, San Luis Obispo and CSU Long Beach were the only other CSUs included on the list.
In the 2014-15 school year, about 66 percent of full-time students paid for college tuition with the help of financial aid in the form of grants and scholarships, and 34 percent took out federal loans, according to the National College Board.
Graduate student Cass Payne said she receives about $5,000 each semester from financial aid, leaving her to come up with the remaining $1,000 to pay for school.
Payne said she thought SDSU was more affordable compared to other schools in the tier.
"But I also come from a fairly privileged background, and I work four jobs, which allows me to pay for school," she said.
Payne said she is an advocate for free tuition because she knows students who struggle in order to attend school.
"My situation isn't terrible, but people I know have to make extreme sacrifices," she said. "I know a couple of people who are homeless while still trying to attend school."
Payne said the income brackets the university uses to determine eligibility for financial aid does not reflect the current income for a typical family.
"It hasn't kept up with the fluctuations with family incomes, and I don't think it's realistic or applicable to family incomes," she said. "It should be changed or adjusted."
Payne also said the university should consider many students have to work, sometimes multiple jobs, in order to survive.
"Students are seen as numbers and money for the institution and the university needs to see students as people instead of just wallets that they can keep dipping into," she said.
Another concern for students is the increased tuition for those attending SDSU from out-of-state.
Out-of-state students pay $18,244 per year for tuition.
Music sophomore Malaika Richardson is from New York, and said that she is paying for the extra $11,160 per year of out-of-state tuition through loans.
"Growing up, a lot of us are encouraged to venture out, live in other places, and go out of our comfort zone, and money is a big thing that stops people from doing that," she said. "The fact that I'm being charged more for wanting to do go to an amazing school that just happens to be out of the state that I'm from is unfair."
Director of Media Relations Gina Jacobs said over $253 million dollars of aid funding was disbursed to SDSU students during the 2015-16 academic year and 60 percent of students are receiving some form of financial aid or scholarships.
However, students who fall into the remaining 40 percent, like communications sophomore Camila Lopez, are left questioning their financial aid eligibility.
Though she said she qualifies for financial aid, Lopez does not receive funding from SDSU despite submitting the Federal Application for Student Aid on time.
As a result, she said her mother has to pay for the tuition out of pocket.
"I believe that the financial aid program could improve on being more meticulous and careful so that people like my mother and I actually receive our financial aid," she said.
Undeclared freshman Isaiah Hardy, said that his parents' income is too high to qualify for financial aid, forcing him to take out loans to help pay for tuition.
"My parents' income isn't extremely low, but it also isn't very high so I feel that I should be deserving of some kind of aid," he said.