Tuition at San Diego State may rise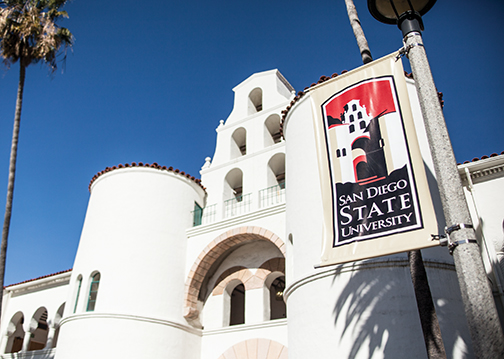 by Will Fritz, Senior Staff Writer
February 8, 2017
The California State University Board of Trustees may vote in March on whether to increase tuition for the first time in six years.
The discussion of a possible tuition hike came after Governor Jerry Brown released the first draft of his 2017-2018 budget, which provided the CSU system with a $157.2 million increase in funding, $167.7 million less than trustees asked for.
The $157.2 million increase amounts to a four percent increase in state funding over the previous fiscal year, CSU Vice Chancellor for Budget Ryan Storm said at the CSU Board of Trustees meeting in Long Beach on Jan. 31.
State funding constitutes about one half of the CSU's overall budget, Storm said.
A four percent increase is only enough to cover a portion of mandatory costs, such as health benefit increases and employee compensation commitments, he said.
"This scenario leaves no fiscal flexibility to fund other significant trustee priorities," Storm said.
With the amount of funding proposed by Brown, the university will be unable to employ more faculty and staff, give raises to existing faculty and staff, fund facility maintenance or support a graduation rate increase initiative, Storm said.
Storm noted that Brown's budget proposal includes a surplus large enough to place $2.7 billion in reserve for next fiscal year.
"Of this amount, $1.5 billion could be used for any discretionary purpose, including fully funding the rest of the CSU support budget request," Storm said.
A shortfall in requested funding could possibly lead to tuition increases.If approved in March, tuition would increase by $270 to $5,742 per academic year for a full-time undergraduate student.
Credential and graduate students are facing increases of $312 and $438, respectively, per academic year.
These proposals come after University of California Board of Regents voted to increase tuition by $282 on Jan. 25.
The State of California's final budget will likely be negotiated in the coming weeks and months, before the final budget is implemented on July 1, the beginning of the 2018 fiscal year,. leaving the door open for the CSU system to receive the funding it initially requested, thus taking tuition increases off the table.
The proposed increases have been met with significant opposition from students, faculty and trustees alike.
Trustee Hugo Morales said at the Jan. 31 meeting that he thinks raising tuition would give a pass to the legislature for not fully funding the CSU system.
"I'm troubled by having to raise tuition fees at this time," Morales said.
Antonio Gallo, a faculty member in the Chicano Studies department at CSU Northridge, addressed the Board of Trustees at it's Tuesday meeting to ask them not to increase tuition.
"Today's students are paying much more for their education than their counterparts did just a few decades ago," said Gallo at the meeting.
According to a March 2015 article from calbudgetcenter.org, spending per CSU student is at its lowest point in over 30 years.
In the 1980s, the university spent an average of $11,000, adjusted for inflation, on each student taking a full-time course load. By 2014, the number was less than $7,000.
"Since 1990-91, tuition and fees have more than tripled at CSU," the article said, even as spending per student has dropped.
"And yet, you are asking our students to pay more," Gallo said.
SDSU business administration and hospitality freshman Cassidy Stokes said while a $270 tuition increase may not sound like a lot, she believes tuition is already too high, and it is money she could be using for housing, transportation or books.
"I'm already spending $800 on textbooks this semester alone," she said. "And this morning, I came home and my card was declined. I couldn't even afford to get Starbucks when I came here today."
Stokes said she thinks the university should not be asking for more tuition money when it is already spending money on unnecessary expenses, like new furniture and locks that were put into her residence hall over break.
"They put in brand new furniture that's less comfortable and not as nice as the old furniture, and probably cost them a lot of money," she said. "And I just feel like there's a lot of money going into places where it's not needed, when I could still really use that money."
Interdisciplinary studies senior Adrian Gomez said he disagreed with the CSU trustees' immediate consideration of tuition increases when faced with a possible budget shortfall.
"I think the first thing you should do is not give away your leverage by raising tuition," he said.
Gomez said once the CSU raises tuition, the state will not have to take action.
Entrepreneurship sophomore Jason Katz said the proposed increases were "unreasonable." The trustees will not be affected by it and do not see things from students' perspectives, he said.
"The people getting affected are you and me," Katz said.