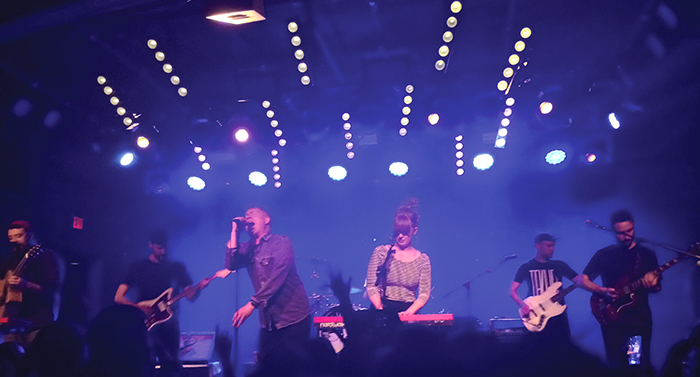 Jamie Ballard
I came to learn about indie rock band Los Campesinos! the way I imagine most of their fans do: a pretentious boyfriend who was determined to "teach" me about music.
To his credit, while our relationship ended several years ago, Los Campesinos! is still my favorite band.
Lest you think this piece went completely unchecked by an editor, the band's official name includes the exclamation point.
Their most recent album, "Sick Scenes," sticks to the band's core themes of sex, death and soccer but also delves into ideas about what it means to grow up. For a band whose lyrics have often relied on tongue-in-cheek and bitter humor, its latest offering proves to be a bit darker but still carrying the signature sharp wit fans have come to expect.
One of the singles from the album, "5 Flucloxacillin," finds lead singer Gareth Campesinos lamenting on aging and the state of the world overall. By the way, all members of the band refer to their last name as "Campesinos," though only Gareth and lead female vocalist and keyboardist Kim are actually related.
Of the song itself, Gareth Campesinos wrote, "Most everyone I know struggles with their mental health and is trying to cope in whatever way they can, while baby-boomers chastise us millennials for the manner in which we attempt to find solace amidst, and fumble out of the mess they made for us."
In true Los Campesinos! fashion, the arguable sorrow of the lyrics is offset by the high-energy tempo.
While it is not new territory for the band by any means, nearly all 11 songs on this album make at least a passing reference to death or dying with lyrics like "I know little, but I promise: There's a slow, slow death if you want it."
The song of the same title "A Slow, Slow Death" is a actually triumphant-sounding ode to a lover, while on "Got Stendhal's," he fears he will never truly rest peacefully, even in death.
Though the band has been around for just over a decade, they have clung to some of the youthful, righteous anger that's tinged with self-awareness.
If anything, "Sick Scenes" relishes that emotion and youth while calling attention to the fact that the band members are all older, if not wiser, than when they began their journey.
On the album's final track, "Hung Empty," Gareth sings, "Not right to call this old age, but it certainly ain't youth no more, this certainly ain't youth."
If it sounds dark, that is because it is, but Los Campesinos! almost always puts on a high-energy performance that seems to defy the melancholy of their lyrics.
Their sold-out show at the Teragram Ballroom in Los Angeles on Feb. 26 was no exception and a testament to their growing success on the indie circuit.
Having attended four of their shows now, this crowd was one of the more excited ones.
As lead singer Gareth introduced a song from the new album, which had been released just the day before the show, one energetic fan screamed "I already know all the words!"
If it isn't apparent yet, the cynical, funny, sad words are a large part of the band's appeal.
But they only work with the near-cacophonous harmony of instruments: two guitars, a keyboard, drums, bass and the occasional glockenspiel.
Their live performances are powerful, sometimes almost frenzied.
The audience is drawn to lead singer Gareth leaping around and shouting passionate vocals, but the other six members of the band are similarly intense performers.
Kim Campesinos, the female vocalist and keyboardist, brings a cooler, lighter energy that nicely offsets Gareth's near-manic stage presence.
In the performance at the Teragram Ballroom, Los Campesinos! played mostly songs from five previous albums, but fans were excited to hear selected tracks from "Sick Scenes" as well, including "Here's to the Fourth Time," a punchy, laissez-faire song whose best lyric might be "And all we've got's the need to breed before we rot."
Nice.
As enjoyable as it was listening to the new songs, there's nothing quite as cathartic as screaming the words to a song you have listened to a million times before.
For me, I found that catharsis in one of my all-time favorite high-school angst songs, "Miserabilia."
The ending lyric says it best: "Shout at the world, because the world doesn't love you; Lower yourself, because you know that you'll have to."
Present-day me might disagree with the sentiment, but it still felt good to scream.