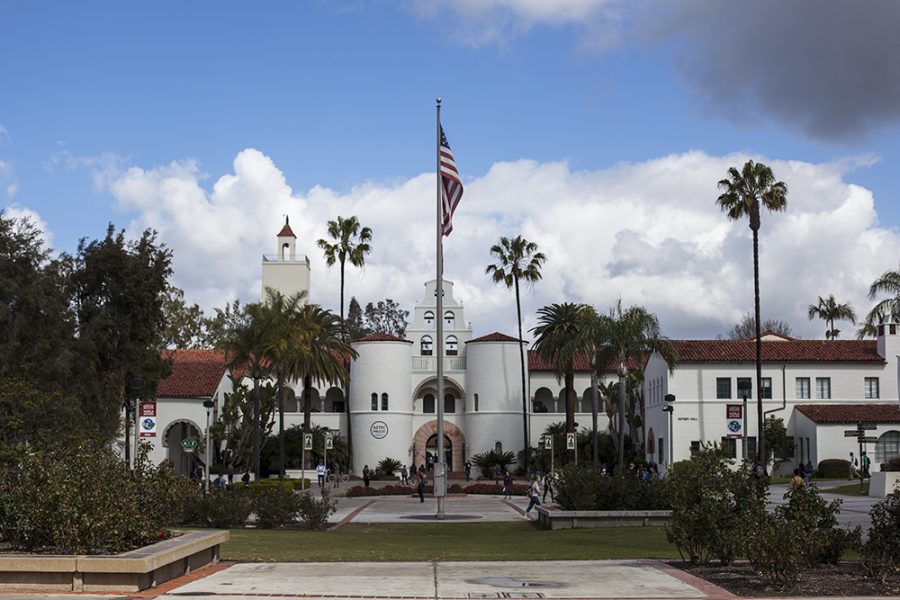 File Photo
Over the past few years at San Diego State, faculty numbers have declined while tuition has increased. 
SDSU has seen an 8.8 percent decrease in faculty, according to The DEO Report on students, faculty, staff and administrators, which compares the years 2008 and 2015 based on the similar enrollment numbers.
The breakdown of that faculty loss is as follows: 105 tenure-line faculty and 59 lecturers.
Of the lecturers lost, 43 were full time and 16 were part time. This caused the SDSU student faculty ratio to rise to 28-1, which is well beyond the CSU recommended student faculty ratio of 18-1, according to the report.
These numbers suggest an increase in class sizes.
Sophomore accounting major Rachel Hauprich said she blends in in large lectures, which makes it easier to pretend she knows what is happening.
"However, it's difficult for me to learn what I actually need to learn for my future career, because I don't ever have one-on-one time with my professors," she said.
Hauprish said she usually isn't held accountable for the material she needs to know.
"So, is it easier for me as a student to get by with these larger class sizes? Yes. But it's probably not beneficial for me in the long run," she said.
Television, theater, film and media sophomore Brett Michel said he prefers medium-size classes to 300-person lectures because it is a more intimate setting.
Michel also said there is a difference between learning in small and very large classes.
"I learn better in medium-sized classrooms because I like to blend in a bit. It makes me feel like there's less pressure," he said.
Accounting professor David Deboskey said that he did not feel the student-faculty ratio directly affected his large lectures because of his use of technology.
He said that he thought it might be felt more in medium-small size classes that rely on handwritten homework assignments.
In addition to the loss of faculty, SDSU tuition rose between 2008 and 2015.
According to the CSU website, in 2008, SDSU's basic tuition and mandatory campus fees for an in-state student was $3,754 for the academic year. In 2015, it rose to $6,866. For the current 2016-2017 school year, tuition and fees are $7,082 per year.
Between 2008 and 2015, the number of administrators employed increased by 17 percent, or 46 administrators.
Between 2008 and 2015 SDSU lost 164 faculty members, but gained 46 administrators.
The CSU system has also proposed to raise basic tuition costs by 5 percent.
This new budget, according to the CSU website's page "Sources of Revenue," could support a one percent total enrollment increase across the CSU system.
It also allocates 55.1 million of the total 5.4 billion dollar budget toward "compensation for new contracts and non-represented staff.
Journalism professor Amy Schmitz Weiss said, "I think the loss of faculty is unfortunate because our university is only as strong as the faculty and staff that make it happen for the students."
An email sent out by SDSU on Feb. 27 said the university is currently searching for 66 new tenure-track faculty members to hire, and is completing the fourth year of a five-year effort to hire 300 new tenure-track faculty members.