DJ conveys feelings in the moment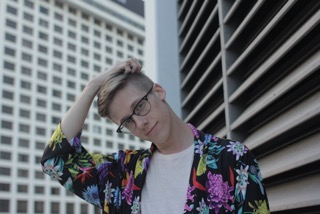 Young musicians often spend their college years exploring different genres and styles, but recording technology and audio design sophomore Lydon Quill's impressive music history, knowledge and creativity have led him to take that exploration a number of steps further.
Quill simultaneously considers himself to be a producer, musician and artist creating music he describes as experimental beats, ambient or vaporwave.
"Vaporwave is a style of music that is made from 90's R&B or jazz samples, slowed down and chopped up," he said. "It is mostly known for its aesthetic, but I just really like the music. I like how it feels, it's really soothing."
Quill has been creating vaporwave music since 2013, but his musical origins stem back much further.
"My parents are huge music fans," he said. "Growing up they took my brother and me to concerts and festivals, so I've always been into music."
By age 6, Quill had begun playing drums and subsequently picked up guitar and bass by ear within a year. In addition to those instruments, he currently plays mallets and percussion, keyboard, piano, synths and drum machines. He can often be found performing DJ sets as well.
"Right now I've been working the dance music realm," Quill said. "(I DJ) a lot of dance music like dub techno, 90's house and anything I'm feeling in that moment."
Besides DJ sets, Quill said he often plays "mixers" and "poolside sessions" in the San Diego area and will be performing on campus at the Electronic Music Marathon on April 22 in Smith Recital Hall.
He is also a member of The Fourth Kind, a collective of San Diego State music students that sets up shows and played at last year's Silent Disco on campus.
Quill utilizes his production and instrumentation to depict emotion without lyrical content.
"I try to convey those feelings by writing in the moment, and using my surroundings or the things I've done in whatever I'm making," he said. "I also do a lot of sound design and carefully figure out the chord progressions. I am going to start singing on this next album hopefully."
Recording arts senior Josh Jackson feels there is a tangible human quality to Quill's music, despite it being electronic-based.
"A lot of people label (Quill) as a producer but if you listen closely to his music, there are strong compositional motifs in it," Jackson said. "Like if he samples a song, he will always surround it by countless synthesizer melodies or a bassline or guitar part played by him live. I love electronic music but a decent amount of it created by bedroom composers can sound very rigid. (Quill) always keeps songs sounding very fluid and organic."
Quill's talent has led him to audition for and attend Grammy Camp twice over the course of his musical career, and perform at NWEAMO festival in Tokyo last November.
He has released five projects, his most recent being an album entitled "Never Felt Like Home" released earlier this year, which coincided with an experimental animated film of the same name.
"Originally I just recorded some ambient jams on some synths on my Tascam 4-track at my brother's house a year ago, then I decided that I actually wanted to make a movie out of this piece," he said. "I found a ton of animations from the 70s to the 2000s and chopped and layered the video clips along with the music. I let the viewer interpret what happens between the music and the visuals."
Quill additionally has created a record label, Dreamgarden Records, to release his solo work and side projects.
He releases music under his first name only, and his work can be found on Dreamgarden Records' Bandcamp page, as well as Spotify, Apple Music, SoundCloud, iTunes and Google Play.
Quill's active and widespread online presence has led many of his tracks to thousands of plays, and Jackson said people are drawn to the catchiness and originality of Quill's music. 
"(Quill) has an ear for melodies and sounds that will stick in your head for a long time," Jackson said. "At the same time his sound is so different from most of the mainstream stuff you hear on the radio so I think that attracts people as well."
Although Quill's artistry has led him to discovering and excelling in niche, obscure genres, he still finds himself searching for what else music has to offer. He said he is cautious when drawing upon his many diverse influences, as he is concerned with creating a name for himself at this stage in his career and wants to avoid copying someone else's work.
"I've made a lot of different types of music and I'm constantly creating, but it's hard to find your own sound," Quill said. "That's why I've been trying to pull away from direct influences and just create whatever I want."
He cited Flying Lotus, Aphex Twin, Oneohtrix Point Never, Kanye West and Animal Collective along with a few fellow SDSU musicians as some of his numerous influences.
Jackson sees indubitable success in Quill's future.
"No matter what I think (Quill) is going to blow up, there's no denying it," Jackson said. "His stuff sounds too professional not to."