Reloaded Aztec football team gunning for third-straight Mountain West title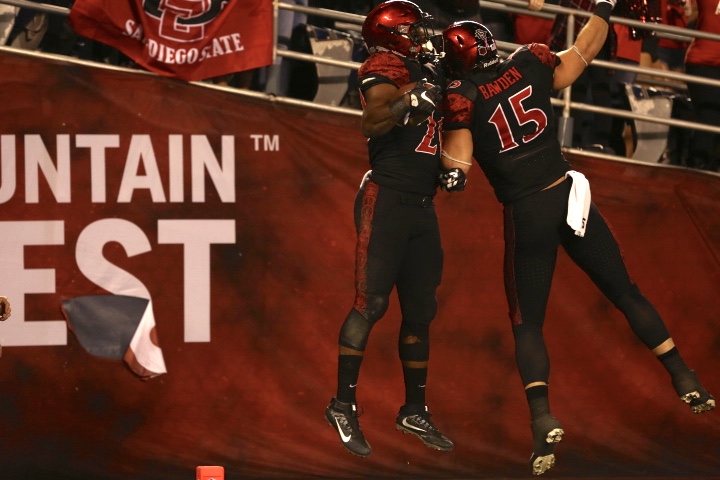 A young and talented San Diego State football team faces both high expectations and a lot of questions as the two-time defending Mountain West Conference champion begins its 2017 season. Head coach Rocky Long and several student athletes spoke to members of the media at the team's annual media day Thursday, July 20 at the Fowler Athletic Center.
Long began the event with a twenty-minute informal press conference, fielding questions about this season's expectations. The Aztecs will start as one of the favorites to win the Mountain West Conference championship after winning a second consecutive title en route to an 11-3 record and a Las Vegas Bowl victory last season.
The Aztecs, however, will be fielding a more youthful squad this year, something which Long believes could be a big factor while the team attempts to repeat its recent success.
"We are going to be a very talented football team," Long said, "(but)we're not near as experienced as we were last year, and experience in college makes a huge difference."
One area of change will be filling the void at running back left by the departure of Donnel Pumphrey. Pumphrey, who was selected by the NFL's Philadelphia Eagles as the 132nd pick in the 2017 draft, led all FBS rushers last season with 2133 yards and broke the all-time FBS rushing record with 6405 rushing yards over his four years coming out of the backfield.
Taking his place as the starting running back will be senior Rashaad Penny, who finished the 2016 season with 1018 rushing yards and 1866 combined all purpose yards. Penny is most well known for his special teams contributions returning kickoffs, earning him two consecutive Mountain West Special Teams Player of the Year awards.
Long has nothing but confidence in his new starter and heaped praise on Penny while declaring him the most talented all-around back in college football.
"In my opinion, Rashaad Penny is the best running back in the country," Long said. "He's the most versatile, he returns kickoffs better than all of them, he catches the ball just as good as all of them. He runs with power, he runs with speed and he can make you miss."
The team is also relying on continued growth from junior quarterback Christian Chapman, who threw for 1994 yards last season with 20 touchdowns against only six interceptions.
"I think that he's developed into a better quarterback as he's played, so we expect him to make more plays on his own this year than in the past," Long said. "I think that the way we're able to run the ball in the past he's been a game manager, I think he's going to be more than that this year."
One player who looks to be a beneficiary of plenty of passes from Chapman this season is wide receiver Mikah Holder, who is returning for his senior season after having lead the team in receptions (27), yards (581), and touchdowns (5) in 2016. This season Holder is focused on being a more consistent player and is not shying away at the prospect of taking on a heavier workload.
"I know that we're a run-based offense but I hope that we can bring an aspect of throwing more to our offense," Holder said. "If we do need it I'm more than willing to step into that role and be that guy."
Junior defensive lineman Noble Hall is another player looking to make a big impact this season. Hall, who is moving from defensive tackle to defensive end, said he is excited to make the transition, believing it will allow him to better compete on the field at a position he is more familiar with.
"They moved me to nose tackle, I wasn't really too familiar with playing so interior like that," Hall said. "I like to edge pass rush so once I feel like I get that edge rush I'll be good."
Hall is especially excited to show off his ability to get into the backfield when the Aztecs host Stanford on Sept. 16, a game which might go a long way in putting the team back in the national spotlight.
"I'm really looking forward to that game," Hall said. "That's the game I feel like if I do good I'll really get more publicity for myself, get my name out there because that's big time football."
Junior kicker and 2016 Lou Groza award finalist John Baron II is also excited to show off his talents this season, after a sophomore campaign that is sure to bring more attention to himself after he set school records in field goals made (21) and field goal percentage (.913).
"It definitely gets me excited for this season knowing that I have more exposure and more people looking at me," Baron said.
Baron, who was also a 2016 First-Team All-Mountain West selection, believes that the team has what it takes to build on last year and deliver another successful season.
"Expectations are really high, but I feel like this team has really bought in," Baron said. "I'm expecting a really good season out of us this year."
The Aztecs' first game of the 2017 football season will be at Qualcomm Stadium on Sept. 2, when they host the Aggies of UC Davis.