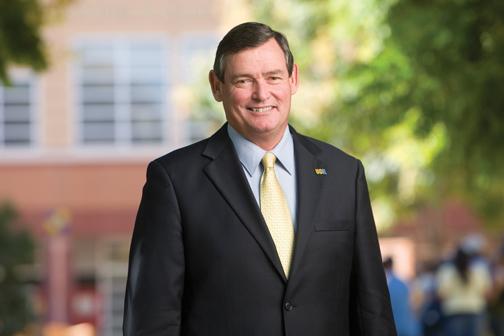 File Photo
The California State University Board of Trustees is beginning the search for a new permanent president of San Diego State University.
The first trustees' committee meeting for presidential selection will be held in an open forum on Monday, Sept. 25 from 12:30-2:30 p.m. in the Parma Payne Goodall Alumni Center Ballroom on the SDSU campus, according to a CSU press release The open meeting will be followed by a closed meeting at 2:45 p.m.
The trustees' committee was appointed by CSU Board of Trustees Chair Rebecca Eisen, and includes Eisen herself as well as trustees Silas Abrego, Lillian Kimbell, Hugo Morales, Board of Trustees Vice Chair Adam Day and CSU Chancellor Timothy White. Day will head the presidential search committee.
Day is also in charge of appointing an advisory committee to the trustees committee, which is required by board policy.
The advisory committee consists of:
Donna Conaty, associate dean, College of Professional Studies and Fine Arts
William Nericcio, Ph.D., professor, English and Comparative Literature, Latin American Studies and Chicano/a Studies
Marcie Bober-Michel, Ph.D., chair, SDSU University Senate
Stephen Welter, Ph.D., vice president of research and graduate dean, SDSU
Cyndi Chie, university staff representative
Chimezie Ebiriekwe, A.S. president and student representative
Alan Dulgeroff,  alumni representative
Mary Curran, chair, Campanile Foundation board of directors member
Margaret Iwanaga Penrose, community member
Jerry Sanders, former Mayor of San Diego
Willie Hagan, president of CSU Dominguez Hills
Most advisory committee members are recommended by the university, CSU Office of the Chancellor spokesman Mike Uhlenkamp.
At its first meeting , the committee will receive comments and input from the campus committee, explain the presidential search process, discuss "preferred attributes" of the next president and confirm meeting schedules.
Former university president Elliot Hirshman announced his resignation in early March after he accepted a position as president of Stevenson University in Maryland.
Retired SDSU administrator Sally Roush was asked by the chancellor in May to come out of retirement and serve as an interim president for the 2017-18 academic year. She is not included in the pool of potential candidates for a permanent university president.