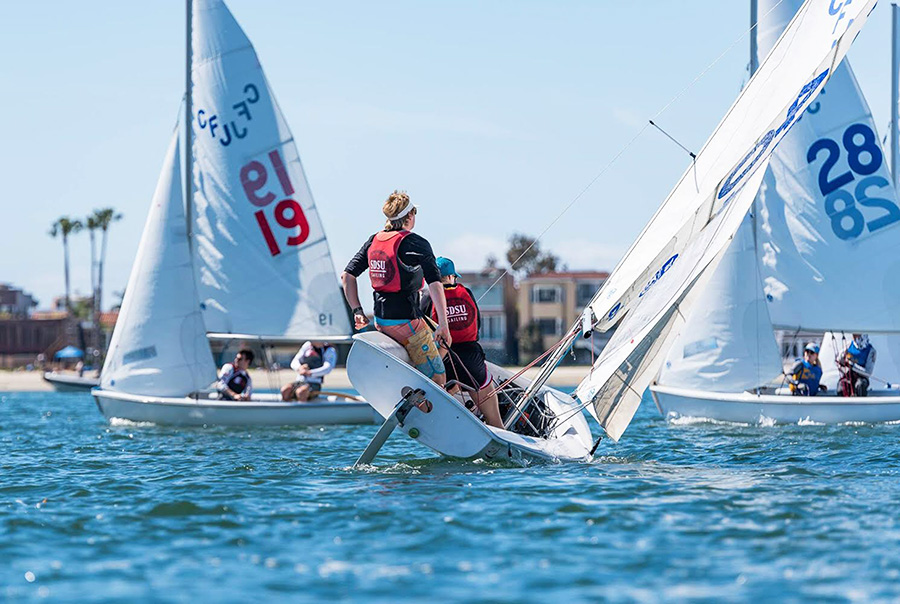 Courtesy of Joe Kendall
The sailing club has returned to port after being lost at sea for 20 years.
Anthropology junior Gigi Dean, founder and president of the club, developed a love for sailing after taking a water sports class at the Mission Bay Aquatic Center but couldn't find a club on campus. So, she decided to make one herself.
"At first, I wanted it to be casual sailing, but then I discovered the world of racing," Dean said.
Applied communications senior Tom Rall is the vice president of the club and has been sailing for 14 years. His boss mentioned the new sailing club on campus while he was working at the Mission Bay Aquatic Center.
Rall said he signed up right after.
"I've always had a thing for sailing, and racing is my favorite part of the club," Rall said.
The sailing club is not a sports team because the process to become one is lengthy, but it is Dean's goal to expand the club.
Out of the 75 people that showed interest through the club's tabling efforts, about 17 people attended their first meeting. Dean hopes the club of 11 members will expand to around 20.
"A lot of people showed interest," Dean said. "Sailing is a male dominated sport, so the fact that we also have a lot of women is really exciting."
During the upcoming semester they have three races ,called regattas. Each one is a full weekend with two days of sailing.
The club mostly travels locally in California to places such as the UC Santa Barbara and Cal Poly San Luis Obispo. One of the upcoming regattas is in Hawaii.
The team is planning on traveling nationally next year as well.
A portion of the traveling fees are covered by donations from the sailing alumni who are important to the club because of the lack of school funding.
"We are really grateful for the alumni because they help a lot with costs, materials and getting new coaches," Dean said. "Sailing is an expensive sport."
An upcoming alumni regatta will be held at the local San Diego Yacht Club. Dean predicts there will be around 20 to 30 people involved.
The club practices during the semester twice a week from 1 p.m. to 3 p.m. on Wednesdays and Fridays at the Southwestern Yacht Club located in Point Loma.
If students are interested in the sailing club and want to get involved, contact any of the current members.
After that, the students are invited to two practices to test the waters and see if they enjoy it. If they don't, Dean said there are no obligations to stay.
Environmental science sophomore Emilia Cloutman is the secretary and the public relations manager for the club. As Dean's freshman year roommate, she has seen the club come together since the beginning.
"I could see how cool it would be and it seems like something great to be a part of," Cloutman said. "It is really fun and easy to learn."
If students have any doubts about their sailing skills, Cloutman said that flipping the boat isn't as bad as some might think.