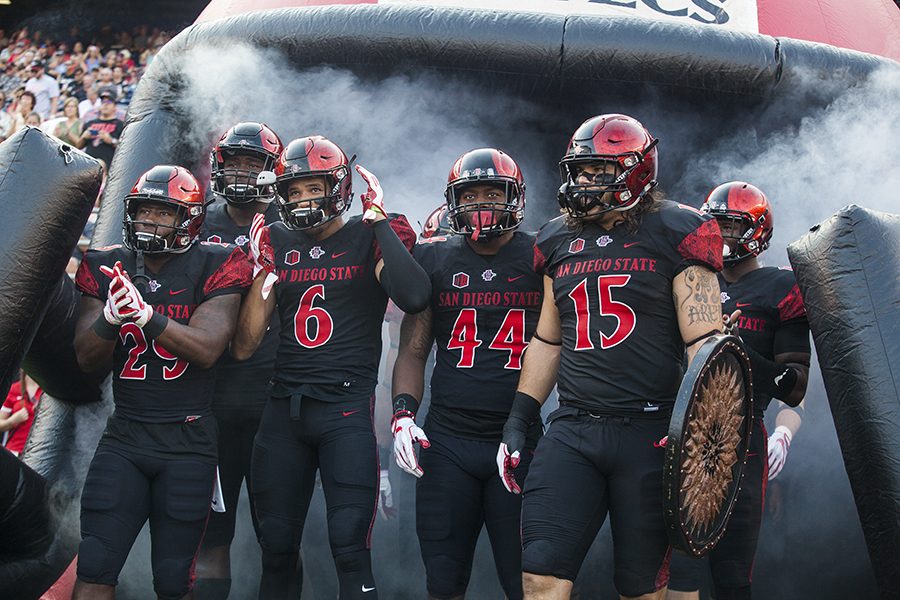 Kelly Smiley
The last time San Diego State football played Boise State University, the Broncos were at the top of the Mountain West Conference and weeks away from a New Year's Eve victory in the 2014 Vizio Fiesta Bowl.
Boise defeated the Aztecs that season by a score of 38-29, and looked to have cemented themselves as the darlings of the MWC.
Oh, how times have changed.
No. 19 SDSU has reached the halfway mark of the season with an unblemished record of 6-0, has been in the AP Top 25 Poll and Amway Coaches Poll four consecutive weeks, and heads into its matchup against the Broncos on Saturday as two-time defending MWC champions.
Boise State (3-2, 1-0 MWC)  comes to San Diego following a 24-7 victory over Brigham Young University, and will try to knock off a ranked opponent for the first time since it defeated then-No. 11 University of Arizona in that 2014 Vizio Fiesta Bowl.
"Both of our teams coming into the season were expected to be good and both teams are good, so it's probably going to be a great game," SDSU head coach Rocky Long said.
The Broncos shot into the national spotlight back in the 2006 season, when the team – then of the Western Athletic Conference – defeated the University of Oklahoma, 43-42, in overtime to win the 2007 Tostitos Fiesta Bowl.
"They've got the mystique, and deservedly so," SDSU offensive coordinator Jeff Horton said. "They won a lot of games for a lot of years."
Leading the way for the Aztecs this season is senior running back Rashaad Penny, a Heisman Trophy contender who ranks second in the nation with 993 rushing yards and first with 1,325 all-purpose yards.
Against the Broncos, Penny will face the conference's stingiest rush defense, which allows 105.80 rushing yards per game.
"They like to put pressure on you, like to give you a lot of different looks in the back end," Horton said. "We'll have to do a good job on first and second down trying to mix things up."
Even though the Aztecs are the defending MWC champions, not having played Boise State since 2014 has left the conversation open about who the best team in the conference is.
Junior quarterback Christian Chapman, who will be starting his 22nd straight game for SDSU, said a win this weekend could put an end to that discussion.
"The notion has always been around that Boise is one of the top programs," Chapman said. "Beating a team like that it could potentially make you… top dog in the conference."
Chapman also said that this weekend's game could be a preview of the MWC Championship.
"For our side of the conference it's us, and on their side a lot of people see Boise," Chapman said. "This could be an indicator of the championship game a little bit, two top programs in our conference going head to head."
Chapman hasn't thrown an interception in five consecutive weeks, and benefited from a big game by senior wide receiver Mikah Holder in the Aztecs 41-10 victory over University of Nevada, Las Vegas last weekend.
Holder recorded a season high nine-catches for 144 yards, and could be in line for another big performance against a Boise defense which gives up an average of 219.2 yards through the air per game.
"He really stepped up," Horton said. "I thought that was the best he had played in the past really two years."
Starting at quarterback for Boise State will be junior Brett Rypien, who has split reps with senior quarterback Montell Cozart at times this year.
Cozart transferred to the Broncos from the University of Kansas before the season, and is a threat to rush the ball when he goes under center.
"He's athletic, he throws it good enough that he can beat you with his arm," SDSU defensive coordinator Danny Gonzales said. "I don't think he throws it as good as (Rypien), but (Rypien) will stand back there and pick you apart if you let him, so we have to make those guys uncomfortable."
Gonzales said the two-quarterback dynamic makes the Broncos offense more dangerous, but views Rypien as the clear starter on the depth chart.
"As long as he's healthy it's going to be Rypien with a taste of Cozart, and I mean it gives them an advantage if they execute it," Gonzales said.
Broncos' sophomore running back Alexander Mattison leads the team in rushing with 284 yards on 69 attempts, and is coming off his best performance of the season against BYU, when he rushed for 118 yards and two touchdowns.
"He's downhill physical, he tries to run over the first guy…you get him lined up he's going to try and make you pay," Gonzales said. "We've got to do a good job of beating up on him, every chance he gets the ball we got to hit him lay on him make him cough it up."
This will be the fourth meeting between the Aztecs and Broncos, with each school winning two games apiece.