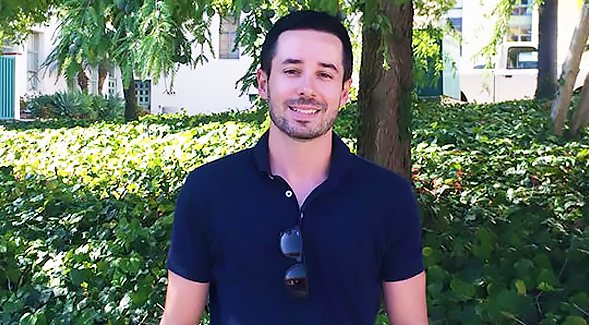 SDSU Newscenter
A San Diego State psychology professor received two grants from the National Institutes of Health this semester to conduct research relating to health issues in the LGBTQ community.
The two grants will fund two separate studies — one focusing on eating disorder prevention for gay and bisexual men, the other on usage of an HIV-prevention drug.
Professor Aaron Blashill received funding for the first study under a grant program called R01, which is the largest type of grant the NIH awards to researchers studying specific interests in their field.
For the study, one group will participate in a two-session, group-based intervention that is co-run by peers between the ages of 18 and 30 who self-identify as sexual minority men. The group will include four to 10 participants, a peer leader and a doctoral student in clinical psychology.
"This intervention will try to get participants to acknowledge the broader socio-cultural body ideals that are present for gay men, namely being muscular and thin," Blashill said.
Blashill said that once the men recognize those ideals during the intervention, they will engage in conversations and strategies to counteract those beliefs.
The intervention group will then be compared to a control group of men who only watch documentaries on body image and eating disorders — mirroring what those men would probably experience if they were at an LBGTQ center in their community looking for information about body disorders, he said
"We want to be able to compare our new intervention method to what is the standard care in the community in terms of discussing body image disorders," Blashill said.
Over the course of two years, Blashill and his team will assess whether participants who are assigned to the experimental intervention group have lower likelihood of developing an eating disorder over time. They plan to launch this project and begin seeing participants in the beginning of 2018.
History junior Benjamin Calabrese said he hopes that Blashill and his team will be able to identify the root causes for eating disorders and find a way to help gay men avoid this problem.
"The body disorder issue is extremely common among gay and bisexual men, and I know that the research can bring a positive change to the gay community," Calabrese said.
The second grant Blashill received is from a three-year NIH grant program that provides support for the initial development of a clinical research project.
Blashill and his team will use the grant to develop an intervention from the ground up that will focus on usage of Pre-exposure Prophylaxis, which is a drug that can be taken to prevent the contraction of HIV.
His study will specifically research why PrEP has had a low uptake among Hispanic sexual minority men.
"Unfortunately, when you look at PrEP, there is a racial divide for those who use it," Blashill said. "When you look at sexual minority men, white sexual minorities are more aware of the pill and are more likely to take it than black and Hispanic men."
Blashill said PrEP is a ground-breaking drug that reduces the chance of getting HIV to almost 0 percent. The biggest concern, he said, is so few people know it exists.
"Of those people who know about these pills, very little are actually taking it," Blashill said. "There is a huge disconnect between this life-saving drug that's available and actually getting it to men who need it the most."
Blashill said he plans to develop a bilingual peer-patient navigation approach where Hispanic sexual minority men can talk about PrEP openly during an intervention with peers and other men who understand their problem. He said when the subjects have peers intervening in any health issues they may have, it will increase the ability for the intervention to be disseminated out into the community.
"We will have peers who are bilingual and we are developing our curriculum in both Spanish and English," Blashill said. "This will be extremely beneficial to Hispanic sexual minority men we'll be working with."
Through the interventions, Blashill and his team hope to examine the obstacles that Hispanic sexual minority men face when trying to obtain PrEP. They also plan to research techniques to make it easier for men to access the pill and decrease their chances of contracting an HIV infection.
Political science junior Joe Salazar said he appreciates that the study could potentially help raise awareness for HIV prevention among Hispanic sexual minority men.
"I come from a Mexican background, and I can definitely say that the majority of gay Hispanic men in my community are not aware of the different tools they can use to stop the possibility of getting HIV from their sexual partner," Salazar said.
Salazar also said if Blashill and his team are able to promote awareness and spread the word about the PrEP medicine, it will also encourage more men to get checked for HIV infections more regularly.