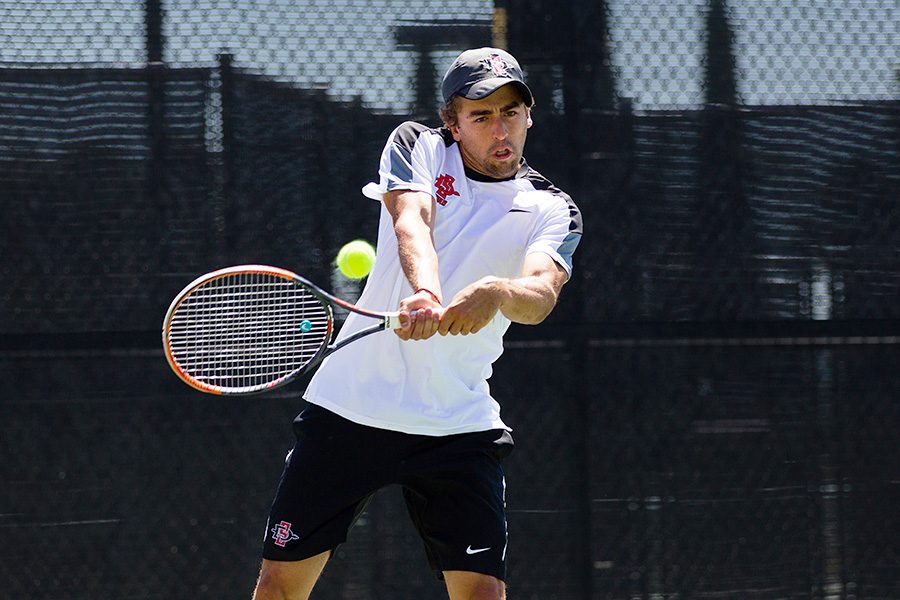 Derrick Tuskan/San Diego State
For many college athletes, making the transition from their hometown to a new, unfamiliar city is a normal part of the university experience.
What is more unusual is moving to an entirely new country to play college sports.
For San Diego State senior tennis player Santiago Cevallos, his journey began with the latter.
Cevallos comes from Querétaro, Mexico, a two-hour drive north of Mexico City, and more than 1600 miles from SDSU.
"It was a pretty safe town (to grow up in)," Cevallos said about Querétaro. "I always had a lot of friends growing up there."
At a young age, Cevallos discovered tennis when his father took him to his first tennis lesson.
"I started playing tennis at 7 years old when my dad sort of randomly took me to a lesson at the club he used to go to," Cevallos said. "I just kind of kept going after that."
Cevallos played high school tennis at John F. Kennedy School of Querétaro, and when searching for colleges he looked towards America.
"I wanted to come to the States ever since I knew I had a chance to play (college tennis) and California was one of the places I always wanted to come," Cevallos said. "When I made my official visit to San Diego I was really in love with the city and I could really see myself here for four years."
Since arriving on the Mesa, Cevallos has seen consistent achievement both in singles and doubles play.
In the 2014-15 season, Cevallos earned his first collegiate victory over University of California, Riverside's Sina Sharifi 6-3 and 6-0 in singles play in January of 2015. Later, in May of 2015, he sealed SDSU's NCAA Championship with a victory over cross-town rival University of San Diego by defeating USD's Ciaran Fitzgerald 6-4, 4-6 and 7-6, a moment Cevallos said he still cherishes.
"When I got to clinch the first-round match (against USD) in the NCAA Tournament is one of the best moments I've had (at SDSU)," Cevallos said.
In 2016, he was an All-Mountain West Doubles pick along with former teammate Milen Ianakiev. Together, the pair won three of their final four matches of the season.
Cevallo's success at SDSU earned him high praise from  men's tennis head coach Gene Carswell.
"He's got a great feel for the game," Carswell said. "He's got more than one way to beat his opponents. Being a lefty is another advantage he brings to the table. His lefty serve can create problems for his opponents."
Carswell said that Cevallo's physicality is one of his main areas of growth since arriving at SDSU.
"Physically, he's gotten stronger so his ball is just naturally a lot heavier," Carswell said. "His physical development over the years has put him in a spot where he just plays a stronger style of game."
As Cevallos' senior year on the Mesa progresses, Carswell says he hopes to see Cevallos embrace the younger players and become someone they can look up to.
"More than anything, I would like to see him continue to embrace the role of being a leader," Carswell said. "He's been here the longest. (Being a leader) falls on his shoulders."
Cevallos also echoed wanting to be a leader in his last season in the Scarlet and Black along with adding to the trophy case.
"I want to help out the newer guys to get into rhythm as fast as possible," Cevallos said. "Hopefully we can win the conference tournament and I can say goodbye in the best possible way."