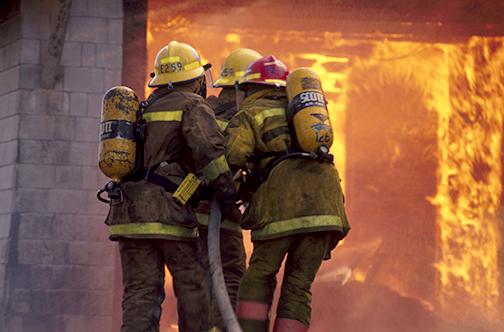 Ingram Publishing
After a series of wildfires devastated much of Northern California wine country, students shared their accounts of what the situation meant to them.
When journalism senior Madeline Betty went to her hometown of Benicia, 29 miles south of Napa, to visit her family Oct. 12., her car was covered in ash, she said.
"I already had the trip planned before the fire happened," Betty said "My mom's best friend lived by Sonoma State and the house burned down, completely to the ground."
Betty said she attended community college in Napa, and many of her friends were directly affected by the fires.
Although her family was not affected, it was still concerning to hear about it, Betty said.
"My mom and dad walked outside and people were wearing masks," she said. "My mom and dad were updating me, sending me pictures the whole time, and the skies were dark."
Journalism freshman Emily Escobar is from the Napa area and she said she heard about the fire while talking to her mother on the phone.
"They said it was so windy that my dogs were crying," she said.
During the night, Escobar said her mother was notified of the rapid progress of the fires.
"At first I was like 'Oh it's just nothing,' and as it got closer, I started hearing the streets that it was on, (and) it become more real," she said.
Hearing about people evacuating and the amount of damage caused also worried her, Escobar said.
"Everything here is so delayed compared to watching it live," she said. "And also the Wi-Fi was down, so it was hard to get a clear understanding of what was actually happening."
Due to the smoke from the fires, her family had been travelling to San Francisco to stay with her grandmother, Escobar said.
"They didn't have to evacuate, they just did it so they could breathe better air," she said.
Escobar said despite being far from her hometown, she has been trying to keep up to date with everything that develops.
"I have a group chat with my friends, and a lot of people are giving out coffee(and) water to people at the evacuation stations and it sucks that I can't even help my own town," she said.
Junior psychology student Valentina Valenzuela said she wanted to help the Latino community in her hometown of St. Helena, in northern Napa Valley.
"It's wine country so it's very split, you have the very expensive and very profitable wineries and those wine owners that make millions of dollars," she said. "And then you have the immigrants that come from Mexico primarily and work in the fields and some of them don't even have homes, but they're just here working, sending money back."
Valenzuela said she decided to sell tostilocos to raise funds for fire victims.
Accounting junior Maggie Ledezma, also from Napa and also a member of Valenzuela's sorority, joined in the event.
"We're both from the Napa Valley area so we're both affected by the Northern California fires," she said.
"We felt really hopeless," Valenzuela said. "We couldn't do anything. We saw people we know, houses getting destroyed or people were evacuated for two weeks."
On the first day, over $450 ws raised, Valenzuela said.
All the funds will go directly to displaced people in the Napa area via a non-profit organization called Las Puertas Abiertas, she said.
Ledezma said many people in the Napa area lost not only their homes, but their jobs as well.
"A lot of the people working there (are) in agriculture, that's jobs they're losing," she said.
To organize the fundraiser, Ledezma said she talked to Student Life and Leadership, Environmental Health Services and and Aztec Shops.
"Usually to set up, to even have a fundraiser, you need 30 days in advance," she said.
Officials approved the fundraiser within three days, Ledezma said.
"We definitely felt the help from the university," she said.
On campus, students affected by the fires can contact Randy Timm, dean of student affairs. The office will provide assistance with any issues that may come up, Timm said in an email to students.
Students can contact Timm's office at deanofstudents@mail.sdsu.edu or (619) 594-5221.