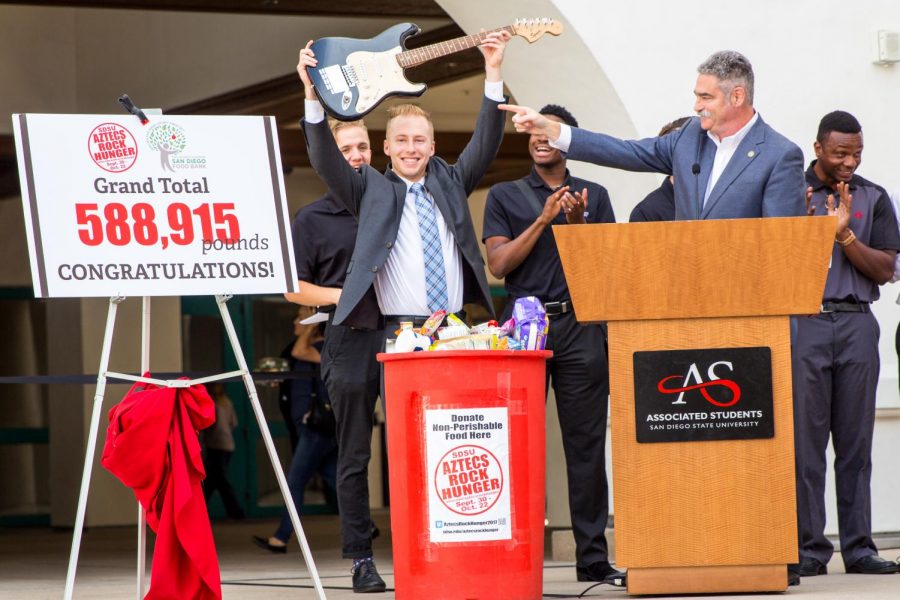 Petey Dyer
The Aztecs Rock Hunger Committee hosted an event on Nov. 3 to announce that the 2017 campaign exceeded its goal of collecting 500,000 pounds of food.
It was revealed at the event that a total of 588,915 pounds of food was raised during Aztecs Rock Hunger, which lasted from Sept. 30 through Oct. 22, beating the 2016 record of 448,240 pounds.
"I'm blown away that we were able to exceed the goal by quite a bit," said Hayden Willis, Associated Students vice president of financial affairs and chair of the Aztecs Rock Hunger committee. "We would not have been able to do that without (the students') support."
The majority of the donations from the ARH campaign go to fighting food insecurity on campus and throughout the San Diego region, while 20 percent of the monetary donations go to SDSU's Economic Crisis Response Team, according to SDSU President Sally Roush.
"Those donations allow our Economic Crisis Response Team to connect students who face housing insecurity or other unforeseen financial crises with short term and long term aid," she said.
Roush helped start Aztecs Rock Hunger at SDSU in 2008, in coordination with The Jacobs and Cushman San Diego Food Bank's Colleges Rock Hunger campaign and Executive Director of Associated Students Dan Cornthwaite.
Jim Floros, CEO of the Jacobs and Cushman San Diego Food Bank, said Colleges Rock Hunger was initially a competition between several San Diego County colleges, but because SDSU's donations were so much larger than the other colleges, the campaign became known as Aztecs Rock Hunger.
"Aztecs Rock Hunger is one of my favorite university activities," Roush said. "It's an event that showcases our student leaders' organization and marketing skills, as well as their compassion."
Floros said approximately one in six people in San Diego struggle with food insecurity, including about 40 percent of San Diego college students. Floros and the San Diego Food Bank partnered with SDSU last year to open a food pantry on campus for students suffering from food insecurity.
"Our goal was either to support or start a food pantry on every college campus in the region," Floros said. "We want people (to) not have to choose between buying books and paying for food."
Several awards and recognitions were given out at the event to different SDSU organizations for their contributions to the campaign. Aztec Proud was recognized for raising 27,673 pounds of food and Aztecs Shops was recognized for raising 225,132 pounds.
To promote student involvement in the ARH Campaign, a competition was held to see which student organizations could contribute the most. The awards for student organizations were divided into the following categories:
Most hours volunteered: Theta Chi Fraternity
Most hours volunteered proportional to membership: MEDLIFE SDSU
Most donations by a community business partner: Woodstock's Pizza, 1094 pounds of food
Most donations by a residence hall: Cuicacalli Residence Hall, 251 pounds of food
Most donations by a sports club: SDSU Dance Team, 2,523 pounds of food
Most donations by an A.S. board or committee: A.S. Judicial Affairs Council, 2,280 pounds of food.
Most donations by a college council: SDSU College of Health and Human Services, 13,338 pounds of food
Most donations by a student organization: Rotaract of SDSU, 5,445 pounds of food
Most donations by a sorority: Alpha Chi Omega sorority, 15,954 pounds of food
Most donations by a fraternity: Phi Kappa Psi fraternity, 30,281 pounds of food
Willis said while the donations made by the ARH campaign were considerable, a lot more are needed to combat food insecurity year-round. Willis said he encourages members of the SDSU community to contribute to fighting hunger by donating to or volunteering for the A.S. Food Pantry and the Jacobs and Cushman San Diego Food Bank.
"I'm so happy to say that we can raise the bar again this year," he said. "Hopefully we can hoist a bigger number up there next year."