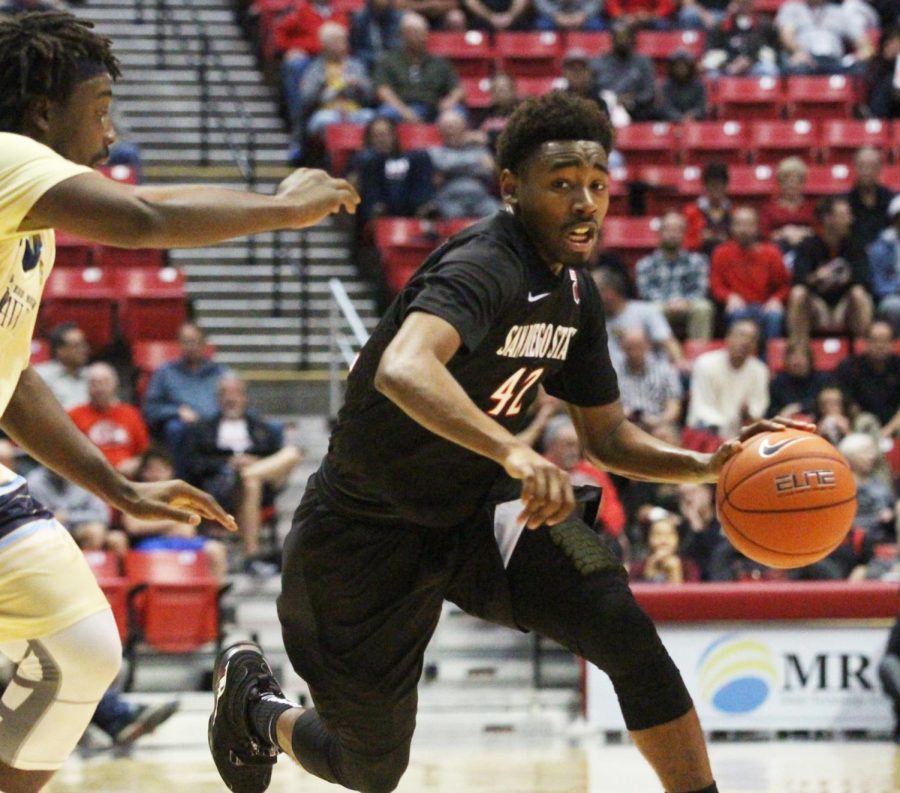 Photo by Kelly Smiley
Shrouded in uncertainty, San Diego State men's basketball opens its 2017-18 season this Friday against San Diego Christian College.
After a 19-14 finish in 2016-17, this season opener is rife with questions.
In his first season at the helm, head coach Brian Dutcher will be captaining a crew that is deeper and more athletic than any team in SDSU history.
In years past, the team was filled with scrappy defensive do-it-alls, tasmanian devils who personified the Steve Fisher era with their full court press, quick hands and leave-it-all-on-the-floor defensive attitude.
But Dutcher's men – at least this first group – are some of the most touted recruits that SDSU has won over.
Senior forward Malik Pope was rated a five-star recruit by Rivals.com.
Redshirt freshman forward Jalen McDaniels was a four-star recruit and rated the top player in Washington by Scout.
Freshman forward Jordan Schakel, a known three-point threat, was a four-star recruit.
And two of those players have never touched the court in a regular season game.
Head coach Brian Dutcher said the team's depth makes his job much easier.
"It's nice to have the depth at every position and it's comforting as a coach to know I can go with different combinations," Dutcher said. "If I want to go with three guards, I can do it. I can play two and Jeremy (Hemsley) is not the starter and comes off the bench, I know he'll be ready to go."
This team has more talent and more potential than any SDSU team, even at the height of the Steve Fisher era.
But the key word is potential.
SDSU had potential last year too – and then got complacent.
The Aztecs banked on the fact that they were talented and lost sight of the main tenant of Steve Fisher basketball – effort.
SDSU was consistently  outrebounded, outworked and outhustled, leading to 12 losses by single digits.
Fisher said after several games during his final season that the Aztecs were not appropriately representing the powerhouse program he had built.
Overcoming a sluggish start marred by less-than-moderately-stellar defensive effort, the Aztecs breezed by UCSD, 98-78, in their first exhibition game on Nov. 2.
Junior guard Jeremy Hemsley, who was at many times last season the spark plug of the team and one of the lone bright spots of a disappointing season, came off of the bench.
In the three-guard starting unit, junior transfer Devin Watson started at point guard, and junior Max Montana jumped in the opening unit alongside senior Trey Kell.
At the University of San Francisco in 2015-16, Watson averaged 20.3 points per game, more than any current SDSU player has averaged in their career.
He joins an already crowded backcourt, and adds yet another offensive weapon.
Kell – who led the team last season with 13.4 points per game – Hemsley, Pope, and co. have the potential to raise the bar for basketball on the Mesa.
But names, stats and potential only go so far.