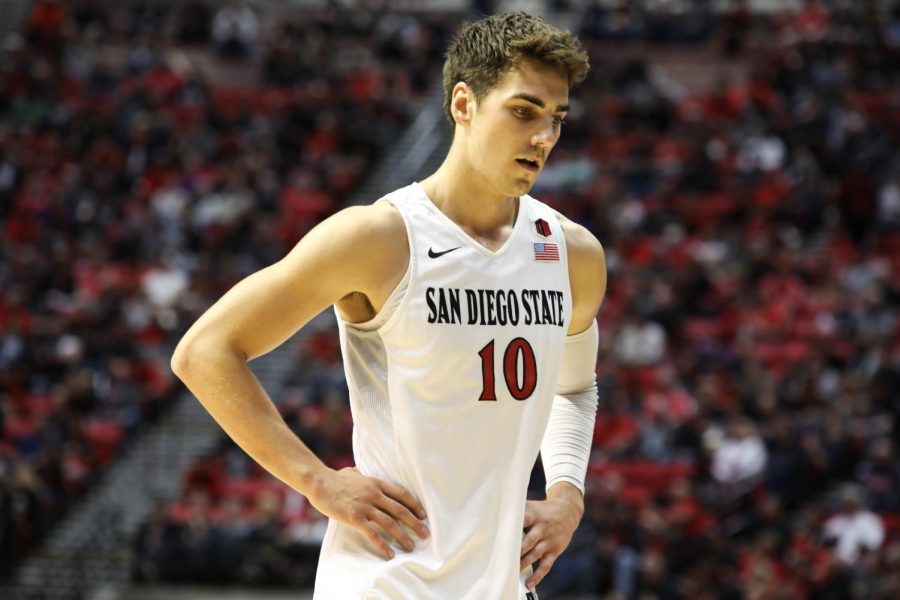 Photo by Samantha Bonpensiero
San Diego State men's basketball could not overcome a nightmare second half, losing its first game of the season, 90-68, against Arizona State University.
ASU came out with a flurry of points in the second period, making 10 of its first 12 field goal attempts, and outscored the Aztecs, 56-28, to erase a 40-34 halftime deficit.
"The strength of our program has always been our defense and it wasn't there tonight," SDSU head coach Brian Dutcher said. "We knew they were an attacking team, they have excellent guards that really get to the rim and they got there on us in the second half."
The Sun Devils shot 66.7% in the second half, including 6-9 from three, compared to 30 percent for SDSU (1-1), which saw a nine-point lead turn into a 20-point deficit in the span of 11 minutes.
ASU (2-0) was led by senior guard Tra Holder, who scored 15 of his game-high 24 points in the second half, including four made shots from behind the arc, and redshirt freshman forward Romello White, who grabbed a game-high 15 rebounds while helping the Sun Devils out-rebound SDSU, 42-36.
The Aztecs appeared to have momentum after a thunderous dunk from senior forward Malik Pope gave the team a 45-41 lead with 17:50 to play. However, Pope committed his third foul on the ensuing ASU possession – his second in just over two minutes of the second period – and was forced to sit down.
When Pope came back into the game a little over six minutes later, ASU was in the midst of a 19-5 run, which would grow into a 31-7 run for a 76-52 lead before the media timeout with 6:42 to play.
"I think Malik (Pope) getting his third foul early in the second half hurt us. I wanted to rest him until the 12-minute timeout and it just never came," Dutcher said. "They went on a big run and eventually I had to take one to try to stem the momentum and get Malik back in the game. At that point, they had a lot of momentum in their favor and we just couldn't overcome that."
Pope finished the game with 14 points on 5-10 shooting, with eight rebounds, one block and three steals.
At the start of the game the Aztecs jumped to a 5-0 lead after a three pointer by senior guard Trey Kell, but began to struggle and found themselves down 24-14 midway through the first half.  
SDSU was able to come back and take the halftime lead thanks in large part to 14 points from Kell, and 12 points on four made threes by junior forward Max Montana.
"Even though we had the lead at halftime, I told the kids it was about a C performance. We had nine turnovers and we didn't play nearly as good as I thought we should have played," Dutcher said. "You multiply that by two in the second half and it wasn't a great game for the Aztecs."
Kell finished the game with 16 points and 10 rebounds with four assists, but failed to make a field goal in the second period, going 0-4.
Montana left the game in the second half with what appeared to be a knee injury, but Dutcher downplayed the severity of the injury after the game.
"With the score the way it was I decided not to bring him back in to let him rest it, ice it, and make sure it's solid for Friday," he said.
SDSU's next game will be at home on Friday, Nov. 17, when it takes on McNeese State University.