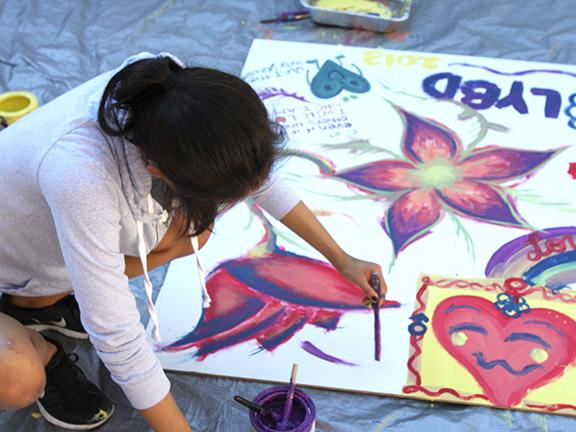 The Andrea O'Donnell Womyn's Outreach Association hosted its annual Love Your Body Day at Scripps Cottage to celebrate and promote positive body image.
"There's a lot of negative influence surrounding women's bodies in popular media and our culture today," Julia Goldberg, the outreach association's president, said at the Dec. 5 event. "We want to tackle that and encourage our guests to love themselves and accept the body they were given."
Planned Parenthood, SDSU's Women's Resource Center and the university's production of the Vagina Monologues set up booths at the event to talk to guests about body positivity.
Among various other booths was a "Wall of No Shame" where guests could write what they love about themselves.
"My 37-year-old body rocks!" one guest wrote on the wall.
There were also multiple activities at the event to promote self-love including a workshop, a yoga session and a talk about holistic nutrition.
Jeimy McDonald from the Women's Resource Center hosted the workshop on self-love.
"(Self-love) is loving ourselves unconditionally," she said. "Loving our flaws, loving the good and the bad, being kind to ourselves and realizing that we are enough, as well as realizing that our individuality is that most important thing."
Amy Krasner, an eating psychology coach, gave the talk on nutrition.
She promoted a "mindful eating" mindset and taught guests how to listen to and nourish their bodies.
"I feel like as women we get really mixed messages from society about our body and about what to eat and it makes it really confusing and overwhelming," she said. "I really wanted to share a more heart-centered approach to really help women connect how food connects to how they're feeling."
In addition to Love Your Body Day, Goldberg said the Womyn's Outreach Association will be hosting a campus-wide rally and march against sexual assault and domestic violence called "Take Back the Night" on April 12, 2018.
"It's a really powerful and important event every year," she said.
Goldberg said the association has weekly meetings every Thursday from 5 – 6 p.m. in the Pride Suite of the Conrad Prebys Aztec Student Union.
"I think it's a really positive message that's being shared," Krasner said. "I love that at the college level you guys are offering this."