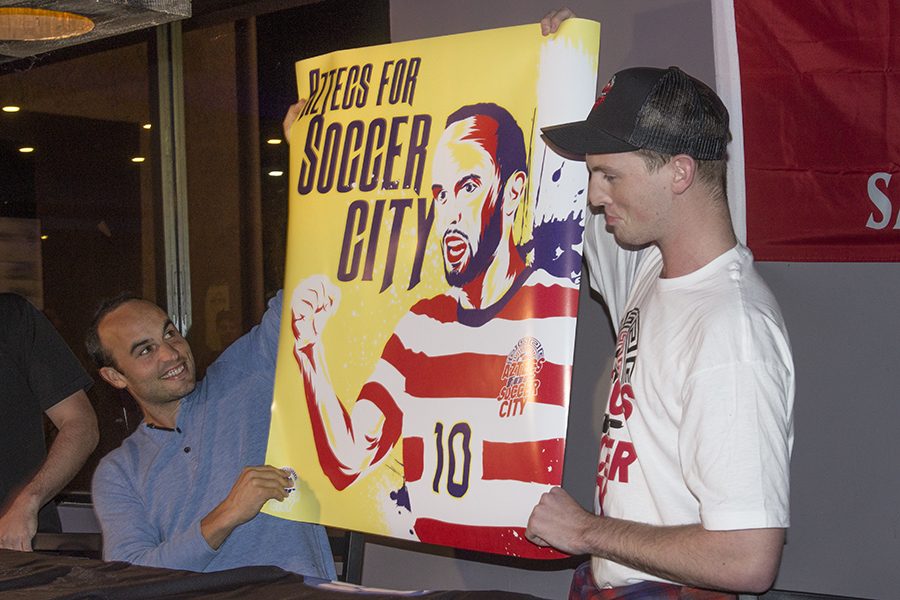 Less than a week after the presentation of San Diego State's plan to expand into Mission Valley, a new pro-SoccerCity organization is looking to kick up support among students.
Aztecs for SoccerCity held its official kickoff event Dec. 6 at Social Tap, a bar on El Cajon Boulevard, less than a mile from campus.
"Students are really at the center of this and students are going to be the ones who will be seeing this happening," Nick Merritt, marketing sophomore and Aztecs for SoccerCity co-founder, said. "They'll be the ones who are directly affected by this plan and directly affected by Mission Valley."
The student-run organization held its event in conjunction with SoccerCity project manager — and FS Investors partner — Nick Stone. Another partner, retired LA Galaxy midfielder Landon Donovan, was also in attendance.
Chandler Brunelli, graphic design sophomore and Aztecs for Soccer City co-founder, one goal of the event was to make sure students are informed about the other side of this issue.
"We just organized an event to tell people, tell students and tell alumni about why they shouldn't just blindly support SDSU West just because it's something that SDSU is promoting," Brunelli said. "I think it's great because it's allowing people to look deeper into the issue rather than just accepting that their school is offering a plan."
He said Aztecs for SoccerCity members initiated a poll of about 1,000 students on campus to measure their attitudes toward SoccerCity.
"We went to Greek houses on SDSU's campus and did a little paper survey and then we tabled for two or three days in the middle of campus," Will Griffith, management sophomore and Aztecs for SoccerCity co-founder, said. "People really like soccer in San Diego."
Media Studies professor Dr. Valerie Barker said she applauds the students on an impressive sample size, but finds the methodology for obtaining the sample questionable.
Barker said specifically polling fraternity members leads to questions about the representativeness of the sample.
"This is a convenience sample," Barker said. "In other words, the responses are not necessarily representative of all SDSU students."
Barker said what she saw as biased wording, as well as several yes or no questions, were also aspects that made the survey findings questionable.
Some of the survey questions included "Would you attend more games at a new stadium with a more intimate atmosphere?" and "Would you be OK with the university investing over $100 million into this project knowing that the school will be paid back over a period of 5 years?"
Students present at the kickoff, though, showed definite support for SoccerCity.
"I lean towards SoccerCity because I think an MLS team would fit perfectly here," business management junior Kayla Arnold said. "We just had the Chargers leave and I think San Diego has a great fan base and people definitely would go and support, it just needs that first push-off to get in."
Donovan said the SoccerCity initiative is designed to benefit students.
"We've been looking for a plan that is comprehensive for this city and that also takes care of San Diego State," Donovan said. "One of the main goals of this whole thing has been to take care of San Diego State."
Stone said the project was previously trying to collaborate with SDSU.
"The university came forward in basically May saying, 'We need 35 acres plus a San Diego site.'," Stone said. "And, what we guarantee on our site is not only the full 35 acres but we'll build half the stadium, the university will build half the stadium, we'll gift our half to the university and we'll stay on the hook for all the operating costs."
As far as SDSU students are concerned, Stone said the SDSU West initiative could have a heavy impact on their wallets.
"What that means for the students is $150 million dollars less money the university has to spend on building a stadium," Stone said. "All of our discussions with the university to date have suggested ultimately that was going to be financed by student fees. For context, $150 million dollars is 60 percent of the current endowment size for the entire university."
Donovan said he just wants to make sure voters have the information they need to make an informed decision.
"In the end, the people get to decide," Donovan said. "That's the beauty of a democracy, right? You get options and you get to decide. If you don't decide on our initiative, that's okay, but make sure you have the facts and the information before you make a decision."
But University President Sally Roush said at the Nov. 29 presentation of new renderings for the proposed Mission Valley campus that much of the funding for the stadium will actually come from non-student sources.
Roush said the cost of a new stadium would be about $250 million, and the cost for the entire campus development would be around $3 billion.
"It's got a really big-sounding number, but almost all of that would come from private developers that we could contract with to build the housing, the retail and the office buildings," Roush  said.
Jill Esterbrooks, SDSU's director of media relations, echoed this in an email Dec. 8.
The university will not have to raise tuition or student fees to pay for the SDSU Mission Valley proposal, she said.
"As the (p)resident outlined at the unveiling event on Nov. 29, we envision utilizing public-private partnerships to develop the commercial, retail and housing on the site, which will assist SDSU in realizing its higher educational mission," Esterbrooks said in the email. "Additionally, the revenue from our partnerships will provide the funds necessary to pay for other ancillary costs such as the (river park) and demolition of the current stadium."