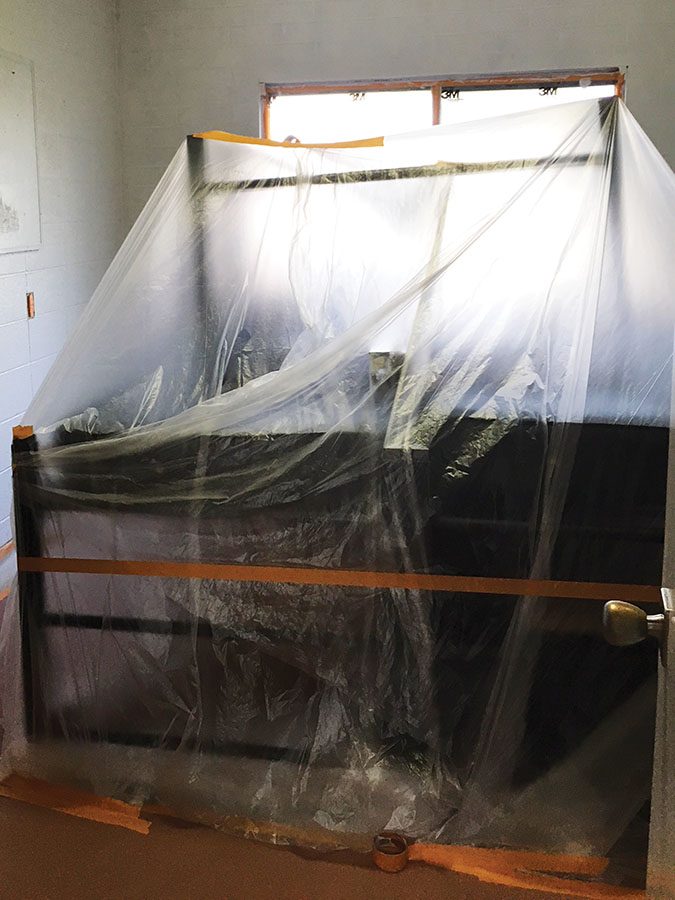 Several students living in a San Diego State dorm hall say they found themselves struggling to get administrators to allow them to move out of their rooms despite mold being found in their walls, furniture and air vents.
Many of the students in Maya residence hall said they were facing health problems related to the mold and felt they were forced to involve their parents in order to get safer living conditions.
One set of roommates, psychology freshman Gianna Wood and civil engineering freshman Jillian Shoemaker, said they were one of the first pairs to request to leave Maya, putting their request in on Nov. 29, 2017. They were one of the last to move out on Jan. 15, 2018.
"I felt that I was being ignored and not taken seriously," Wood said. "I felt that because I was a young college student — and a girl — my voice wasn't being heard at the time."
She said she was not given the go-ahead to move into another room in South Campus Plaza until she got her parents involved.
"I tried to minimize my parents' involvement as much as possible because I'm 19 (and) I wanted people to take me seriously," Wood said. "But it got to the point from where I noticed that people's parents who got involved and threatened to sue were taken more seriously and more action was taken so at that point I had my mom call."
Hansen rebutted Wood's claims in an email.
"Our process was the not initiated nor expedited by parents with the exception of units on the south side of the corridor where no fungus was found." Housing Director Eric Hansen said in an email. "We wanted to accommodate the request as quickly as possible."
Hansen also said that a third-party vendor that specializes in mold remediation cleaned up the contaminated dorms.
Wood was also still living in her dorm in Maya while cleaning crews came through the residence hall to help clean up the mold.
"It was a very weird process," Wood said. "It didn't seem right."
Another set of roommates, marketing freshman Kennedi Kraten and sustainability freshman Maddie Stein were also living in Maya while the cleaning process was taking place.
"Watching them treat it (mold) was scary, they were all wearing masks covering their mouths and protecting them from the air that we were breathing," Stein said. "We honestly felt neglected, like they didn't care about us because it was unsafe."
Hansen said all rooms affected by the mold were cleaned.
"They have all been sealed and most rooms have been painted," he said.
After being cleaned, the rooms were then tested by another third-party consultant, Hansen said.
Stein and Kraten were also moved from Maya to Tenochca residence after parent involvement.
"I think the reason we're getting moved is because my dad followed up and called, if he didn't it is obvious how they would have responded and they wouldn't have done anything at all," Kraten said.   
The way housing handled the situation made Stein question if she still wanted to attend to SDSU.
"If there's going to be a problem in the future where we have no control over what is happening, it is 100 percent the school's responsibility," Stein said. "They need to make sure that they're going to accommodate us and make sure that we are safe because it seems like they have no regard for our health and safety."
"I think that building should be knocked down," Stein said. "(The mold) is saturated in the brick. We watched them paint over it. No matter what type of fuming they did, it's still in the brick and it is still in the showers regardless."
Hansen said the clean-up costs were approximately $60,000.
"The furniture is cleaned and being reused," he said.
Hansen said that the rooms have been cleared and anyone who would want to move from any other room or building would be able to do so after Jan. 29. It is unclear if any students chose to move back.