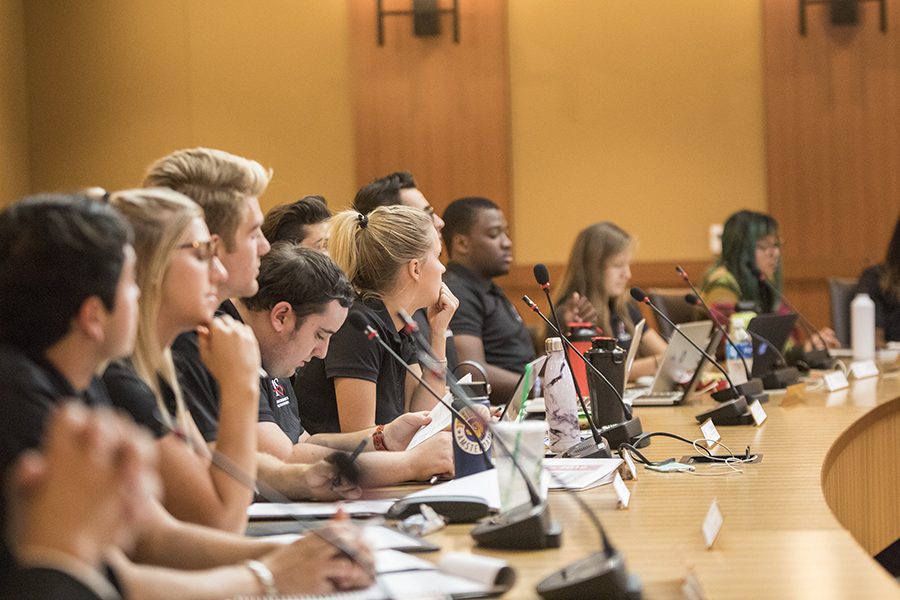 Samantha Bonpensiero
The Associated Students University Council gathered on Feb. 7 for its bi-weekly meeting to discuss a delay in a tuition hike vote, the new registration timeline and upcoming events.
Budget and tuition hike
The California State University Board of Trustees postponed a vote for an increase in tuition and fees for fall 2018. The vote will now take place in May.
The CSU Board of Trustees delayed a vote for a potential tuition hike in order to finalize its budget negotiations with Gov. Jerry Brown. The UC Board of Regents also moved their vote for a tuition increase to May.
Governor Jerry Brown's proposed budget on Jan. 10 included a $92.1 million increase in state funding, about $171 million less than the system requested.
As a result of this, the Board of Trustees proposed increasing tuition by $228 — nearly 4 percent — to $5,970 for the 2018-19 academic year.
University Senate representative Cezar Ornatowski said the governor's budget proposal does not adequately match rising inflation costs and falls short of university operation costs.
If the vote passes in May, it will be the second year in a row tuition has increased.
Ornatowski said there's an impression that Gov. Brown proposed a minimal budget and will likely increase his proposed level of funding for the CSU to negate the necessity of the tuition hike.
New registration timeline
A new registration timeline will go into effect this spring. Continuing students will begin to register for the fall 2018 semester in April. New students will continue to register for classes over the summer, as they did under the old system.
Associate Dean of Professional Studies and Fine Arts Donna Conaty and Associate Director of the Office of Advising and Evaluations Christine Molina plan to raise awareness of the timeline change before registration in April.
Conaty said continuing students will be eligible to add or waitlist for any course during the registration process. She said if students do not meet the prerequisite requirements after semester grades are posted, they will be notified and dropped.
Students will be responsible for paying fees at the time of registration. Students on financial aid will qualify for fee postponement if they submitted their FAFSA  by Nov. 17.
The timeline change impacts the process of fees and tuition, but Conaty said students should not assume they cannot enroll on time if they have trouble with fees.
"There should be no one on campus who can't get registered," Conaty said. "We want to ensure that all (students) can register when they desire."
Upcoming events
A.S. Board of Directors representative Victor Uwakwe announced that SDSU Center for Intercultural Relations will be opening a Black Resource Center.
The grand opening for the center is scheduled for Feb. 28 at 4pm at 5723 Lindo Paseo.
A.S. Executive Vice President Vanessa Girard said that The Green Fest Concert announced their lineup with SDSU Student Performer D.Sel, opener Vic Mensa and Lil Yachty as headliner.
The Green Fest Concert will be held on March 2 at 7:30 p.m. in the Cal Coast Credit Union Open Air Theatre. Tickets can be purchased at the Viejas Arena ticket office. Prices for SDSU students are $15, while guest tickets cost $25.
Girard said that one ticket is allowed per valid RedID, and students can also purchase one ticket for a guest.
A.S. Vice President of Financial Affairs Hayden Williams said he will be participating as a guest speaker for TEDx SDSU, which will be held from 8 a.m. to 2 p.m. on March 10. Williams said the theme of the talk is "Pattern Disruption."