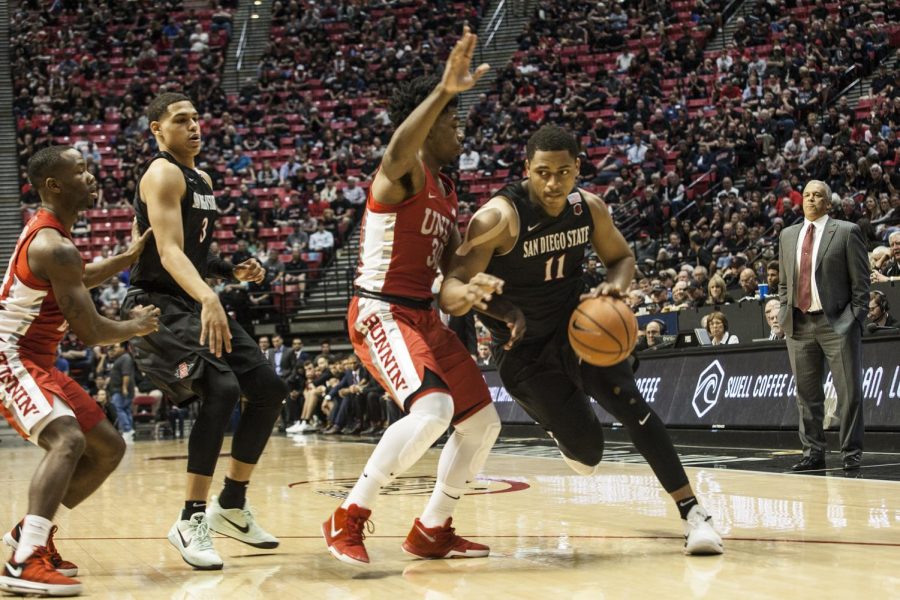 Photo by Kelly Smiley
San Diego State men's basketball freshman forward Matt Mitchell calmly intercepted a pass by senior guard Jordan Johnson and drove it back down the court for a layup.
The steal and score gave the Aztecs a quick 6-0 lead, and opened up the floodgates for an 18-turnover night for the visiting Runnin' Rebels.
"I was just trying to come out and set the tone for the game," Mitchell said. "Set the tone that were here and we're here to play hard."
UNLV had 14 turnovers in the first half alone, and SDSU turned a resulting 20 point halftime lead into a 94-56 victory on Saturday afternoon at Viejas Arena.
The 38-point margin of victory was the largest for the Aztecs (15-10, 7-7 MW) over a Mountain West Conference opponent this season, and put an end to a three-game winning streak for UNLV (19-8, 8-6 MW).
"We played forty minutes of good basketball," head coach Brian Dutcher said. "It's a good time of year to be playing your best basketball."
Senior guard Trey Kell (two points, six assists) said that the team takes pride in its ability to play hard defense and force turnovers.
"It is something we take pride in because to get where we want to get to we have to step our game up on that end," Kell said. "It was a good start for us tonight."
SDSU had four players score in double figures, led by 21 points from Mitchell, 18 points and 14 rebounds from freshman forward Jalen McDaniels, and 17 points each from senior forward Malik Pope (nine rebounds) and junior guard Max Montana (five three-pointers). 
The Aztecs improved at home to a record of 11-2, which is a far cry from their 4-8 record away from Steve Fisher Court.
"Now the challenge is to see if we leave the confines of Viejas and go do this on the road," Dutcher said. "It'll never be as easy away from home, but we can play to a high standard and see if we can get a road win and keep this momentum going into the conference tournament."
The victory avenged a Jan. 27 road loss to UNLV, which saw 7-foot freshman forward and first round NBA prospect Brandon McCoy torch the Aztecs for 21 points and seven rebounds.
The Aztecs were able to hold McCoy in check in this game, using a variety of defensive matchups to limit him to nine points on only three of 11 shooting. 
"We didn't let him play us one-on-one," Dutcher said. "It's hard to stop anybody one-on-one, so we changed who we helped in this game."
Senior guard Jovan Mooring paced the Runnin' Rebels in scoring with 16 points to go with five rebounds and three assists.
SDSU got out to a fast start with a 10-2 run to open the game, and went into the halftime break with a 48-28 lead thanks to additional runs of 9-0 and 12-0.
UNLV shot 44 percent in the opening period, and had a stretch where it turned the ball over on seven consecutive possessions, which coincided with a 20-3 Aztecs run.
McDaniels had eight points and five rebounds within the first eight minutes of the first half, and would secure his sixth double-double of the season with over 10 minutes left in the game.
The Aztecs led by as many as 23 points in the half, after a jumper by junior guard Devin Watson finished off a 12-0 run that gave the Aztecs a 44-21 lead with 2:08 to play.
Next up for SDSU is a road meeting with Air Force on Feb. 21.