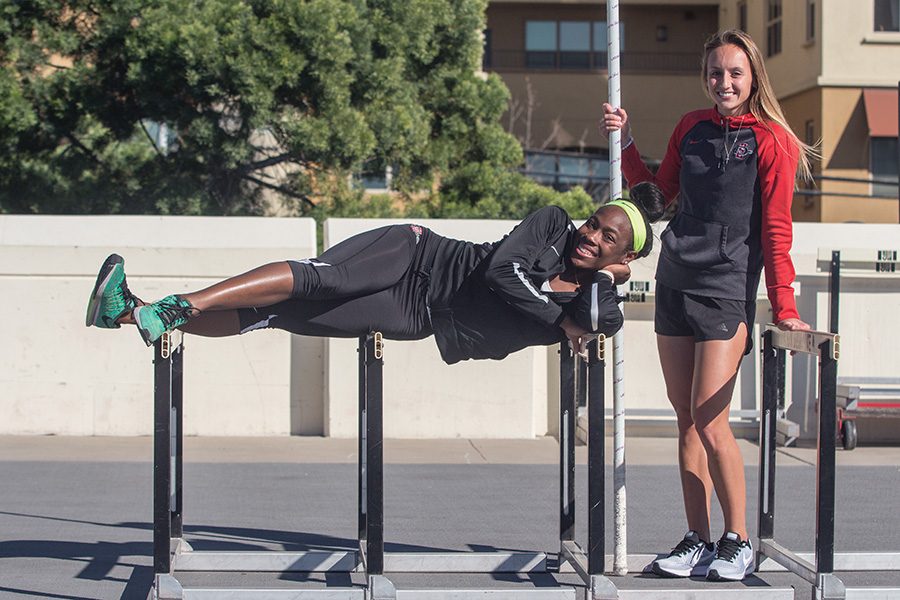 Photo by Abraham Jewett
San Diego State senior sprinter Ashley Henderson and redshirt junior pole vaulter Bonnie Draxler's 2017-18 women's indoor track & field season has been filled with honors.
Henderson was named the Mountain West Women's Indoor Track Athlete of the Week on Jan. 16 and Jan. 30, while Draxler was selected as the Mountain West Women's Indoor Field Athlete of the Week on Jan. 16.
Henderson wants to leave a legacy in her last season, and nearly tied her school record of 7.17 in the 60 meter dash with a 7.19 performance at the Don Kirby Collegiate Invitational in Albuquerque, New Mexico on Feb. 10.
"Being this is my last year, just collecting titles and a lot more accomplishments while I'm finishing up my last collegiate season means a lot to me," Henderson said. "It's pretty awesome I was able to do that."
That same day, Draxler tied a school record at the Don Kirby by clearing 4.30 meters in the pole vault, and the gifted vaulter remains undefeated against all indoor competition.
"It means so much to me, just knowing the rich tradition that we have of pole vaulting here at SDSU," Draxler said.
Head coach Shelia Burrell is in her ninth season at SDSU, and praised both Henderson and Draxler for their development as leaders.
"I think where (Draxler) is a great leader is that her discipline and her focus in what she wants to be and how passionate she is about vaulting is a good example for the other vaulters," Burrell said. "(Henderson) has kind of grown into being a leader. I think this year is the year that she's… come out and led by example."
Both Henderson and Draxler have been part of the women's track & field program since their freshman season in 2014-15.
It was during that time that Henderson qualified for the MW Indoor T&F Championships 200 meter race, finishing in second place with a time of 24.09, which placed her in eighth place in the SDSU record books.
Henderson and Draxler teamed up to race together in the 4×400 meter relay, finishing in sixth place, according to their GoAztecs profiles.
Draxler, meanwhile, won the pole vault at the event after clearing the 4.18 meter mark, and then later in the year finished second in the outdoor conference championships after she cleared 4.06 meters.
Henderson and Draxler are now preparing to compete in the Mountain West Indoor Track & Field 2018 Championships on Feb. 22-24 in Albuquerque.
Henderson finished first in the 60 meter and the 200 meter sprint last season, defending her first place finish in the 200 meter from the year before.
Draxler will be competing in the championships for the third time, having finished first in 2015 and 2016 in the pole vault, before not participating last season.
Burrell said that she has high expectations for both Henderson and Draxler heading into this year's championship postseason.
"This indoor season, they've both obviously done really well and excelled," Burrell said. "I'm expecting, from both of them as they're getting ready for NCAAs, that we move through conference, we do our team performances, and that then catapults them and motivates them for the next competition, which is the National Championships."
Henderson's goal entering the postseason is simple: win.
"I definitely want to go and defend my titles," Henderson said. "Going into NCAAs, I just want to go in with a really good set time…to set me up to be at least top three in the country."
Henderson said that she is making sure to keep her emotions in check with the conference championships looming.
"I got so much anxiety that's going on, so I'm trying to not be too nervous and not trying to be too excited at the same time," Henderson said. "This is my last collegiate season and I really want to go out with a bang."
Draxler said she is expecting tough competition in the MW Championships from fellow pole vaulter Kathryn Tomczak of the Air Force Academy, who is still in search of her first title.
Tomczak is the Air Force Academy's first 14-foot pole vaulter in program history and has been named Mountain West Women's Indoor Field Athlete of the Week twice this season.
"I'm really excited to jump against (Tomczak)," Draxler said. We jumped against each other last outdoors. I beat her then, so I know she's got a lot of vengeance."
Last season, Draxler finished 21st in pole vault at the NCAA Outdoor T&F Championships.
One of the goals Draxler said she set before this season was to make indoor nationals, a feat she hasn't been able to accomplish in recent years.
"I never made it to indoor nationals the past two years, so that was the biggest thing for me," Draxler said.
Henderson said she will miss having Draxler as a teammate as she moves forward.
"(Draxler's) been great," Henderson said. "(Draxler), she's a sweetheart, and I'm definitely gonna miss being a teammate with her."
Henderson appreciates the support and encouragement she's received from Draxler throughout her collegiate career.
"(Draxler) encourages me with what she's doing with the field events and I'm encouraging her. We kind of keep the momentum bouncing off each other," Henderson said.
Draxler, in return, has enjoyed Henderson's competitive spirit and motivation during her time at SDSU.
"We've been here since freshmen together and I always knew she was really good," Draxler said. "She was always blowing everyone away in practice… just seeing her compete on that level, and just knowing that it's here, and there's someone training with me every single day is super motivating."