Aztecs end regular season with 79-74 win over No. 21 Nevada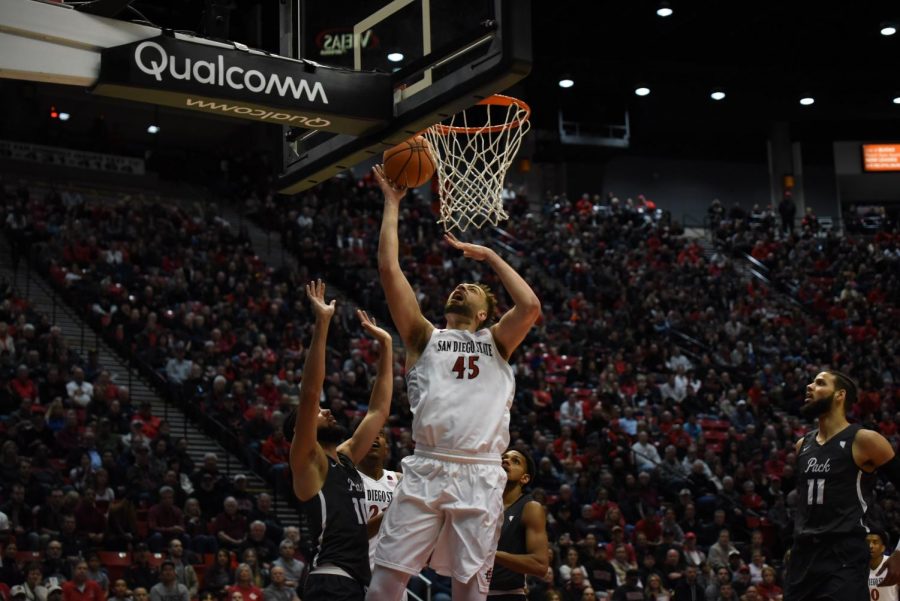 By the time San Diego State men's basketball tipped off at 7:00 p.m. on Saturday night, the fate of its Mountain West Conference tournament seeding was in its own hands.
Just an hour before, the University of Wyoming lost to Boise State University, paving the way for SDSU to clinch the No. 5 seed – and the first-round bye that comes with it – in the conference tournament starting on March 7.
The Aztecs took care of business, defeating the MW regular-season champion No. 21 University of Nevada by a score of 79-74 in front of a packed house of 12,414 at Viejas Arena.
The win was a season-high sixth in a row for the Aztecs (19-10, 11-7 MW), and ended a six-game win streak for Nevada (26-6, 15-3 MW).
"We believe we're the best team in this conference, so we have to prove it every time we go out there," head coach Brian Dutcher said. "I thought our kids did it tonight."
SDSU led 72-64 with just under three minutes to play, before the Wolf Pack stormed back behind eight points from junior forward Jordan Caroline (29 points, six rebounds) to pull within 74-72 with 1:07 left.
The Aztecs then cleared the floor for senior guard Trey Kell (17 points, nine assists, five rebounds), who proceeded to swish a jumper with a man in his face to give the team a 76-72 lead.
"I just decided I had the confidence in myself, I know its a shot I could get to at any time," Kell said. "I saw he was giving me space, so I just rose up. I'm glad I made the shot for the team."
The shot broke the back of the Wolf Pack, who missed a shot and had a turnover on their next two possessions before the Aztecs sealed the game at the free-throw line.
Dutcher said that Kell's final shot was something he had been looking forward to seeing from his senior leader, who has been bogged down by a variety of injuries this season.
"This is what I've been waiting for for (Kell)," he said.  "To be in close games and get him the ball and let him make plays to win or lose games for us."
Senior forward Malik Pope and senior center Kameron Rooks joined Kell in double figures with 16 and 12 points, respectively.
It was a season high in points for Rooks, who finished a perfect 6-6 shooting after not having scored more than four points since November.
"Its been a frustrating journey," Rooks said. "But I'm glad that the coaches gave me the opportunity to go out there and play, and show everybody what I can do and for me to help this team get a W."
The Aztecs appear to be clicking at the right time, and Pope said that the team has finally found its footing as it heads into the conference tournament.
"We've done a great job fighting through adversity," Pope said. "I think we really just adjusted, we found our chemistry and learned a lot about each other throughout the process."
Had SDSU finished in the sixth seed they would have had to win four games in four days, but would have started the tournament against San Jose State, which sits in dead last in the conference with a record of 4-25 (1-17 in conference).
As the fifth seed the Aztecs now have a first round bye, before playing Fresno State in the quarterfinals on March 8.
The winner is slated to potentially meet Nevada in the semifinal game, whereas Wyoming (as the sixth seed) would not meet the regular-season conference champs until a potential matchup in the finals.
If the Aztecs compete as they did tonight, when they play the Wolf Pack will not matter.
"We're ready for Vegas," Dutcher said. "We would have been ready to play four  games or three, its about how your playing, not how many, and we're playing good basketball."
Nevada got 35 points from junior forward twin brothers Cody Martin (13 points) and Caleb Martin (22 points), who combined with Caroline to score 64 of 74 points for a Wolf Pack team which had zero points come from the bench.
"Nevada plays their hearts out but they have a short bench," Dutcher said. "We're playing nine or 10 deep and that makes a difference… hopefully that will really make a difference next week in Vegas."
SDSU was trailing by 10 points with just under five minutes left in the first half, but went on a 12-0 run to go into the break with a 36-34 lead.
The run included back-to-back three pointers from Kell and freshman guard Jordan Schakel, before a tip-in by Rooks with four seconds left gave the Aztecs the halftime advantage.
Nevada would not score for nearly the final five minutes of the half, turning the ball over five times in that time. 
The Aztecs were hot to start, making seven of their first 11 field goals and staking themselves to a 15-9 lead just over six minutes in.
Nevada took control at that point, going on a 15-0 run to grab a 24-15 lead with 9:10 left before the half.
Caroline scored seven points during the run, and finished the first half with 14 points to lead Nevada. 
The Aztecs went on a 7-0 run to get to within 24-22 with 7:05 left, before a quick 8-0 run, which included back-to-back threes by senior guard Kendall Stephens and Caroline, staked the Wolf Pack their largest lead of the half at 32-22 with 5:20 left before the break.