Students examine worth of 'resort-style' apartments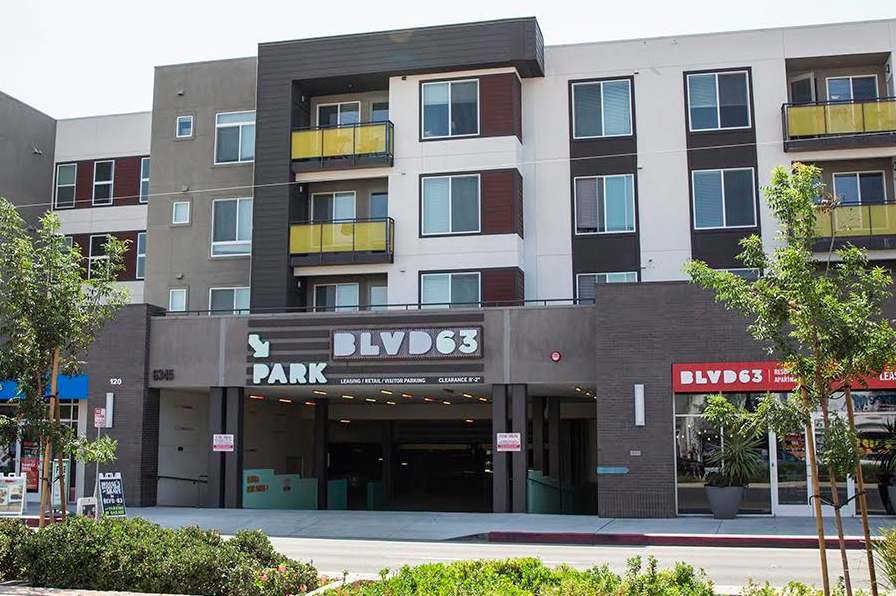 Resort-style apartment complexes have become a competitive option when seeking housing by introducing a number of exclusive amenities. However, these special features come with a price.
The most popular of these apartment complexes are the BLVD63 Apartments on El Cajon Boulevard and Fifty Twenty-Five on Collwood Boulevard — both of which are about a mile from San Diego State's campus. Unlike most standard apartment complexes, BLVD63 and Fifty Twenty-Five offer shuttles to campus, large pools, entertainment areas and gyms. These complexes are also pre-furnished and embrace a modern design, according to their websites.
For BLVD63, rent ranges from $1,825 for a studio to $725 for a shared room in a four-bedroom apartment, according to the complex's website. According to the Fifty Twenty-Five website, students can live in a studio for $1,450 or choose between a number of shared accomodations, with the lowest priced at $675 for a shared room in a four-bedroom apartment.
For both complexes, the rent paid is dependent on the number of roommates and whether an individual chooses to live in a single or double. Both complexes have accommodations for up to six roommates per apartment, according to their websites.
When considering the local market, neither apartment complex falls far from local rent averages. According to RentCafe, the average rent for a studio apartment in San Diego sits at $1,479.
With rent costs sitting very close to local rent averages, residents said  the primary draw for them when they signed their leases were the amenities. Management and entrepreneurship senior Haily Morejon said she loved that BLVD63 looked newer and had an attached gym.
"Last year I lived in Aztec Corner and it didn't really have many amenities," Morejon said. "BLVD is a lot newer and cleaner."
Morejon said that, as a downside, the shuttle was very inconsistent and became a big hassle in the mornings.
Morejon pays $825 in rent, with parking costs included, for a shared room in a four-bedroom apartment. She said that she'd like to see rent at BLVD63 go into the $700 range, and that what she is paying right now seems a bit high.
SDSU student and BLVD63 resident Ashley Hunck said she loves living in BLVD63 and plans to renew her lease. However, she said people can play their music very loud all throughout the week and that maintenance tends to be slow.
Hunck said she pays $800 in rent to live in a shared room and that she has four roommates. She said she also pays $40 a month to park her car in the BLVD63 parking garage.
Grossmont College student and Fifty Twenty-Five resident Fadiba Barry said she is currently paying $650 in rent for a shared room. Her apartment has four bedrooms and she said the space is split between six people.
"If you're looking to have cheap rent, the living arrangement is kind of uncomfortable in a small space," Castellani said. "If you're looking to live with less people and pay more, then maybe it could work out."
Barry said, overall, her experience at Fifty Twenty-Five has been very negative and that she will be moving to BLVD63 when her lease ends. She said, for instance, that a sprinkler malfunction had left water damage in one of the apartments, leading very to noisy renovations.
"Renovators came in at really bad hours of the day and did not take into consideration the people living there," Barry said. "Then, we got charged for utilities due to their renovation. That didn't get taken care of until months later even though we made sure we would not be charged."
Barry also said she is skeptical about the way the complex pairs roommates.
"I think when it comes to setting people up with certain roommates, they don't really consider their little survey," Barry said. "I think they're just putting anyone anywhere."
Grossmont College freshman and Fifty Twenty-Five resident Sofia Castellani said she also found the roommate situation to be problematic. However, she said the complex has a designated day where residents can swap out their roomates.
Castellani said she was initially attracted to the complex because it had a pool, gym and convenient shuttle. She also said the location is very central, being very practical for SDSU students or anybody who likes to be in the middle of the action.
However, Castellani said the differences between the various buildings within the complex were questionable. She said students don't get to choose the building they're put in even though some have significantly higher ceilings and nicer furniture than others.
"You can swap whenever you want but there's a transfer fee of $200 and I think most students are not willing to pay that," Castellani said.
The rent was raised for residents who move in during 2018, but Castellani said she currently pays $650 in rent and has five roommates.