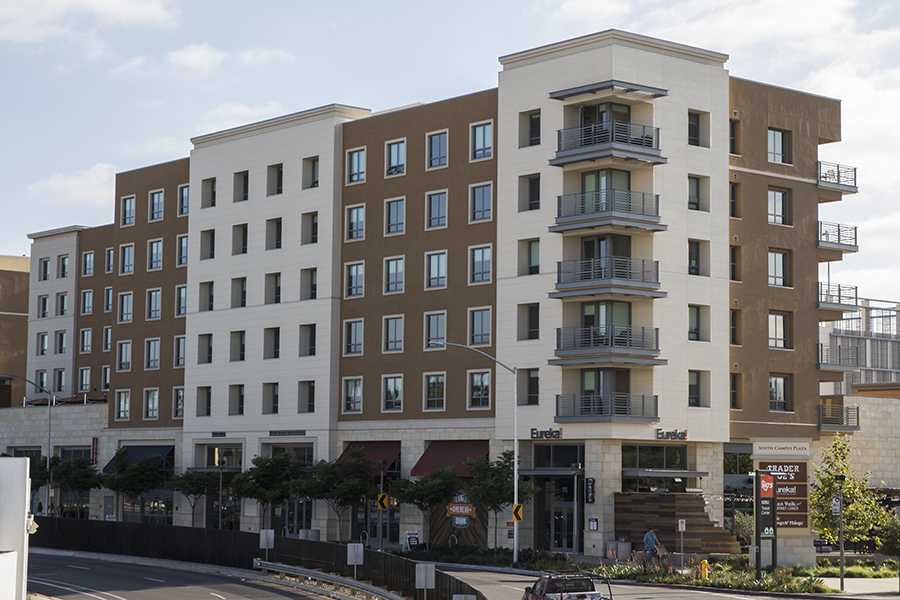 File photo
Officials at San Diego State's Office of Housing Administration say they're on a more sustainable future that promotes a greener campus, offers sustainable residence halls for students and encourages students to become more involved in the future sustainability of the campus through new initiatives that bring awareness and awards to those who participate.
"Housing will infuse a culture of sustainability within the halls and apartments," according to the San Diego State Climate Action Plan. "Given that the majority of all freshmen and sophomores live on campus, this has the potential of real cultural shift for the campus."
The housing administration took a big step in 2016 by renovating Zura Hall to become a LEED-Silver certified building.
"In pursuing LEED certification, our goal is a healthy building where the building itself and our residents can both operate at their peak efficiency," assistant to the director of housing Susan Nguyen said. "Direct impacts include improved indoor air quality, close proximity to public transportation, water bottle filling stations, bicycle storage, recycling facilities and the convenience of occupancy sensors in the common areas and water saving fixtures in the bathrooms."
LEED, which stands for Leadership in Energy and Environmental Design, is a nationally recognized certification that encourages the construction of sustainable buildings across the U.S.
South Campus Plaza North and South became to two newest LEED-Silver certified residence halls following the completion of their construction Jan. 2017.
The new student residence hall currently under construction is expected to achieve  a LEED-Silver certification following its completion in July 2019.
San Diego State housing administration has found that students have become increasingly conscious of their environmental impact and have shown an increased interest in different ways they can live more sustainable lives. They has been working to help educate incoming students about the goals of San Diego State and how they can help the campus become more sustainable.
"Incoming students will see dedicated sections in our newsletters and move-in guide that promote our zero waste move-in and also include "Eco-living for Aztecs" suggestions and an "Eco Aztec Must Haves" list with recommendations for what to bring such as reusable water bottles, mugs, shopping bags and eco-friendly laundry detergent," Nguyen said. "We are also working with other groups on campus to bring more information to New Student Orientation, Week of Welcome and Family Weekend."
The next initiative the housing administration will begin to offer to residents is the opportunity to get a "Green Room Certification", which will allow residents to become aware of their sustainability behaviors and receive awards for their awareness and actions.
"If I knew more different ways to be sustainable, I probably would be," child and family development freshman Justine Flor said. "I wish there was more advertisement about different events we could participate in."
Flor lives on the first floor of South Campus Plaza.
Recyclemania is a program currently offered to residents that is an opportunity to recognize the residents that already practice sustainable habits and bring awareness to those who don't.  
The next step in sustainability certification would be the LEED-Gold certification. However, the goal of future buildings and renovations for student residence halls will most likely be to continue to achieving LEED-Silver certification.
"LEED Gold certification would require more initial financial resources and would have longer payback periods, we would need the residents, who solely pay the associated debt through their rates, to advocate for this additional expense as the larger student body did through the fee referendum when building the LEED Platinum Conrad Prebys Aztec Student Union," Nguyen said.
The housing administration finds the LEED-Silver certification to be in the current best interest of the students and San Diego State's sustainability goals.
"We are defining issues of our time. Issues of sustainability such as food production and urban design is approaching crisis on multiple fronts," David Carruthers, co-director and adviser for the sustainability major at SDSU, said.
The Climate Action Plan for the housing administration focuses on engagement and awareness to help educate residents and their peers to live a more sustainable life.
"Living in sustainable residence halls will help students become more aware of their use/waste of water and electricity and encourage them to consider the environmental legacy they will leave for future generations," Nguyen said.