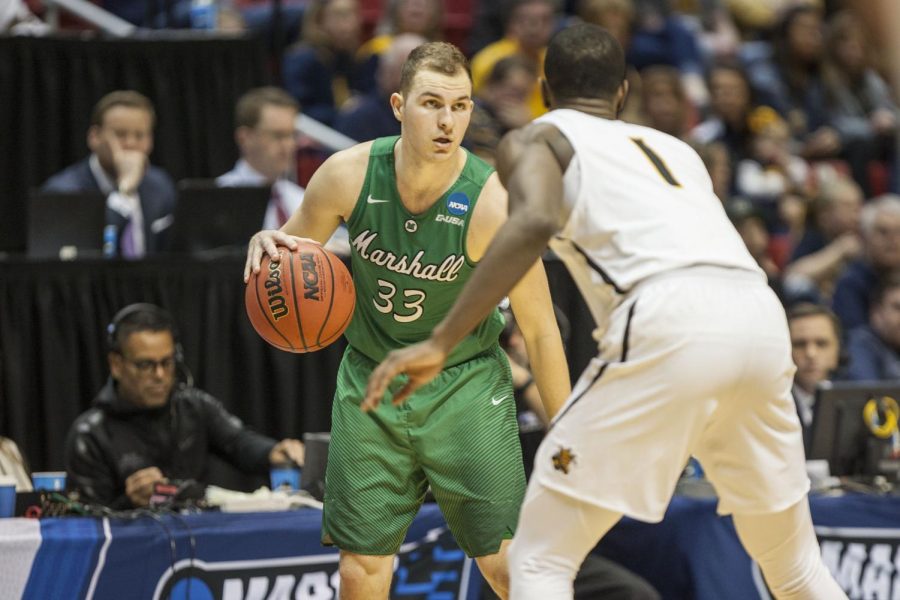 Photo by Kelly Smiley
The sound of a thundering herd echoed through Viejas Arena on March 16.
For one team, it was a shocker.
No. 13 Marshall upset the No. 4-seed Wichita State, 81-75, in the first round of the NCAA tournament.
"We came together from the jump and it was a great team win," junior guard Jon Elmore said. " Hopefully we can keep rolling."
Marshall (25-10) led 78-72 with under a minute to play, but the Shockers made it interesting after senior guard Conner Frankamp knocked down a 26-foot three pointer to keep his team's hopes alive.
Frankamp had been carrying Wichita (25-8) on his back all afternoon, scoring 27 points and making six of the team's eight three-pointers.
The homegrown Wichita kid met his match, however, in fellow No. 33-jersey wearing Elmore, who similarly carried his team with 27 points.
"I want to credit my teammates," Elmore said. "They put me in a lot of advantageous situations, a lot of stuff we ran, put me in good spots."
A flurry of late points from junior forward Ajdin Penava – including a dunk off an inbound pass with 35.2 seconds to play – helped seal the win for the higher seeded team in green.
"Penava is one of those guys who has gotten better every game in my opinion," Elmore said. "You look at him now compared to last year it's a night and day difference. He's a gym rat… he has worked his rear end off to get where he is now."
Penava finished with 16 points, eight rebounds, and three blocks, and was joined in double figures by junior guard C.J. Burks (13 points) and redshirt freshman forward Jannson Williams (10 points).
The Shockers had a chance to make it a one-possession game late, but two missed three-point shots and a turnover ended their tournament dreams for good.
"We did not play the game that we needed to play, the quality of which we could have advanced," Shockers head coach Gregg Marshall said. " When that happens in this tournament you come up on the short end. So congrats to (Marshall)."
The Thundering Herd had controlled the pace for much of the first half, but Wichita State went on an 11-1 run to end the half to go into intermission with a 37-34 lead.  
Before the Shockers big run, the team was shooting only 33 percent from the floor and a dismal two of 13 from behind the arc.
Both three-pointers came courtesy of Frankamp, who led his team at the break with 14 points on five of eight shooting.
Marshall began to unravel while up 33-28 with 2:25 left in the half, after Penava botched a dunk and was charged for a technical foul for hanging on the rim.
Frankamp hit the technical shot, followed by a three-pointer from senior forward Darrell Willis, to break the Frankamp-only-player-to-make-a-three curse and get the Shockers to within 33-32.
Perhaps feeling Wichita breathing down his team's neck, Elmore – the man of 14 first half points who shot 11 free throws and was personally responsible for putting both junior forward Markis McDuffie and senior forward Zach Brown on the bench with foul trouble – launched a deep, covered, 26-foot three-pointer.
It missed, redshirt sophomore guard Landry Shamet made a layup on the other end to give the Shockers the lead, and then two Marshall players fought over a potential offensive rebound to knock the ball out-of-bounds.