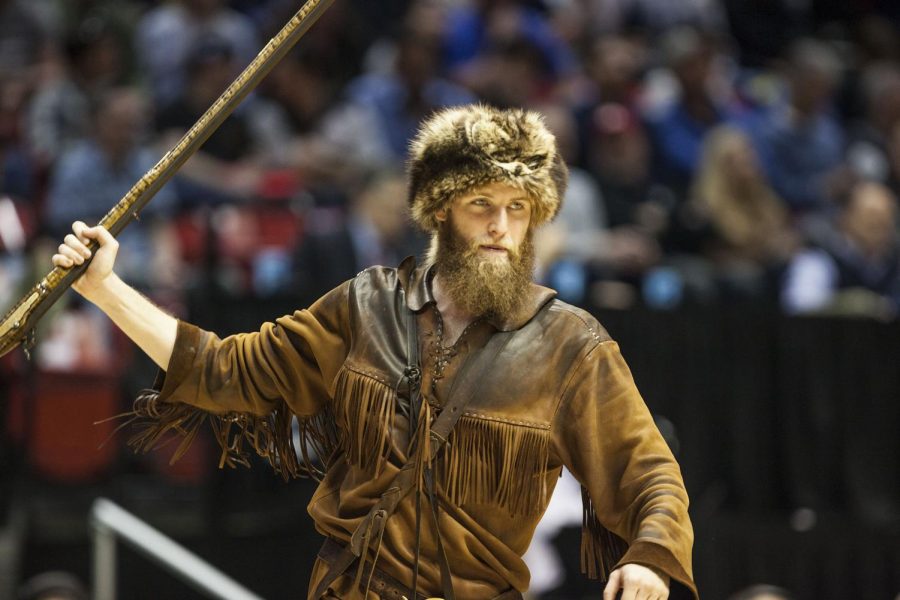 Photo by Kelly Smiley
It is etched into NCAA tournament lore that there is nothing more dangerous than to be a No. 5 seed facing a No. 12 seed in the first round.
Apparently, someone forgot to tell West Virginia.
The Mountaineers stood tall, defeating Murray State University 85-68 in front of what could be described as a respectfully excited crowd at Viejas Arena on March 16.
The game itself was devoid of much drama, though Murray State (26-6) made enough runs to stay painfully close to creeping within single digits through nearly all of the second-half.
West Virginia (25-10) had four players score in double figures, led by senior guard Jevon Carter, who had 21 points, seven assists and six steals to get his farewell tournament run off on the right foot.
"(Carter) works," Mountaineers head coach Bob Huggins said. "He's a guy who on game day will put in an hour and a half shooting the ball getting ready for the game."
Mountaineers freshman forward Teddy Allen added 16 points and four rebounds, while sophomore forward Sagaba Konate and junior forward Esa Ahmad finished with 14 and 11 points, respectively.
"I told (Allen) before the game we're 7-0 in the Big 12 when we have four guys in double figures," Huggins said. "We had four guys in double figures today. So that's important for us. It's important that we spread it around."
Racer fans were itching to cheer on their team, but only senior forward Terrell Miller Jr. gave them much reason to raise from their red Viejas Arena seats.
Miller finished with 27 points and 17 rebounds, but was only joined in double figures by freshman guard Temetrius "Ja" Morant, who ended his tournament debut with 14 points. 
"Thanks to my teammates," Miller said about his performance. "They did a good job getting me the ball and they got me the ball in spots where they knew I could hit shots."
Jonathan Stark – the Racers leading scorer coming in at 21.8 points per game – was limited to nine points on 1-12 shooting, including just 1-10 from downtown.
"They're a solid defensive team, but I got a lot of wide-open looks," Stark said. "I just didn't knock the shots down. Credit to them."
Stark was primarily guarded by Carter, who said that limiting Stark on offense was a team effort.
"It wasn't just me. We've got a lot of different guys that can guard," Carter said. "Our main focus was to stop him and make other guys beat us and we just did an unbelievable job of team defense."
As the clock ticked under two minutes and fans fled to the exits, the traveling West Virginia faithful chanted "Let's go Mountaineers."
On to the Round of 32 – and a date with No. 13 Marshall – it is.