Chelsea Manning to speak at San Diego State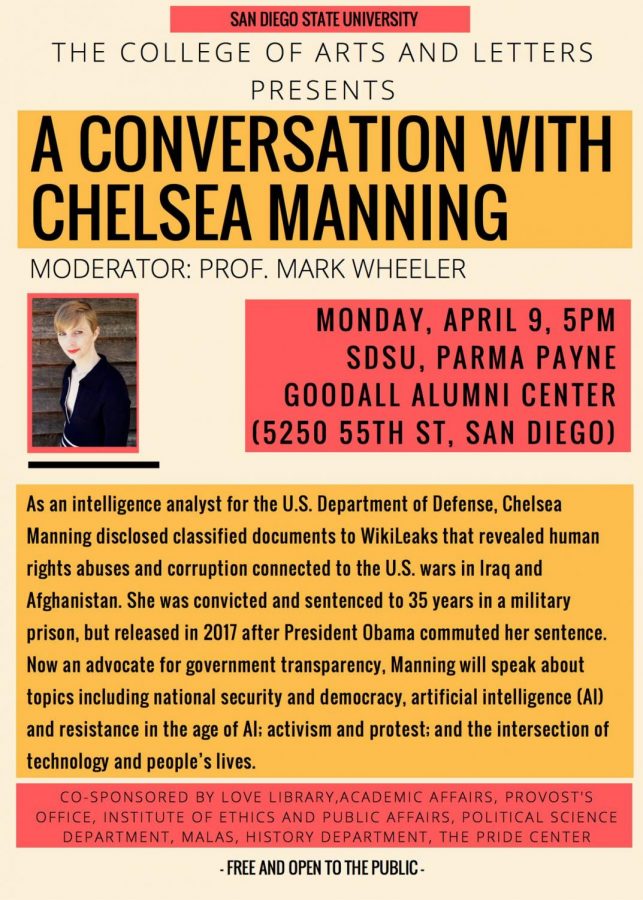 Chelsea Manning, a controversial transparency activist and former intelligence analyst for the U.S. Department of Defense, will speak in the San Diego State Parma Payne Goodall Alumni Center on April 9 at 5 p.m.
The event notice said Manning is set to discuss national security and democracy, artificial intelligence, activism and the intersection of technology and people's lives. The conversation will be moderated by Mark Wheeler, associate professor of philosophy and director of the SDSU Institute of Ethics and Public Affairs.
"Our goal is to have a conversation about the question of national security and democracy," said International Security and Conflict Resolution Director Latha Varadarajan, who organized the event. "We just want to have a conversation about it and have people think about these kinds of questions."
According to the event notice, Manning is best known for her leak of classified U.S. government documents to Wikileaks, an act that revealed human rights abuses and corruption in the Iraq and Afghanistan wars. This resulted in a 35-year sentence in a military prison until former President Barack Obama commuted her sentence just before the end of his second term in 2017. 
She's also known as a prominent transgender figure. She began her gender transition while serving her sentence.
Most recently, Manning has announced she will be running for U.S. senate in the state of Maryland, according to a video posted on her Twitter account on Jan. 14.
Varadarajan said in the past few years there has been an influx of discussion surrounding the topics of national security and democracy in the political science classes that she teaches. Manning comes up often in these discussions, and Varadarajan said it is important to bring figures like her to campus despite their controversial nature.
"Conversations pertaining to democracy are extremely important, especially in this day and age," Varadarajan said. "I think the university is a place where there should be freedom of deliberation and discussion on important issues."
Varadarajan said this is a free event and the public is welcome. She said attendees can expect about 45 minutes of moderated discussion followed by time for questions.