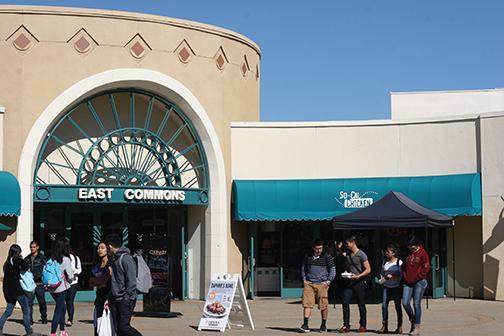 File photo
San Diego State environmental groups are joining forces to help reduce students' use of plastic utensils and straws.
The Associated Students Sustainability Commission, E3 Enviro-Business Society and the Zero Waste Committee proposed a plan to make single-use plastic utensils less accessible, and in turn provide new utensils made from compostable material.
Sophomore Sustainability Commissioner Charlotte Roberts said part of the idea involves relocating plastic utensil dispensers and placing them behind counters in Aztec markets and shops.  
"People aren't as likely to take single-use utensils and straws if they aren't as easy to get to," Roberts said.
She also said they want SDSU to begin selling alternative, environmentally-friendly utensils in the bookstore and markets. This includes the sale of bamboo utensils, paper utensils and metal straws to use in place of plastic.  
The sustainability groups are currently waiting to hear what Todd Summer, CEO of Aztec Shops, is willing to do to help put this plan in motion, Roberts said.
Travis Freeman, sustainability senior and co-president of E3, said his team has already designed multiple signs to encourage students to think twice about using single-use utensils. He said he intends to place the signs next to plastic utensil stations.
"A lot of people don't know that single-use utensils and straws aren't recyclable, so they literally can't be reused unless you save them, which not many people do on campus," Freeman said.
He said this plan to reduce plastic usage is inspired by other San Diego sustainability actions and nationwide movements like "Straws Suck", which advocates for the ban of plastic straws in order to protect sea life.
"If the school offered request-only straws, hopefully enough people would either buy metal straws or just not want a straw at all," Freeman said.
Roberts also said Associated Students President Chimezie Ebiriekwe would look into doing a small feasibility study on whether Aardvark, a paper-straw brand, could replace all plastic straws on campus at a low cost.
Cassie Weinberg, co-chair of the Zero Waste Committee, said she issued a survey to students to determine if they're open to the reduction of single-use utensils. Results showed the majority of the students supported the idea and are open to change, she said.
"A lot of people are really receptive to having alternatives. As long as the utensils are available, and even if they're something compostable or made of cornstarch, people would want to use them," Weinberg said.
Sustainability Commission Representative Sabrina Laut said she wants everyone to support this movement, and she plans to reach out to more students to help them transition into a sustainable lifestyle.
"When you switch to 'reusables' there's a sense of pride with the objects you use because you can personalize them," Laut said. "It's a great conversation starter and bumps up your aesthetic."
Roberts said although reducing the use of plastic utensils may seem like a small step, it's ultimately part of a larger plan for a more sustainable campus.
"It's not about perfectionism. It's about trying to be mindful when you can and being a conscious consumer," Roberts said.