All eyes were on San Diego State women's tennis junior Jenny Moinard on Saturday afternoon at the Aztec Tennis Center.
Moinard was the last player left competing for SDSU during its regular season finale against San Jose State, and a match victory hung in the balance.
The Aztecs had already let a 3-2 advantage slip through their fingers, and Moinard would need to come back from a 4-0 deficit in the deciding third set to send her team into the postseason with a win.
Moinard fought back to within 4-3 – loudly rejoicing with every point she inched closer – but in the end it was not enough. Moinard fell by a score of 6-4, ending the match – and the regular season – on a sour note.
The 4-3 loss dropped SDSU to 10-12 on the season, and improved the Spartans to a record of 12-8.
Despite the setback, Aztecs head coach Peter Mattera praised Moinard, who leads the team in singles victories and was riding an eight-match winning streak coming in.
"(Moinard's) a warrior out there, and has really been so rock solid for us all season," Mattera said. "She's been great and she never stops fighting. Almost got there, it was one or two points that probably separated her from getting that set."
The match appeared to be the Aztecs to lose early on, after the team followed it's 13th doubles point of the season with first set wins in four of their six singles matches.
The Spartans roared back from there, winning four singles matches to hand SDSU its fourth home loss of the season.
"(SJSU) fought back and unfortunately we didn't have quite enough response," Mattera said. "It was close, but that's college tennis, thats the way it goes. We knew they were going to be a good opponent so congrats to them, too bad for us. We really would have liked this one but such is life."
Along with winning the doubles point, SDSU received strong showings from freshman Abbie Mulbarger and junior Magda Aubets, both of whom defeated their Spartan opponent in straight sets.
Another bright spot for the Aztecs occurred before the match began, as the team honored seniors Jana Buth and Paolo Diaz in a pre-game ceremony as part of Senior Day.
"I think it's very nice that we have a match to recognize the seniors every year, and something since I (was) a freshman I can be looking forward to," Diaz said. "I think it's very nice that we do it, it feels very special."
Buth agreed that it was a special day, but said that the final home game of her Aztecs career left her with mixed emotions.
"It's nice, and of course for me it was a weird feeling at the same time too, where I know I'm going to go out for the last time to play a home match," Buth said.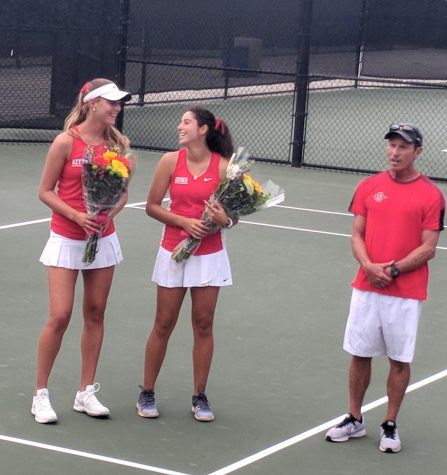 Both seniors lost in their singles matches, but came up big for the team after the pair clinched the doubles point with a come-from-behind 6-4 victory.
"(Winning doubles) especially on the last home match it was nice… at least yeah we got the doubles point," Buth said.
Mattera said that it was an emotional day as he prepares to say goodbye to his two seniors.
"Both (Diaz and Buth) are such good kids, great players, great students, it's always kind of a little bit of an emotional day for me and I'm sure them too," he said. "The seniors have been nothing but awesome, and I already miss them."
Next up for the Aztecs is the Mountain West Championships, which will be hosted this year by Boise State and will run from April 26-29.
SDSU finished the year 1-3 in conference against its Western Division foes, and its upcoming seeding will determine whether or not they will need to win three games in four days or four games in four days.
The team will find out their seed on April 22, and Mattera said that the Aztecs will need to be ready for whatever happens, including the possibility of playing a not-so-familiar opponent. 
"We've toured the entire Western Division now and it's very equal, there's a lot of parody, nobody really stands out," Mattera said. "We're all going into neutral court, a couple thousand feet, and we don't have any idea really what the other side has got for the Mountain Division, so you just need to come ready to play."
One area of potential concern is that SDSU has not won a match away from home this season, something which Mattera said should be a non-issue on a neutral court.
"Everybody except Boise is going to be playing on a neutral court, so I don't think it will have an impact," he said. "Every match is a new day, and you go out on the court that you're assigned to and you go out there with energy and confidence, as much as you can muster, and you try to take care of business, and have some fun along the way."