Upper division students pushed out of campus housing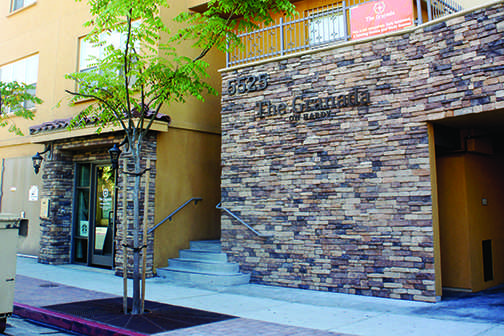 In May, about 400 upper division students hoping to live in campus housing during the 2018-19 school year opened their inboxes to an email from the Office of Housing Administration.

"Due to an unanticipated demand for both freshmen and non-freshman housing, we do not anticipate being able to accommodate any students other than freshmen and sophomores for the 2018-19 academic year," the email said.

Eric Hansen, director of Housing at San Diego State, said the Office of Housing Administration had underestimated the number of lower division students who wanted to live in campus housing. Hansen said interest from populations, such as local students, who are not required to live on campus was much higher than expected.
Hansen said the implementation of the Sophomore Success Initiative, which requires all non-local students to live on campus for their first two years at SDSU, also helps explain the stress to campus housing.
"We have been asked by the past two presidents to transition over from a commuter institution to a residential institution," Hansen said. "The reason is not to create more housing for housing sake, but really, the data shows that students living on campus are typically doing better academically."
Hansen noted that, starting in mid-July, some changes had occurred that have cleared some room for upper division housing applicants.
"Since mid-July we have no longer been in a waitlist status due to cancellations and have begun to accept new applications from any and all SDSU students," Hansen said. "At this time, we have 54 upper division students living with us for the fall."
However, many students who were rejected earlier in the summer for housing have since found housing off campus.
Some local residents have voiced concerns that forcing upper division students off campus could create overcrowding in the College Area housing market. However, Hansen said with sophomores being forced to live on campus, the number of students seeking off-campus housing roughly evens out.
"We've been reached out to by three or four apartment complexes in the area that all have space and they would love to have referrals for anyone who is looking for space," Hansen said.
While most campus housing complexes managed to make it out of the summer with some amount of space left, housing demand projections indicate this is not to say the stress on campus housing is illegitimate. Statistics gathered by the SDSU Office of Housing Administration showed while about 4,300 students sought campus housing in 2015, that number sits at almost 6,000 for 2018. Both of these numbers are well above campus housing capacity for each year.
In an email response in May, Hansen said the additional pressure on campus housing complexes could potentially be solved though the development of a satellite campus on the Mission Valley site that the university hopes to achieve through the SDSU West initiative. Voters can expect to see this initiative on the ballot in November alongside the competing Soccer City initiative, which seeks to develop a professional soccer stadium on the land.
"It is the only logical location for our university's planned and necessary growth," according to a university press release.