Online textbook program promises to save students millions this semester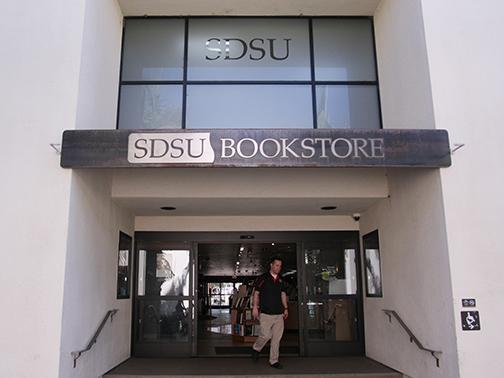 A digital program is expected to save San Diego State students an estimated $2 million on textbooks this semester, a university official said.
Immediate Access, a program that offers students access to digital versions of course materials, will be officially offered to all professors this fall — although not all of those professors have decided to use it, according to James Frazee, director of Instructional Technology Services at SDSU.
As of now, Frazee said only about 7.5 percent of faculty members have decided to utilize Immediate Access course materials in their classes. However, he said the fact that most of these professors are from lower division, general education courses means the program will have a vast reach.
Students, particularly those in STEM majors, may be familiar with Immediate Access — which was originally launched as a pilot  program  in spring 2016 — from their lower division, general education classes. According to a presentation provided by  SDSU Instructional Technology Services, Immediate Access offers course materials "at no charge from the first day of class." Once the add/drop deadline comes, students must choose to either pay for the program or opt out at no cost.
The presentation said students can expect to see discounts of as much as 10 to 20 percent below the cost of regular digital access and 25 to 60 percent below the cost of renting or purchasing of hard copies. The cost of the program is automatically charged to the student's online account following the add/drop deadline, meaning the funds can more easily be paid for  with financial aid.
Data provided by Instructional Technology Services shows that 87 percent of students found this format to provide more convenient access to course materials and 76 percent said the materials helped them prepare better for class examinations.
"You can get  to this   content  on your phone, on your laptop or on your tablet," Frazee said. "It's all digital so you don't have to be  lugging    your books     around with you."
Frazee also said Immediate Access provides more opportunities for "low-stakes assessments."
"One of the things we know about how people learn is, if you have more of what we call 'distributed practice,' … each week you're interacting with that       content because there's some form of assessment," Frazee said. "You're retrieving that information more often and you're distributing it over time and it helps you learn."
The nature of the course materials provided through Immediate Access also allows for students to do things such as take notes in the margins and share them with peers. Frazee said faculty can even notate parts of the text they find significant for students to pay extra atttention to.
During the spring of 2016 when the program was first introduced, Frazee said it was only implemented in two classes. This semester, he said as many as 65 classes, more than 300 sections and around 20,000 students will have  the option to buy Immediate Access course materials in their classes.
Frazee said the more classes that use this program, the more money students will save. The $2 million in projected savings for this semester from the program was a $700,000 increase from last semester.
"It's real money," Frazee said. "That's money you can use for gas or whatever else you need to buy in order to live."