Brian Dutcher signs contract extension through 2023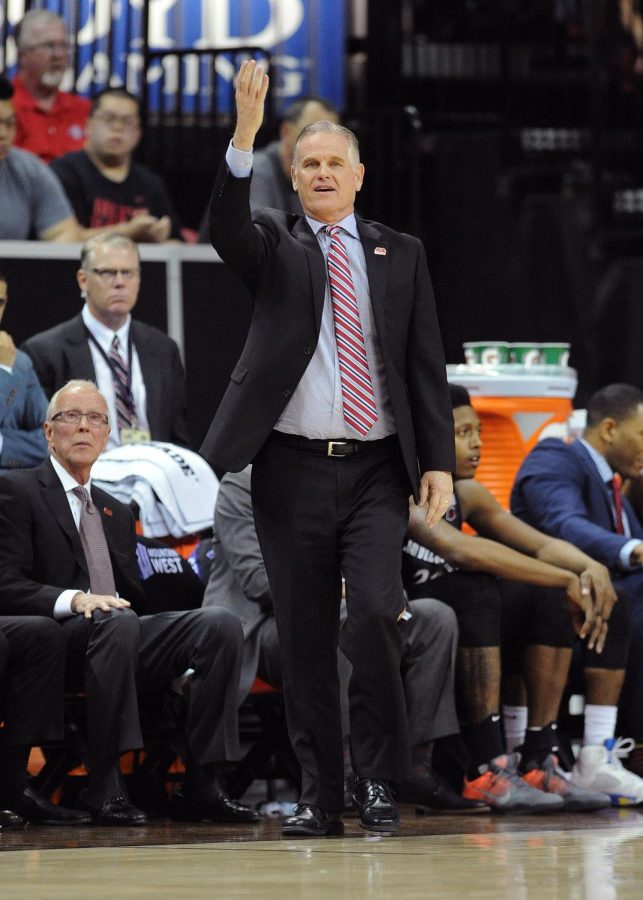 San Diego State men's basketball head coach Brian Dutcher signed a contract extension on Aug. 22 that keeps him at the helm through the 2022-23 season.
Dutcher is entering his 20th season as part of SDSU's coaching staff and his second year as head coach following the retirement of long-time head coach Steve Fisher in 2017.
Dutcher, who led the Aztecs to a 22-11 record and a trip to the NCAA tournament in his first year, said he is pleased to have been given an extension and does not take his position for granted.
"To have an extension, a rollover one more year to start my five-year contract anew, is a great feeling. This is the job I've wanted since I stepped on campus," Dutcher said. "This is not a stepping stone, this is a big-time job and a big-time program, and I'm honored for the opportunity to be the head coach here."
As Dutcher prepares for the new season, four freshmen forwards will join the Aztecs roster: Aguek Arop, Nathan Mensah, Joel Mensah and Ed Chang.  
Dutcher said the coaching staff will work hard to get the best out of a talented incoming class.
"They have length, athleticism, and now we have to make them into basketball players as quickly as we can," Dutcher said. "They're a hard-working group as we've ever had as freshmen."
Dutcher will rely on veteran leadership through senior guards Devin Watson and Jeremy Hemsley, as well as junior forward Nolan Narain.
Other returning starters include sophomore forward Matt Mitchell and redshirt sophomore forward Jalen McDaniels, the latter being the Aztecs team-leader in rebounds last season.
"We do have good veterans returning that will hopefully keep us off to a good start as the young guys catch up," Dutcher said.
With three starters returning to SDSU's lineup this season, Dutcher said he is confident the Aztecs will be better at handling pressure situations.
"There's comfort in the fact where they've been through the wars already, so at the start of the year, to have that kind of veteran presence on the floor is going to make my transition easier," Dutcher said. "I know I can put guys out there that have been in these situations."
Dutcher said this kind of veteran experience in tough situations will make it easier as he grapples with his plans on playing the freshman class.
"It gives the freshmen a little bit more time to develop — they're not thrown in the fire quite as fast," Dutcher said.
Before the start of the fall semester, the Aztecs had six weeks of summer school and four hours of practice every week. Now that fall semester has begun, Dutcher has the chance to evaluate his team before the start of the season.
"We're just getting started. Excited to get another look at my new team and start piecing it together," Dutcher said.
The Aztecs start their season on Nov. 1 in an exhibition game against Chaminade at Viejas Arena. Following home matchups against the University of Arkansas at Pine Bluff and Texas Southern, the team will travel to Hawaii to play against Duke in the Maui Jim Maui Invitational.
In addition to SDSU, the tournament will feature some of the nation's best teams, including Duke, Arizona, Gonzaga, Xavier, Iowa State, Illinois and Auburn.
Dutcher said he is excited to play in a tournament with so many strong opponents, which will give him an early idea of how the Aztecs match up.
"It'll be a real test to see how we do against maybe the best field in Maui history," Dutcher said. "That will be a good early tournament for us to kind of gauge where we're at."
Other notable home matchups during the season include the University of San Diego and former conference rival Brigham Young University.
"The home game I'm excited about is getting BYU back on the schedule. I think that's a game that both fan bases love," Dutcher said. "USD returning…I think will be a fun game. It'll be an intriguing game."
On Aug. 22, the NCAA announced its Rating Percentage Index tool would no longer be used to rank college basketball teams. Instead, the NCAA Evaluation Tool will be used by the rating committee this upcoming season.
Dutcher said he is unsure what the impact of the new rating system will be.
"I don't know how much the new rating system affects our schedule," Dutcher said. "We try to schedule hard games and give ourselves enough breaks with maybe not an elite opponent, but an opponent that will test us."