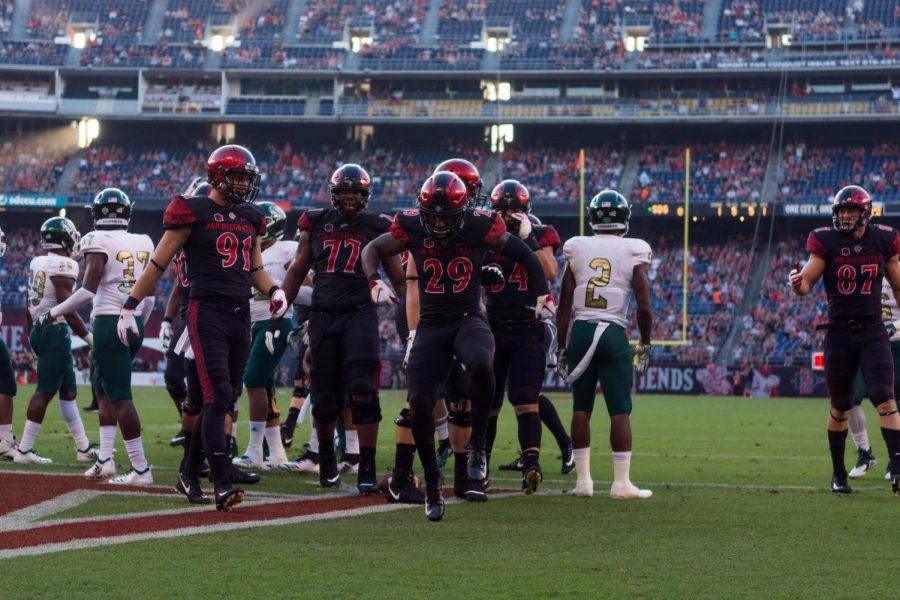 Raymond Gorospe
San Diego State football is looking to secure its second straight home victory this weekend, as it hosts No. 23/25 Arizona State on Sept. 15 at SDCCU Stadium.
The Aztecs are coming off a 28-14 home victory over Sacramento State, but will be without their starting quarterback in senior Christian Chapman.
Chapman suffered a sprained MCL in his left leg against the Hornets, and will be out of the lineup for three to six weeks.
Junior quarterback Ryan Agnew replaced Chapman in the second quarter, completing 11 out of 17 passes for 159 yards and 21 rushing yards on three attempts.
Agnew will make his first collegiate start against the Sun Devils.
Head coach Rocky Long said Agnew now has the chance to show his potential as a starting quarterback.
"(Agnew has) prepared himself every week to be the starter and now he gets to be the starter," Long said. "It'll be interesting to see. He's plenty gifted enough as an athlete and he's smart enough to have a very good game."
The Aztecs' running game, led by junior running back Juwan Washington, will face a tough test this weekend. The Sun Devils have allowed the least amount of rushing yards in the country, giving up an average of only 32 yards on the ground through their first two games.
Long said that Washington is able to create plays even when the offensive line is performing poorly.
"I think Juwan has met our expectation level. He's proved he's a very good running back," Long said. "He even proved last week that he is a pretty good running back when the offensive line is not blocking very well."
Washington said that physicality up front will be key to establishing the run against the Sun Devils.
"The line up front has to do a really good job establishing the run, just being physical," Washington said. "I think that's something we take pride in on our team."
On the defensive side of the ball, starting senior defensive tackle Noble Hall Jr. was injured in the win vs. Sacramento State. Hall was given the same recovery timetable as Chapman: three to six weeks.
"(Hall) made a noticeable difference in our run defense and him not being in there is going to be a problem for us for however long he is out," Long said.
Long said that junior defensive lineman Myles Cheatum will start in replacement of Hall.
Two offensive weapons for Arizona State that might give the Aztecs defense troubles are redshirt senior quarterback Manny Wilkins and junior wide receiver N'Keal Harry.
Wilkins completed 30 out of 48 passes for 380 yards and a touchdown in ASU's 16-13 victory over No. 15 Michigan State on Sept. 8. Wilkins also scrambled for 25 yards on eight attempts.
"(Wilkins) can get out of trouble and make plays with his feet when he has to," Long said. "He's a very experienced, very good quarterback."
Harry, on the other hand, is one of the top wide receiver prospects in the nation, as he has collected 12 receptions for 229 yards and three touchdowns in only two games.
Junior cornerback Kyree Woods played with Harry in high school, and said he is ready to take on ASU's number one target.
"He was actually my high school teammate, so it's good we got to compete every day in practice. I kind of know what he's like," Woods said. "He's very talented and another challenge for our secondary to get better."
The Aztecs will also see familiar faces back at SDCCU Stadium; this time on the opposing sideline.
Former SDSU defensive coordinator Danny Gonzales is now overseeing defensive duties for the Sun Devils, while former SDSU cornerbacks coach and recruiting coordinator Tony White is the cornerbacks coach and defensive passing game coordinator at ASU.
Offensive coordinator Jeff Horton said he is anticipating defensive similarities between SDSU and Arizona State.
"(Gonzales) is a really good coach, he learned under coach Long," Horton said. "We expect heavy pressure, heavy movement with their defensive philosophy."
Agnew said that playing against a Gonzales and White defense will be interesting, but players, rather than coaches, will be the deciding factors this Saturday.
"It's all interesting to talk about all the coaches, but once the game starts it's 11-on-11," Agnew said. "Coaches can't play, so players gotta go out there and contribute."