New winter session program to help more students graduate on time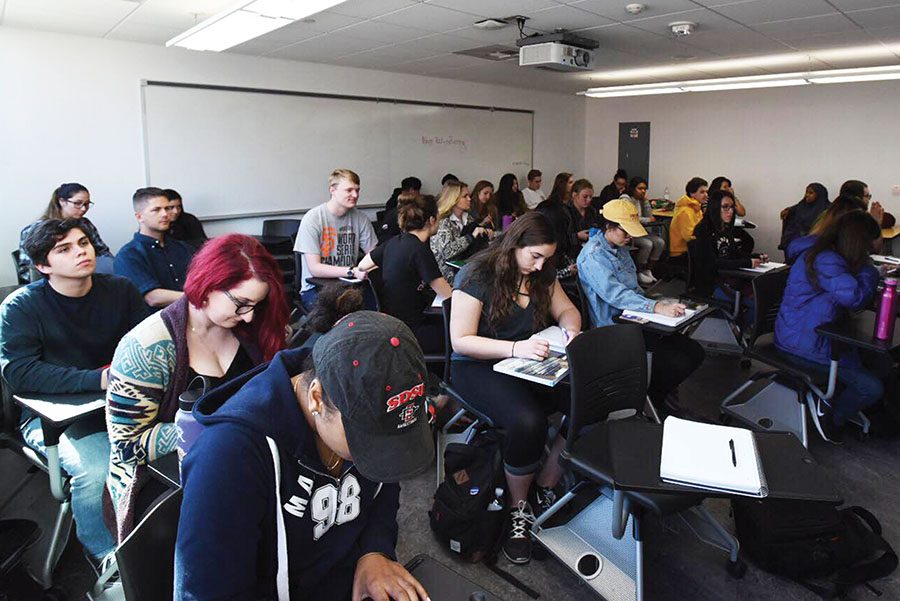 For the first time since 2000, San Diego State will be offering winter classes.
The session features 11 intensive instructional days students can attend if they need extra units to graduate or want to explore new subjects.
Winter classes will consist of courses from the university's degree programs and general education electives, with class hours varying depending on the number of units. For one-unit courses, students will meet for one hour and 25 minutes per day. Two-unit courses will meet for two hours and 45 minutes per day and for three-unit courses students will meet for four hours and 10 minutes per day.
According to an email sent to all SDSU students, this year's program will be a small, pilot session running from Jan. 2 to 16. The success of the winter session will determine if the university will continue to run this opportunity for future semesters.
A recent announcement by the U.S. News & World Report ranks SDSU No. 1 nationally in graduation rate performance, one of the main things winter session seeks to help students with.
"Every effort will be made to ensure that Winter Session positively impacts student success, and meets the goal of increasing graduation rates," according to the winter session website.
Social work junior Justari Jones said this is one of the main benefits she sees in the program.
"I feel like it's good because it helps students that want to graduate and get out of here early, and not take an extra semester if they need to," Jones said. "This winter session can help you do that."
Students also note how the addition of a winter session allows for more options in taking the classes they need, especially if they're unable to enroll in the summer session.
"It can be really good for people who can't take classes over the summer," business management junior Nathan Palumbo said. "If they need to get a couple of classes out the way, take it during the winter if they can."
Mechanical engineering Kyle Williams said winter session also provides an opportunity for students who are currently struggling in their classes and may not be able to pass them by the end of the semester.
"I feel like it's a good way to take another class again if you failed a class during the fall semester," Williams said. "You can just get it done before the spring semester happens."
The fees for the winter classes are $281 per unit for undergraduate courses and $340 per unit for graduate courses.
Palumbo said he found these fees to be appropriate or even cheaper than what they initially expected the course to cost, considering the price for winter classes in other college campuses.
"[The prices] are actually pretty fair," Palumbo said. "I was expecting it to be way more than that. I have friends that go to CSU Fullerton and they say the winter session is really really expensive. They can't even afford it."
These winter classes are offered to all SDSU students and even international students. For international students, a visa status must be maintained at their home institution and they must meet the SDSU TOEFL requirement.