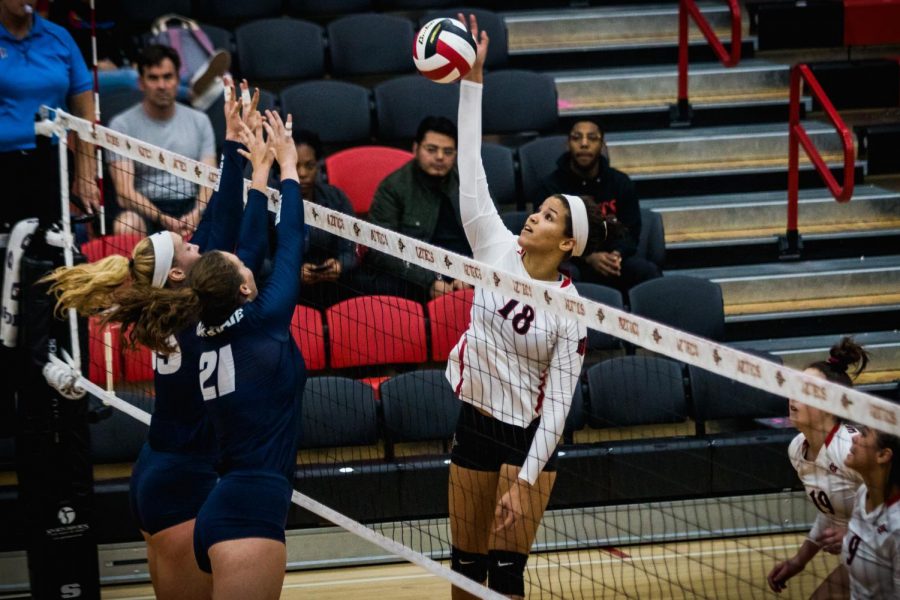 Raymond Gorospe
San Diego State volleyball won 25-22, 25-15, 25-21 against Utah State on Thursday evening at Peterson Gym.
The Aztecs returned home after a four-game road trip which lasted nearly three weeks.
"It's been rough on the road, so it's nice to be home…and win," head coach Deitre Collins-Parker said.
This was the Aztecs' second shutout win of the season.
"It's obviously a good feeling," senior middle blocker Deja Harris said. "It's always nice when the hard work pays off."
SDSU (8-18, 6-7 MW) went on a 12-3 run during the first set, eliminating a five-point deficit and taking a 23-19 lead. Harris led the Aztecs with four kills and a .571 attack percentage in the first set.
Back and forth volleyball ensued to start the second set, but the Scarlet and Black went on a 15-6 run to take the set 25-15.
"Those (the runs in the first and second sets) are momentum changers," Harris said.
It was win or go home for the Aggies (5-18, 3-10 MW) in set number three, but the Aztecs jumped out to a 9-4 lead. Despite a 4-0 Aggie run, the Aztecs were able to hold the lead for good.
"It was fun. I just felt very calm and collected throughout the game," said junior outside hitter Hannah Turnlund, who had a game high 13 kills in addition to a .417 attack percentage.  
With five games left, Turnlund said the Aztecs hope to end the regular season on a positive note.
"We want to finish strong, win the rest of our games, and play to our max potential," she said.
Changes and new faces emerged during the win, including true freshman outside hitters Maddie Lenn and Victoria O'Sullivan, as well as redshirt freshman Andrea Walker.
"It's good to see the hard work they are doing in practice transfer to the court," Collins-Parker said.
Junior outside hitter Ashlynn Dunbar also made an appearance as a libero in the final set.  
"She's always been one of our really good passers and we recognize that she plays good defense," Collins-Parker said. "Since, she has been struggling at the net hitting, we wanted to see how she could finish…and we thought she did a great job."
The Aztecs will look to keep the good times rolling at home against Boise State University on Nov. 3.