Students express doubt towards a high student voter turnout during midterms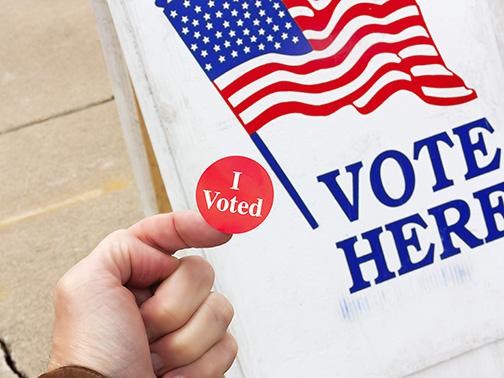 With the 2018 midterm elections approaching, some San Diego State students expressed their thoughts on student awareness of this year's issues and whether they believe students will head to the polls on Nov. 6.
Despite the heavy campaigning and election awareness being spread throughout social media, many SDSU students admit they're still not well educated on the issues and believe many of their peers aren't either. This has lead to their mixed thoughts on whether there will be a high voter turnout amongst young people come Tuesday.
Nursing senior Marika Viado said students will only vote if they care enough about the issues to educate themselves on them.
"If students are interested in that topic then they would research that, but I feel like they are not," Viado said.
Viado said she admits to not being fully aware of the issues on the ballot, despite seeing a large number of advertisements on Instagram.
"I'm not going out of my way to research the topics," Viado said. "I just know people say 'Vote no on Prop 8,' like I just saw on Instagram right now. I know it has to do with dialysis centers, but I don't know anything in depth about it."
Meanwhile, aerospace engineering junior Ricky Chavez has been keeping up with the issues being debated, despite not being able to vote, and is urging his peers to do the same.
"I'm somewhat informed even though I can't vote because I wasn't born here," Chavez said. "But, my peers can (vote). So, when I see something important to vote on I tell them to go and vote."
English freshman Angelica Garcia said she believes student voter turnout will be high due to the simplicity in the voting process.
"I feel pretty confident (in a high voter turnout)," Garcia said. "Registration is easy – it's not a long process – and at the voting locations they make it easy for you to vote."
Psychology junior Lawrence said he believes, with a high voter turnout from SDSU students, there will be higher representation from the Democratic Party.
"I feel like it is going to be a big turn out because (there is so much pressure to flip Congress)," Walker said. "We have to go Democrat now."
Psychology freshman Lilian Ngo said she isn't informed on the issues in the upcoming elections but plans to learn more before she votes. She said it was easier to stay up-to-date with politics when she was in high school.
"I feel like when I was in high school, I was more informed on politics, but not as much anymore because I'm busier," Ngo said.
Psychology senior Joseph Meyer said he is among the students who admit to not being educated in the issues. Meyer said this will likely prevent him from voting, which he said will probably prevent other students from voting as well. He fears with the large number of people who vote, his voice will not have an impact.
"I just don't see how my voice can make a difference," Meyer said.
Business senior Savanah Hanna also said she believes the voter turnout may not be high because it isn't a presidential election.
"You've got to make the effort to go out there and vote and maybe (students) just don't care," Hanna said. "Especially because this is not a presidential election, they won't really care or know what it is."
On Election Day, voting stations will be set up in Montezuma Hall from 7 a.m. to 8 p.m. Students may also attend the results viewing party at the Conrad Prebys Aztec Student Union Courtyard at 8 p.m.