Men's soccer honors outgoing players on Senior Night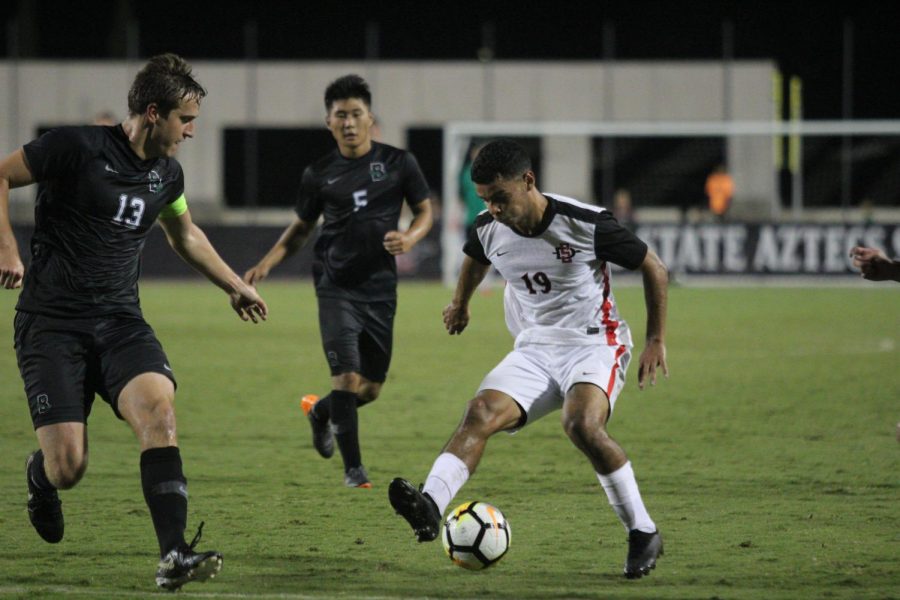 San Diego State men's soccer lost 2-0 to Cal Berkeley in their final home game of the season on Nov. 4 at the SDSU Sports Deck, and the team honored four seniors before their final game on the Mesa.
Goalkeeper Cameron Hogg, defenders Ilai Shvika and Aleks Berkolds and forward Damian German were all honored in a pre-game ceremony which included a video that featured each player's career highlights.
Head coach Lev Kirshner said this year's team has been one of his favorites and the seniors helped make their team better.
"This has been one of my favorite teams. It's just too bad that the record is what it is; especially for these seniors… they made us a better team," Kirshner said.
Kirshner said the team played hard.
"I thought our guys played very hard for our seniors tonight," Kirshner said. "It's unfortunate that we didn't get the result we wanted to send them off on their last game at home."
German transferred from Grand Canyon University to play for SDSU in his the last year of his collegiate career. German had four goals and one assist in 15 games as a starter this season.
German said the season doesn't reflect the team despite their 1-8-0 conference record.
"This season doesn't really reflect the quality that we have in this team," German said.
German said he think this team has what it takes to be better next year.
"I think next year this team is going to be a really good team," German said. "I think next year they're going to come out stronger."
Kirshner said the seniors this season were great role models to the rest of their teammates and have been great fits for the program since day one.
"These guys were just great role models to what a teammate is what hard work means, what it is to be a part of a group and put others before yourself," Kirshner said."They just stepped in from day one and believed in our culture and believed in our values."
Shvika, who is a native of Israel, transferred to SDSU from Drexler University. In 2017, the defender played in 17 games, starting in 16 of them, and this year he has started in all 17 games so far.
Hogg transferred to SDSU from University of Buffalo. The goalkeeper from New Zealand has made 31 career saves so far in his career as an Aztec.
Hogg said that Kirshner was able to instill in them the idea of not giving up and he believes this last game showed that.
"Coach Kirshner instills in us just to never giving up and never quitting, and I feel like if anything this last match was a testament to that," Hogg said.
Berkolds began his collegiate career at SDSU. This season he has started in all 17 matches and has led his team in total minutes played so far.
Berkolds said that being an Aztec has been something he has shown him values of trust, loyalty and respect.
"Being an Aztec means trusting each other, having respect for one another and being loyal to one another," Berkolds said. "Those are the values that all of us know and that all of us exemplify every day and I think that's what we strive to be."
The team will finish their season on the road against UCLA on Nov. 8.