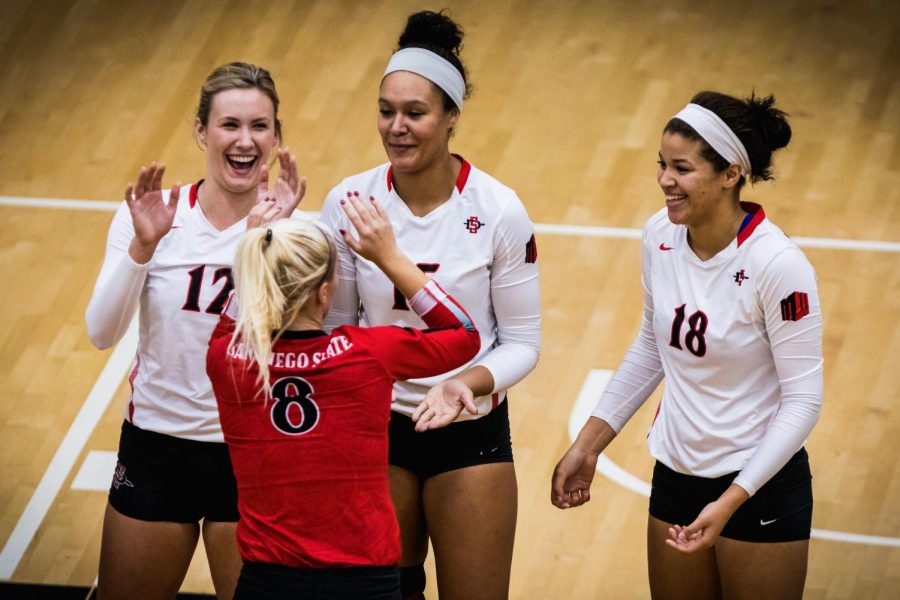 Raymond Gorospe
San Diego State women's volleyball (9-20, 7-9 MW) looks to end the season on a high note.
On the latter of a two game road trip for the Scarlet and Black, they won in Albuquerque, New Mexico despite being down an 0-2 heading into the third set.
That was the first time since 2013 at Colorado State when the Aztecs came back to win despite being down 2-0 in a road game and first since Oct. 19, 2017 when the Aztecs erased a two set deficit at home.  
The momentum of the comeback victory will hope to continue into the final homestand.   
"We're trying to finish on a high note for Deja (Harris), our senior, and for us as a team," said junior middle blocker Tamia Reeves.  
Reeves is talking about senior middle blocker Deja Harris, who understands that this will be her final two games of her Aztec career, but that is not stopping her of focusing on the upcoming games.
"It's going to be a bittersweet situation," Harris said. "It will be the last week, it will be my last two games here as an Aztec, it will be the end of my career. I think it will be exciting, but sad."
Even before the Aztecs played CSU Bakersfield on Aug. 24, they were projected to finish tied for third with Boise State in the Mountain West Conference standings behind Wyoming and Colorado State.
"We're pretty determined on being where we were placed preseason (3rd place), said senior middle blocker Deja Harris. "That's definitely something we're striving for."
Heading into the final homestand, the Scarlet and Black are behind UNLV and Wyoming (10-6) for third place being three games back and a total of four teams are in the Aztecs' way  
After multiple records broken in a star-studded year for Harris, she has the opportunity to break another. Harris could become the program leader in career block assists. She needs seven to tie former Aztec Jennifer Millers' (1989-92) record of 480 and eight to be in sole possession of the record.
"I could do it" says Harris. "I am going to try and surpass that."
The Aztecs finish up the regular season at home playing against Nevada on Nov. 15 and San Jose State on Nov. 17 at Peterson Gym.