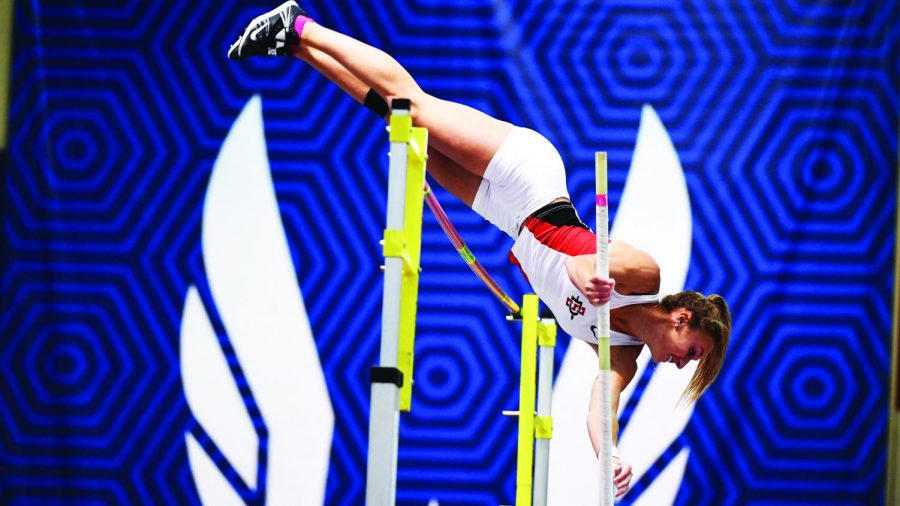 Courtesy of San Diego State Athletics
San Diego State Track & Field broke two records  on Friday, Jan. 18 at meets more than 1,000 miles away from the other.
Freshman Nyjari McNeil, in her first collegiate race, set a new school record at the Dr. Martin Luther King Invite in Albuquerque, New Mexico, after posting a time of 1:30.22 in the 600m run to break Ellison Grove's time of 1:31.48 from 2017.
Meanwhile, at the UCS Pole Vault Summit in Reno, Nevada, senior pole vaulter Bonnie Draxler cleared 14 feet and 3.75 inches to set a new school record of her own.
The mark broke Draxler's own school record of 14 feet and 1.25 inches, which she set 328 days earlier at last year's Mountain West Indoor Championships. It was also the eighth best jump among all women at the meet, which featured some of the best in the world.
For McNeil, she said over the phone that she did not expect to break a school record at that distance.
"I was kind of surprised when my coaches told me that I broke the school record, because originally I thought it wasn't that good of a race," McNeil said. "It was my personal best by three seconds and a school record, so I was really happy."
It was quite the debut, considering the last time she laced up a pair of track spikes was during her days at Franklin High School in Reisterstown, Maryland.
McNeil said it was a significant feat to beat her personal best by as much as she did.
"In high school, when I ran 600 (meters), I only got the chance to run it like once a year," she said. "I would only (have a personal record) by maybe half a second."
McNeil's main event is at 800 meters, so setting a school record in the 600 meter run gives her confidence moving forward.
"(The 600m run) prepares me for my split in the 800, so it's kind of a confidence run when I run the 800," McNeil said. "Hopefully that'll get me to the times I want to run in that race."
Like McNeil, Draxler was pleasantly surprised to have set a new school record despite not exactly going for it.
Draxler did not find out she had broken her own school record until after the competition was completely over.
The fifth-year senior from Wisconsin said over the phone that she does not pay attention to the distance she needs to clear because it distracts her mentally.
"Lately, I've been trying not to pay attention to the height of the bar," Draxler said. "It can kind of get into your head and I don't want to really worry about it."
Draxler had already cleared the Aztec record, but those numbers were put up unofficially. It was now a matter of performing under the bright lights of an official meet.
She approached things with a easy-going demeanor knowing this feat was not something she had already done before.
"I know that was there," Draxler said. "It's just about executing and doing what I do in practice, staying confident in pole vaulting, enjoying myself but having fun knowing I can do it."
The UCS Pole Vault Summit featured elite competition, including past pole vaulters from the 2016 Olympics in Rio.
Draxler said she relished the opportunity to go up against pole vaulters of that caliber.
"They have an elite competition Friday night so all the best in world," Draxler said. "I was lucky to compete with all the professional vaulters."
Draxler's goal moving forward is to qualify for the indoor national championships, and she said  she must stay at that level during the high-stakes meets in the near future.
"The biggest thing is to qualify for nationals," she said. "You have to be in the top 18, so essentially (I need) the same kind of performance."
To qualify, she must be in the top 18 and pole vault over 14 feet.
She did both on Friday.