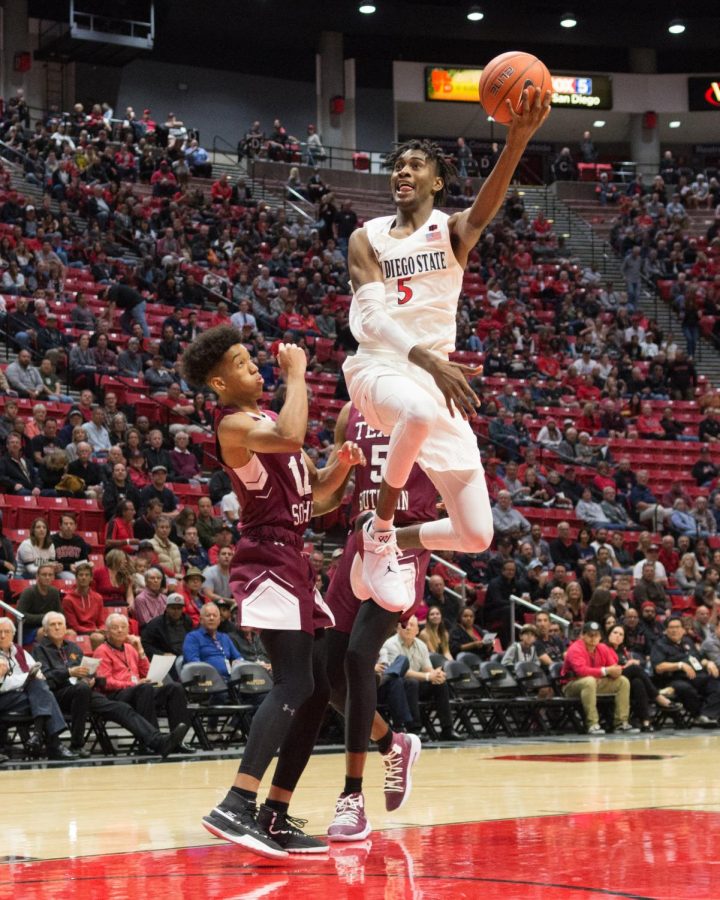 Raymond Gorospe
San Diego State men's basketball redshirt sophomore forward Jalen McDaniels was awarded Mountain West Player of the Week on Jan. 21.
The honor, which is the second of McDaniels' career, comes following the Aztecs' 97-77 victory over New Mexico on Jan. 15. He shot just over 50 percent from the field, scoring 24 points and collecting 11 rebounds while contributing four assists.
McDaniels also added a block whilst earning his third straight double-double.
Prior to the win, McDaniels had never recorded three-straight double-doubles in his collegiate career.
In his second season, McDaniels has already improved his game on the Mesa.
In his redshirt freshman campaign, McDaniels did not appear on the starting lineup until a late December contest against Wyoming. He finished the season scoring 10.5 points and recording 7.5 rebounds per game.
McDaniels has been a catalyst on offense for the Aztecs this season, ranking first in points per game (15.9) and rebounds (8) while starting all 17 games going into the teams matchup with Fresno State on Jan. 22.
Finishing five games with double-doubles, McDaniels has only scored less than 10 points in a game once this season.
It is solid numbers for a player who almost did not return to the Aztecs for the 2018-19 year.
After the end of his redshirt freshman season, McDaniels declared for the 2018 NBA Draft without an agent, giving him eligibility to return to NCAA men's basketball.
McDaniels worked out for numerous teams during the draft process, but eventually went undrafted and returned to SDSU rather than signing with an NBA team as a free agent.
After the draft process, McDaniels said he had support from his teammates and coaches, but going undrafted swayed his decision to returning to college basketball.
"There was a lot of support, just doing what's best for you pretty much. Going to those workouts, of course I was thinking, 'I don't want to come back to school, I'm trying to get to the NBA,'" McDaniels said to The Daily Aztec before the season. "Just making the best decision for me, that's pretty much it."
Although the Federal Way, Washington product has had a successful spell at SDSU, McDaniels' season took a disorderly turn last month when he was sued for allegedly filming and sharing sex videos as a senior in high school.
McDaniels was accused of filming a sex act performed on him in a car and on a Federal Way High basketball teammate in a closet. The videos were reportedly distributed amongst his teammates in a group text message.
SDSU addressed the allegations, saying there were no charges against McDaniels and he would remain enrolled as a student and a member of the men's basketball team.
McDaniels' brother, Jaden, could potentially be coming to the Mesa next season.
Jaden is a five-star, highly-touted recruit from Federal Way High. Jaden narrowed his college decision list to five schools, including SDSU. Jaden visited the campus last October and his college decision is to be made later this year.