SDSU brings back Brady Hoke as defensive line coach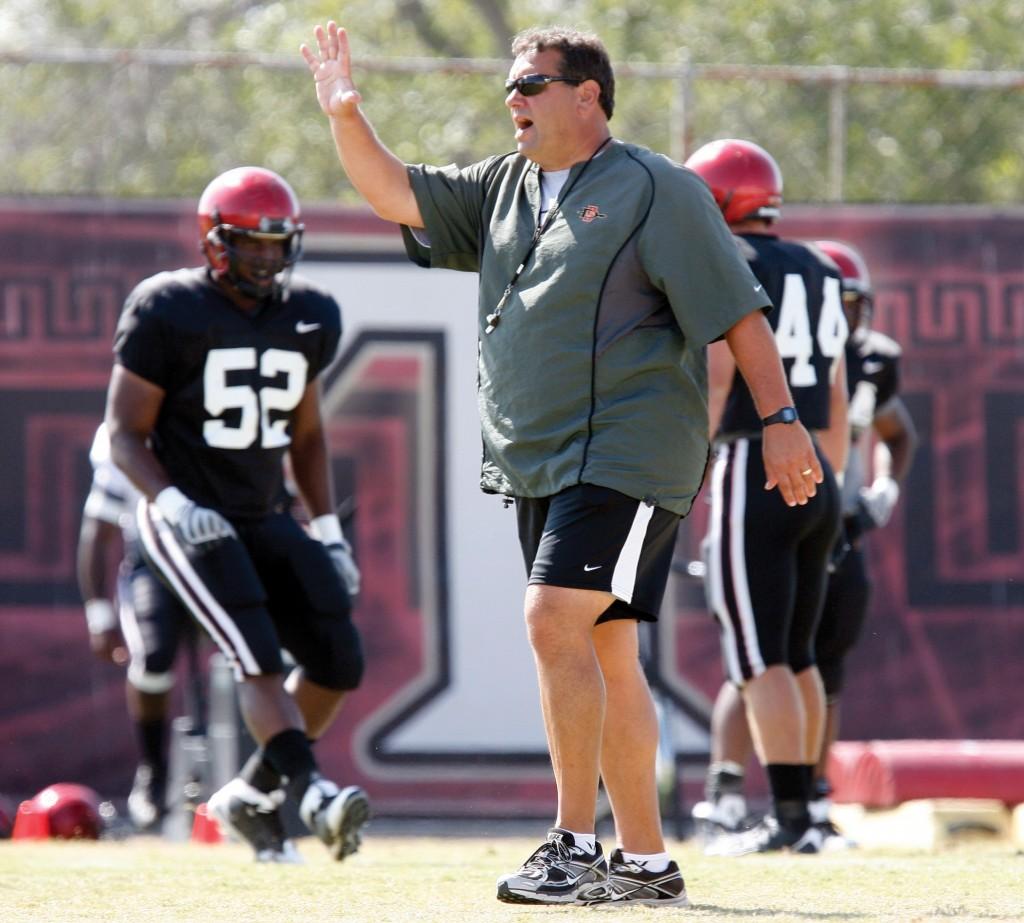 A Facebook post at 7:55 a.m. on Feb. 5 read "Brady hoke is the new D line coach! Huge pick up for the Aztec defense."
Art Hall, the father of redshirt freshman cornerback Darren Hall, authored a Facebook post that leaked information about a recent hire for Aztec football.
After two days of speculation, head coach Rocky Long confirmed the news in a press conference on Feb. 6.
Hoke is back.
Hoke was the head coach for the Aztecs during the 2009 and 2010 seasons and most recently the defensive line coach for the Carolina Panthers in 2018.
Before that, the 60-year-old was the head coach at Michigan from 2011-14, compiling a 31-20 record before Jim Harbaugh replaced him.
As the Wolverines' head coach, Hoke was able to do one thing Harbaugh has not – beat Ohio State.
Hoke led Michigan to its only win against its archrival in the last 15 years when he beat the Buckeyes in 2011.
Long said he has wanted Hoke to come back to SDSU for years.
"He was my first choice," Long said. "I offered him a couple times since he's been gone when he was out of work. He finally decided I was the right guy to work for."
Long has had firsthand experience seeing Hoke operate as a coach, dating back to the early 1990s at Oregon State.
From 1991-1994, both Long and Hoke worked under head coach Jerry Pettibone – Long as defensive coordinator and Hoke as defensive line coach.
The two were reunited at SDSU in 2009, but this time Hoke was the head coach and Long was his defensive coordinator.
Ten years later, the tables have turned again in their coaching hierarchy.
This time Hoke returns as a coach on Long's staff.
With years of  history working with Hoke, Long said Hoke is one of the top defensive line coaches he's ever been around – also saying his impact will go beyond football.
"I've seen (Hoke) work with defensive linemen for years and he's one of the best at it," Long said. "He'll get really involved with them and they will be much much better in a lot of ways, not just on the football field. They'll be a lot better the rest of their lives."
A former head coach for four seasons at Michigan and six at Ball State, Hoke's experience is viewed by Long as a positive rather than a threat.
"Hiring former head coaches really helps a head coach, Long said. "They know exactly what you're doing. They don't second guess you. They have great experience. They relate to the players. They can give you ideas on how to handle things that can be from way back."
Long took it a step further and said he embraces coaches with that caliber of experience.
"Any head coach that doesn't want to hire former head coaches, they're insecure," he said. "I don't have any problem hiring any former head coaches. In fact, I'd like all of to be former head coaches."
One of the qualities Long likes about Hoke is his ability to connect and relate to players and said the hire will help the coaching staff when it comes to recruiting future Aztecs.
"I been around him as an assistant coach before and he's a good recruiter," Long said. "He'll do a nice job recruiting for us."