Women's volleyball enters SDSU/USD Invitational following best start since 2013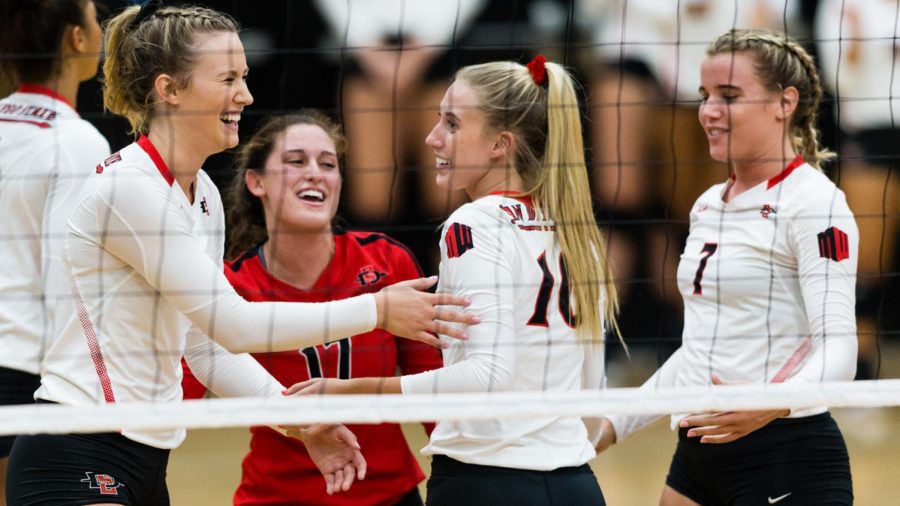 Last season, junior setter Camryn Machado was on the bench because of injury. 
She was ready for the new season to come more than anyone else.
"It was nice to get back on the court," Machado said. "I had to sit out all last year, pretty much."
In her first week back, she garnered Mountain West Defensive Player of the Week honors as the San Diego State women's volleyball team went 2-1 at the Florida Gulf Coast Classic in Fort Myers, Fla. 
The Cardiff by the Sea, Calif. native recorded double-doubles in each of the team's first three games and finished the weekend by recording a career-high 55 assists against Florida Gulf Coast. Over the three-game span, she recorded 127 assists for an average of 11.5 assists per set. 
Head coach Deitre Collins-Parker said Machado is one of many players on the squad that is able to feed energy to her teammates. 
"We're so blessed that we have somebody like her that is so competitive and she's the quarterback of our team and has stepped up playing defense," Collins-Parker said. "Her presence on the floor is important to our team."
Machado and senior outside hitter Hannah Turnlund were named to the all-tournament team. 
Turnlund said she and Machado were able to trust their teammates and enjoy the matches last weekend.
"Everything felt right into place," Turnlund said. "Our team was flowing and made it easy for us to play our game because we knew everyone else was also taking care of their game, so it was fun to play with everyone."
The 6-foot-1 outside hitter recorded two double-doubles, including 41 kills over three games for a 3.37 kills per set average.  She also set a career-high with 24 kills in the match versus Florida Gulf Coast.
Turnlund and the Aztecs won the first seven sets to start the year in addition to their first two matches, marking the best start to a season since 2013.  
Collins-Parker said mentality and motivation are the keys to success at the start of a season.
"It's confidence," Collins-Parker said. "The last time we were able to do that — 2012, 2013 — those are years where we were very successful. Much of it is a mindset and we're trying to change the mindset."
Collins-Parker, Turnlund and the Aztecs hope to ride the momentum for the first time this season at Peterson Gym. 
"Now, especially since we're home, we should be extra confident because if we know we can play like that on the road, then we can play better here," Turnlund said.
The Aztecs, along with San Diego, are hosting the SDSU/USD Invitational. The Scarlet and Black play three games, beginning with West Virginia on Sept. 6 at Peterson Gym followed by a double-header the following day against Arkansas at 11 a.m. and Arizona at 7 p.m.
Collins-Parker said each of their opponents will be similar to the reigning Mountain West champions due to the conferences each of their opponents play in.   
"We can expect really big people, but we have to be a good team to match up to their athleticism and height," Collins-Parker said. "We're excited. To me, that's a Colorado State. They're bigger than most people in our conference and it helps us continue to elevate the play in our gym."