UPDATE: 5:40 p.m.
A campus-wide email from university police around 5:30 p.m. said the fire is now fully contained.
The email did not identify a cause for the fire, but it said the San Diego Fire Arson Strike Team is currently investigating the incident.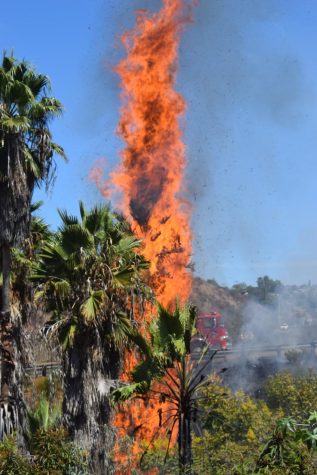 The evacuation order for Villa Alvarado was lifted at 2:45 p.m. and Alvarado Road was reopened as of 5 p.m., the email said. Residents of the apartment complex, which bordered the fire, may retrieve masks at the front desk to prevent inhalation of any lingering smoke.
UPDATE: 1:50 p.m.
San Diego Fire Rescue officials said the fire is now mostly contained. No structures were threatened.
Original Story:
A brush fire near San Diego State led to the closure of the I-8 eastbound offramp onto College Avenue, according to Caltrans.
SDSU tweeted around 12:50 p.m. that university police was working with the San Diego Police Department to evacuate the Villa Alvarado apartments on the east end on campus.
The fire, which started on the west side of College Avenue, jumped to the east side of the street along the I-8 freeway. Fire officials said they are currently focusing on putting out flames on the east side of College Avenue as the western side has been mostly contained.
This story will be updated as more information becomes available.