Students support and participate in Sustainability Day
Sustainable Day took campus by storm as San Diego State's first environment-centered event last Wednesday on Sept. 18. 
Several organizations — including Sustainable SDSU, Green Love and the Enviro-Business Society — collaborated to bring environmental and climate awareness to students. 
"It's been about 10 years since there was so much cross-campus communication about sustainability," sustainability senior and Sustainable SDSU zero waste recycling intern Charlotte Roberts said. "I'm excited to see so many different groups on campus working together on this huge common goal." 
The event was organized largely by Sustainable SDSU, the university's sustainability office. The office works to reduce the campus' environmental impact through areas such as energy, water, green buildings, housing and social responsibility.
At the event, Sustainable SDSU offered an SDSU bingo card, encouraging students to learn more about the university's environmentally friendly features and take action themselves. With the completion of a row or card, students won raffle tickets for a Hydro Flask giveaway. Their table also provided a 2019 progress report pamphlet detailing SDSU's sustainability roadmap — including areas that need improving and past environmentally conscious awards. 
"I'm optimistic about the future of the climate," environmental and physical geography senior and Sustainable SDSU EcoReps intern Taylor Campbell-Mosley said. "I hope SDSU can become a regional leader for the climate and sustainability."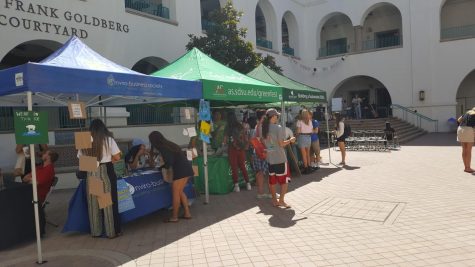 Another organization that helped put on Sustainable Day was Green Love, Associated Students' environmental committee. 
"Sustainability to me is a way of life and a way of living in a way that doesn't harm those around you or the Earth," urban studies junior and Green Love Advisory Board committee chair Eva Huber said. "As inhabitants of the Earth, we should be doing everything we can to give back." 
Green Love's table provided stickers for Sept. 20's Climate Strike and a binder rating campus eateries on their vegetarian and vegan friendliness. 
In preparation for the Climate Strike, there was also a poster making station supplied with paint and recycled cardboard. 
Sustainable Day showcased a variety of workshops and live music throughout the event. Paradise Drive, Anoodnya Sangam and Jehlad are some of the bands and artists who performed. The Citizens' Climate Lobby offered advocacy training, while the Metropolitan Transit System offered an interactive transit workshop where students could provide feedback on future projects. 
The event partnered with more than 10 organizations to bring sustainability to campus. 
SDSU Dining displayed one of their campus-grown lettuce towers and provided information about sustainable eating. 
The Electric Vehicle Association brought electric cars for students to examine and learn more about. 
Circulate San Diego offered free tickets to the upcoming San Diego Padres game on Sept. 21 along with free transit to Petco Park. The offer is exclusive to students and their guests. More information can be found on Circulate San Diego's website. 
"We can all find an interest in sustainability," Campbell-Mosley said. "That's what this day is about. It's not just animals and trees, but also technology, public health and policy."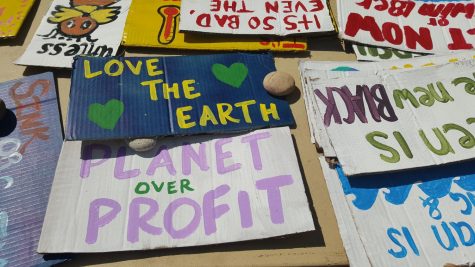 Huber wants to encourage students to get involved with sustainability organizations on campus. 
"Taking that first step opens so many doors," she said. "If the earth is greener, people are happier." 
Green Love meets on Wednesdays from noon to 1 p.m. in the Park Boulevard Suite of the Aztec Student Union. The Enviro-Business Society meets on Wednesdays at 4 p.m. in the Pride Suite of the Student Union.