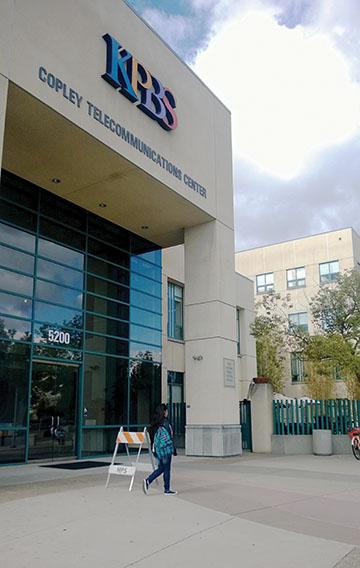 San Diego State, California State University Board of Trustees, KPBS and a station employee are being sued following a fight between a current KPBS employee and a longtime KPBS employee's son.
According to a court case filed on Sept. 4 with the Superior Court of California, San Diego, Peter W. Benke is taking legal action due to the fight that happened a year ago behind KPBS studios on Campanile Drive.
The lawsuit alleges Donald Benke, a long-time studio employee of KPBS and father of Peter Benke, came home earlier than usual after claiming he was called a "Nazi" at work.
Peter Benke then took a book about the Nazis and went to KPBS studio to speak with his father's co-workers. He went toward the locked main entrance, but a side door opened and he was invited inside.
The lawsuit said he was greeted by an employee before turning to a group of people and loudly asking, "Who wants a history lesson?" Moments later, Kevin R, Schrader, one of the defendants walked towards Peter Benke and said, "No, No, No." 
A verbal argument was followed with Peter Benke allegedly spitting on Schrader, which led to the KPBS employee striking him in the chest. Unknown persons separated the two men.
Two men, including Schrader, followed Benke out of the studio. They twisted Benke's arm, put him in a headlock and forced him to the ground, according to the lawsuit. The litigant claimed he was pushed to the ground, lost consciousness and took multiple hits to his head, face and chest. The men refused to let Benke up for approximately two or three minutes.
University police responded to the incident and separated the altercation. The Daily Aztec reached out to KPBS' spokeswoman Heather Milne Barge, who declined to comment due to pending litigation. 
Benke is suing CSU Board of Trustees, KPBS and a KPBS employee, for assault, battery, negligence, intentional infliction of emotional distress and negligent hiring for an amount that exceeds $25,000.
SDSU has not yet received the lawsuit, according to CSU spokesperson Mike Uhlenkamp.
"The university has not formally received the lawsuit, but has previously investigated the underlying incident cited," Uhlenkamp said. "That investigation revealed that the plaintiff was the aggressor, and that he trespassed into 'employee-only' locations in order to provoke an altercation with others. The university intends to vigorously defend this case."
Both Schrader and Beneke's lawyer, Stephen T. Cummings, were unavailable for comment.