Three observations in the Aztecs' exhibition victory over Regina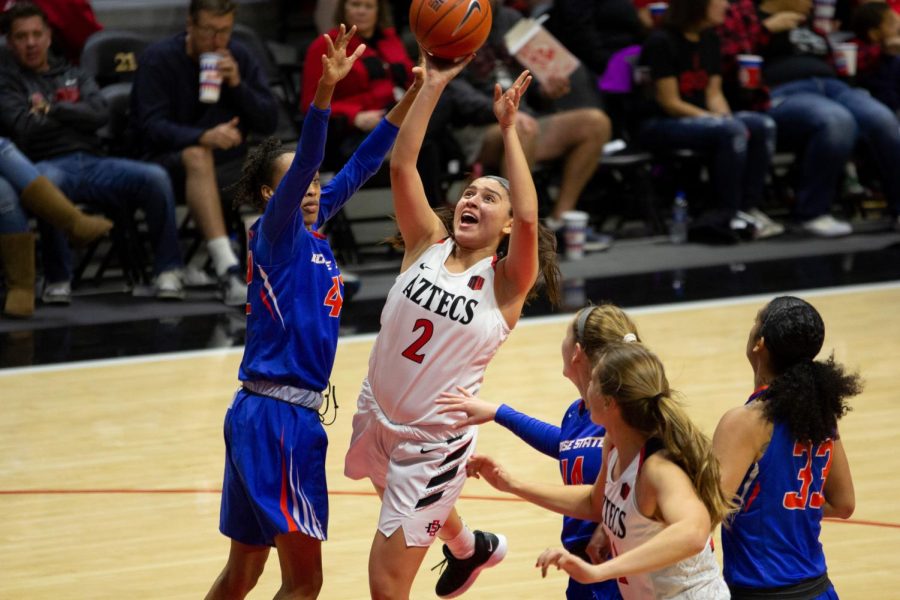 San Diego State women's basketball defeated Regina by a final score of 84-52 in an exhibition game on Oct. 27 at Viejas Arena. 
Here are four takeaways from the game.
The entire roster saw minutes
Early on in the season, coaches want to see what all their players can do. 
Aztecs head coach Stacie Terry said she enjoys when games like this happen. 
"I love these opportunities so we can play them," Terry said. "Sometimes throughout the year, we are not able to play 13 kids. It's a great opportunity for them to do the best they can and work their minutes."
Outside of the starters, the Aztec bench combined for almost 90 minutes and contributed 32 of the team's 84 points.
One Aztec who played well was freshman guard Isabela Hernandez, who scored eight points with two assists and two steals in 16 minutes. 
Terry said Hernandez gives the bench some depth, especially because the team starts three guards.
"She was all over the place defensively, she was getting deflections, she got some good rebounds and she can shoot the three," Terry said of Hernandez. "I thought she had some really nice passes. She's going to be someone you are going to see in the box score night in and night out. She's going to be a good spark for us off the bench."
Attacking the boards
SDSU grabbed 45 total rebounds, including 15 on the offensive glass.
Twelve of 13 Aztecs recorded at least one rebound, with sophomore forward Mallory Adams collecting seven to go along with 10 points. 
Although the Scarlet and Black got 15 offensive rebounds, Terry wants the team to continue to emphasize defensive rebounds – especially as the shot clock winds down.
"We do preach offensive rebounding, but rebounding in general, more specifically on the defensive end," Terry said. "For us, it's been our Achilles heel. We play good defense for the first 25 seconds then we give up an (offensive rebound). I want to see more people get to the glass than just Mallory and our bigs."
Points don't mean everything 
One stat that is hardly paid attention to in a box score is the plus/minus stat. It is used for players and coaches to display how a single player does against the other team while they are on the floor. The more positive the number is, the more involved the player is in that team's offense.
Sophomore guard Sophia Ramos scored 14 points, but what is more important is her involvement in the team's offense. Ramos contributed seven assists, three rebounds and no turnovers. Her plus/minus for the game culminated to a game-high: +30. 
Terry said Ramos' performance was over-the-top as she enters the season as a sophomore leader. 
"I thought she played great," Terry said. "(Ramos) shared the ball, was a great teammate, great leader, did a great job executing and communicating my message to the team." 
Ramos said the team is trying to increase its tempo this season.
"I thought we played really fast, which is something we're trying to change this year," the 5-foot-9 guard said. "Offensively, we're getting downhill, which is a big part of who we are."
Points in the paint
The Aztecs outscored Regina 54-14 inside the paint. Senior forwards Baylee Vanderdoes and Zayn Dornstauder combined for 27 points, nine rebounds and a combined +32. 
Dornstauder said although her and Vanderdoes do not play together, they both possess their own skill sets.  
"We do compliment each other really well," Dornstauder said. "I look more to shoot and she looks more to do the 'back to the basket' (plays). She's a more physical player, whereas I am more finesse, so we have our differences there."
Regina has already started its 2019-20 regular season slate, which means SDSU had the luxury of watching film.
Terry wanted the team to drive in to post due to the way Regina plays inside. 
"I was able to see the advantage because they get behind in the post, so I challenged our bigs and our guards to make sure we got looks in there to post up hard," she said.